Benefit Cosmetics Silky Finish Lipstick...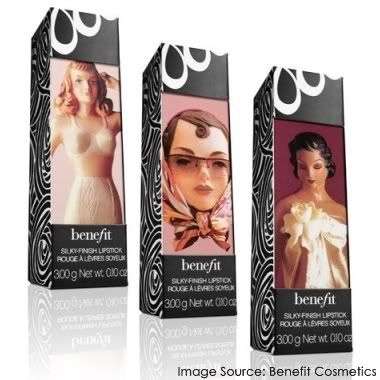 Benefit Cosmetics
– it's a bit of a love-hate relationship for me, really. Why? Because I love their packaging and some of their products, but detest others and gripe over the ridiculously inflated local prices. I usually resort to combining with other friends to buy off the US website which works out to a more decent price, and I don't have to deal with staff desperate to boost sales. The other option would be to wait for their annual warehouse sale where prices are greatly reduced, but with limited colour options.
The last time I ordered from the US website, I chanced upon a
'Buh-Byes'
special on their Spring '08 collection and snapped up a few items, one of which was a Limited Edition Silky Finish Lipstick. Read on for my thoughts on this! :)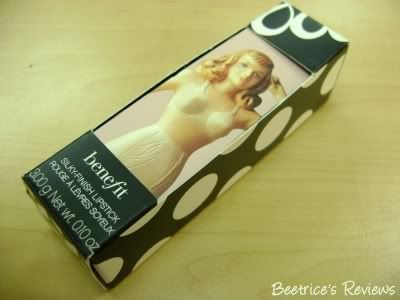 Description:
Benefit Cosmetics Silky Finish Lipsticks
are sheer and buildable, so you can customise your look – a light wash of colour for
au naturel
gals or an amped-up POP of colour for the drama queen in you! For instant glamour, slick on our Silky Finish Lipstick with a brush or straight from the tube.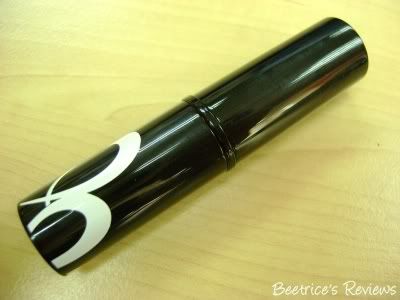 The Verdict:
Benefit Cosmetics Silky Finish Lipsticks come in cream or pearl finishes and are categorised as Lana, Gabbi or Betty to indicate light, medium or deep tones respectively. It's a nice way to identify your lipstick rather than the usual
"light, medium, dark"
don'cha think? :D
The black metal tube with Benefit's signature stylised loop in white gives it a bit of an edgy/arty look, which I like, and it's slim enough to fit into any pocket or pouch for touch-ups. This is a good thing – I'll explain later on in the post.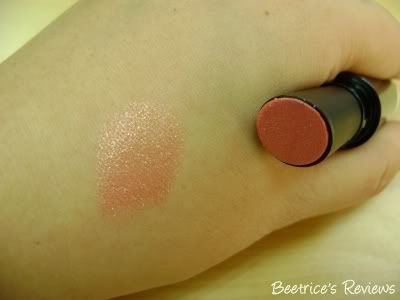 The shade I got is
I Do I Do I Do
which is a pearl finish lipstick that was released as one of three neutral shades under their Spring '08 Limited Edition colours
(the other two were

Bouquet Dive

which is a pearl finish coppery shade, and

Party Crasher

which is a cream finish deep pink sapphire).
The colour comes across as a pink pearl shade which I thought was very pretty and great for brightening up my face.
There's a slight hint of yellow to this lipstick, which I think is the reason it works so nicely with my skintone. When applied, the lipstick does come across as sheerer than the colour of the stick itself, but I've never been one for opaque colours to begin with. It didn't dry out my lips, but did not score in lasting factor either – a glass of water and some light snacking and it simply disappears!
However, I did find the pearl flecks in the lipstick tended to collect in the lines on my lips, especially once the colour starts to fade. I tried exfoliating and applying a lipbalm prior to applying the lipstick, but the results were still similar. I'm not sure if I'm the only one having this problem as I haven't seen anyone else complain about it though. This means that in order to keep me from looking like I ate a glitter sandwich I have to apply this rather frequently, which is why it's a good thing that this lipstick is easily tote-able.
They are rather pricey as well, so I might hold off on trying another colour until one really catches my eye or try one with a cream finish instead. For reviews on other colours you could also head over to My Women Stuff where Paris has reviewed these lipsticks in
Frenched
and
Nice Knickers
.
Benefit Cosmetics Silky Finish Lipsticks retail for RM73 at Benefit counters locally and US$18 online. Presently there are 24 shades available while Limited Edition shades may be available from time to time.
Rating: 3.5 / 5
Value: $
Labels: limited edition, lipcare, makeup