Sunplay Deep Sea Moisturising Mask…
Thanks to the brutal weather conditions recently
(ever notice it's either swelteringly hot or cold and wet!),
my skin's been taking a beating…even more so since at my current office, my desk is almost directly under a freezing air conditioning vent. Put those two factors together, and I end up with pretty battered skin! :(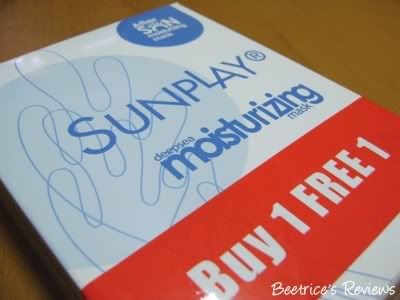 Despite my best efforts to keep my skin moisturised, I decided to give myself a little extra boost over the weekend, and ended up with the Sunplay Deep Sea Moisturising Mask. It is meant to be an after sun mask, but can be used even without spending time in the sun
(walking outside counts, right?)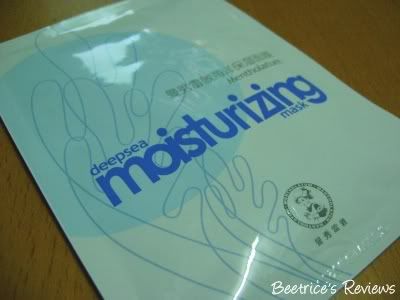 Description:
Sunplay Deep Sea Moisturising Mask contains 25ml of moisturising essence per mask. The marine algae and PCA-Na moisturising agents deeply hydrate and improve moisture retention ability of skin. It also contains Aloe Vera and Oat Bran to freshly moisturize and improve skin texture.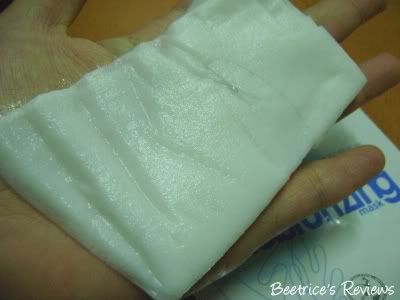 The Verdict:
Before using my masks, I like to pop them in the fridge for half an hour or so to boost the chill factor. Given the sweltering heat, it's one of the small pleasures to be gotten on a hot afternoon! :D
The mask is completely saturated with essence, which gave me a cool blast when I put it on. I usually have a problem with masks that don't fully cover my face – this one managed to marginally cover most of my face, so it fares better than some of the other masks I've tried that leave the outer edges of my face uncovered.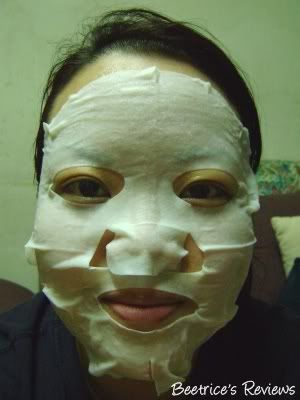 Scary me! Hehe…I don't usually show pictures of myself in these situations, but heck, when I'm a happy cucumber in a nice cool mask, funny things can happen!

Ingredients
As far as the effects go, my skin was feeling pretty good after the requisite 15minutes
(I used the remaining essence on my face and neck area – no wastage),
a feeling that lasted the entire weekend. I felt as if I didn't need a moisturiser that night, but applied a light one anyway.
One thing though is that the mask is really saturated with essence, so be careful to wear clothes that you wouldn't mind getting dripped on. Mine actually started dribbling essence down my neck, which felt rather weird. Truth be told though, I'd rather deal with too much essence than not enough, so it didn't bother me too much – I just wish they'd warned me! My favourite
'slumming'
shirt had to make a trip to the laundry because of it!
Sunplay Deep Sea Moisturising Mask retails at RM13.90 for a pack of two. However, right now Guardian has a Buy-One-Get-One-Free promotion, so you get double the bang for your buck!
Rating: 3.5 / 5
Value: $$