Lipstick Gossip @ twenty.one kitchen+bar…
** I wasn't going to post this up quite so fast, but it's all Kimberlycun's fault! LOL…looking at her photos of the shindig made me itchy to download all my pictures, and well, since I was at it already, here we are!
On the last Thursday of each month,
twenty.one kitchen+bar
(henceforth known as twenty.one)
is turned into a big girls-only party with canapés, cocktails and primping galore. Known as Lipstick Gossip, a bunch of us were invited by
Stage
and twenty.one to attend the most recent instalment of Lipstick Gossip last night.
(what better excuse to have yet another mad night out eh?

*grins

*)
Muchos gracias
to Stage for the invite!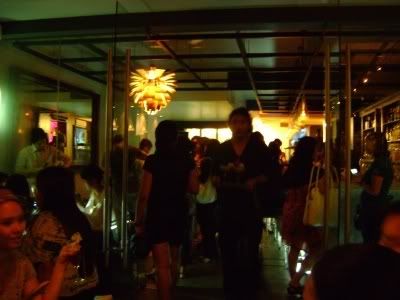 twenty.one was quite packed with ladies – I think the total number was 100, but it felt like quite a few more were squeezed in! Alas, the only men that were at the event were the working ones – I'm referring to the hairstylists, caricaturists, masseuse
(!!)
and photographers. Now what were YOU thinking?? :p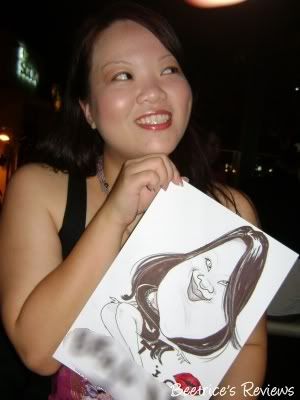 Me likey my caricature, even if the artist made me look a bit like Joanne Kam – complete with
'longkang'
!!
There were a heap of photos taken, but since Photobucket slashed my bandwidth down to a
measly 10GB
a month, I leave you with a montage of the event instead…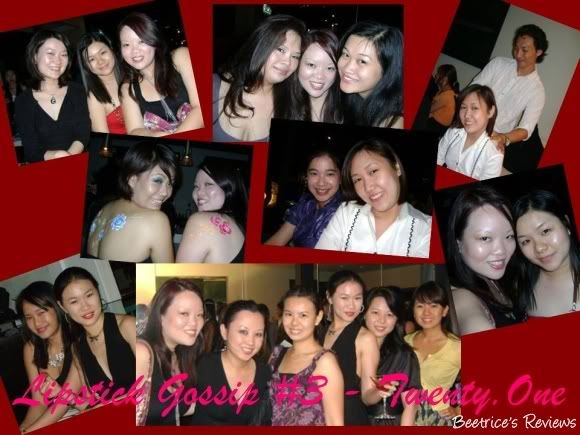 Who can you spot? :D
ParisB
,
PinkElle
,
Xin
,
Kahani, Syen,
Meldee
,
Jo
,
Kimberlycun
,
Plue
,
Connie
and
Rinnah
are all somewhere in the shots
(and me too of course!)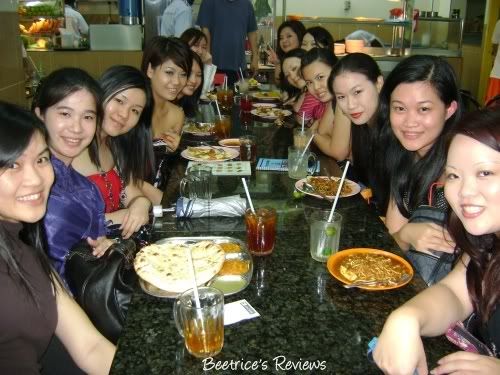 Being the gluttons we are, the tiny canapés at the event
(delicious though they were)
didn't quite manage to fill us up, so we ended up doing what we do best – wander off to look for food! Hehe…after the event finished, the lot of us ended up at a nearby mamak stuffing our faces with
tandoori, naan, mee goreng
and the like!
On a side note, traffic in town was seriously screwed up thanks to the fasting month and rain. Since I left directly from the office, I had to do my primping in the car beforehand. Yes, I'm one of the people you see applying makeup at traffic lights – mind you, I've gotten it down to an art where I can stare at myself in the mirror
AND
still keep an eye on the car in front of me. The end result?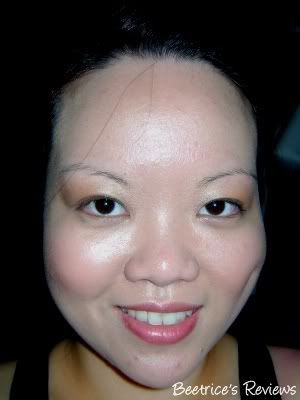 Taken after I got home from the party – not too bad for traffic jam and traffic light stops? I even managed to apply mascara at the Bukit Bintang traffic light, much to Connie's amusement…LOL…

All the colours I used on my eye are from the
Beautilicious Victoria Palette
, together with
Lancome Oscillation mascara
.
Have a good weekend peeps! I'll be headed up to Genting for a short break and some fun…can't wait!! :D