Having fun keeping your hands clean?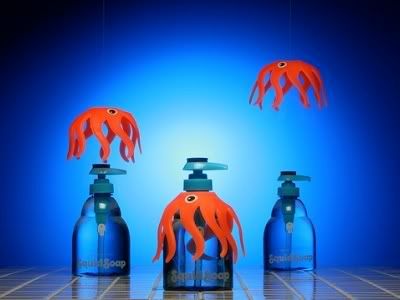 In current times where everyone's up in arms over H1N1, the biggest way to avoid spread of the virus is to keep one's hands clean. I reckonA the companies manufacturing hand sanitisers have been exceedingly happy with their recent sales, but besides hand sanitisers another way is to simply wash your hands with soap.
That's usually easier said than done though – especially since the recommended washing time is 20seconds to get your hands really clean. However, while glancing through some magazines I came across this product which I thought was rather ingenious.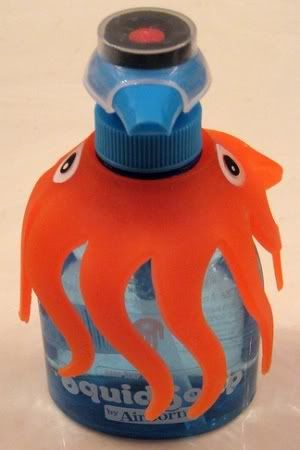 Squid Soap is a fun way for kids and hygiene-challenged adults to impart good habits while washing their hands...and no two ways about it either! I have a feeling the manufacturers took their inspiration from the horrible plaque-finding tablets dentists used to give us when we were kids. (Who remembers those? They were deep pink and when chewed, stained all the plaque-affected areas in your mouth and you had to brush until you got it all out, otherwise you would be smiling with purple-pink stained teeth!)
The bottle itself is pretty unassuming, save for the odd looking stamp-cap on the top…that's the part that leaves a 'ink stamp' on your hand which needs 20 seconds of thorough washing to get off – quite simple right? Wash until the ink comes off! The instructions are pretty clear below…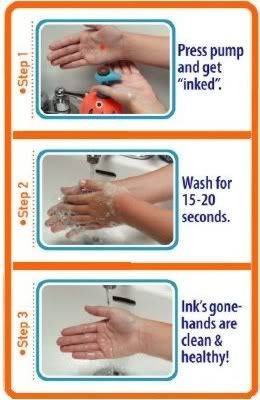 Squid Soap comes in three colours – orange, green and purple. And if you want a bit of fun, you can unscrew the cap and remove the plastic squid to play with…LOL…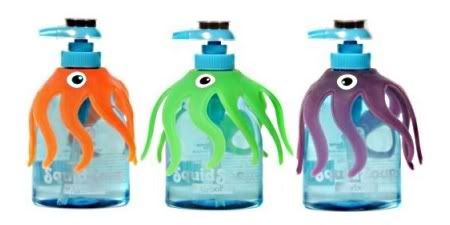 Squid Soap is available online and on shelves in the US, but has yet to make its way to Asia. However, here's hoping they do soon, cos I want me a purple squid! :D
Labels: random, tips n news