Stage Floral Fatale Collection...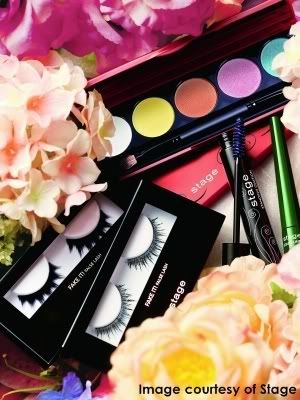 Stage recently unveiled its latest collection – the Floral Fatale which comes with two limited edition 5-shade shadow palettes, a green liquid eyeliner, purple mascara and two sets of false lashes to create a variety of looks depending on your mood.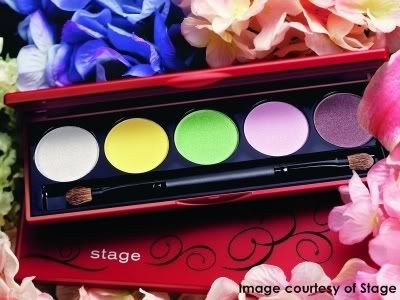 Floral Flirtation palette, which consists of muted green, silver and violet shades for a burst of brights!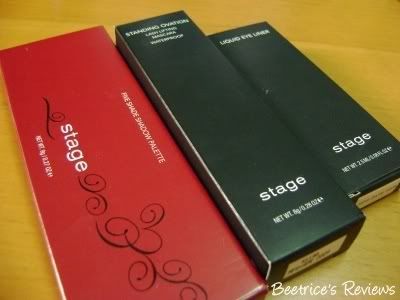 When I was offered a chance to road-test a few of the products, I jumped at the chance and ended up testing one of the palettes, liquid eye liner and mascara. Continue reading below for my thoughts on the Floral Fatale collection.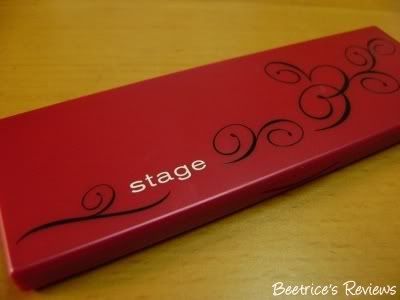 The 5-shade shadow palette comes in a sleek red plastic case with black designs. From a design perspective it's certainly very practical, and ideal for bringing on travel. However, I did feel that the case did feel a little thin compared to other compacts that I've handled.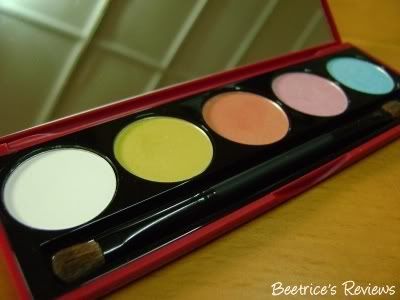 When opened, this is where the palette shines – there's a generous sized mirror taking up the whole lid of the palette, as well as a double-ended applicator brush. Personally, I prefer eye shadow brushes compared to sponge-tip applicators so this is a plus point for me. The brush isn't half bad either, so it's a pretty useful addition!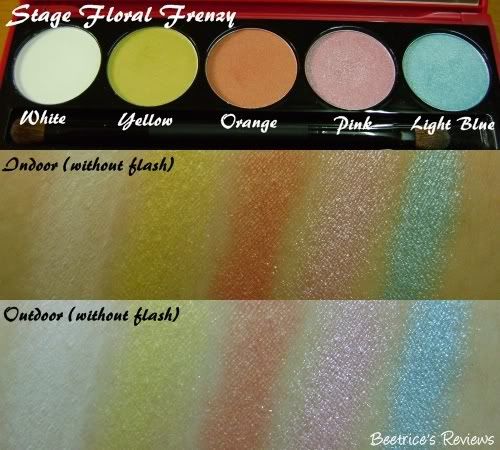 I tried the Floral Frenzy palette, which comes with white, yellow, orange, pink and a light turquoise blue. The white shade was flat colour, while shades from the yellow to blue were in varying degrees of shimmer.

The colour contrast was pretty good though – I tested out their suggested use of colours on a friend's daughter, and she was pretty pleased with the results and texture, so that counts for a lot. I did find the white a little bit harder than the rest of the colours though, but as I didn't use much it wasn't a bother to me.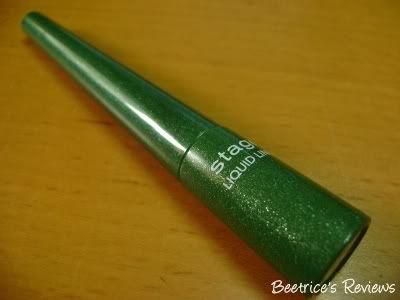 Stage Liquid Eye Liner in Eucalyptus – this is the product that I really liked!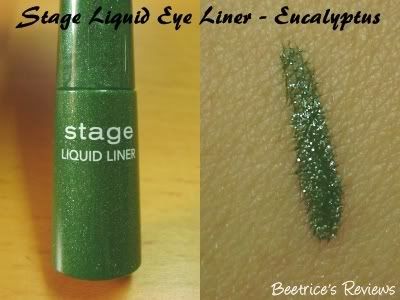 The colour is absolutely gorgeous – and dries pretty quickly too with a nice shimmer effect. For a fresh day look, you can line just the upper lid, but for a dramatic effect, you can line both upper and lower lids. *love*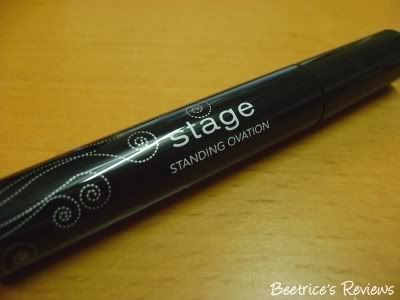 I have to admit, the one thing that stands out about this entire collection is the burst of colours. They're definitely not shy about mixing blues with oranges, pinks with yellows, and after the previous green eyeliner...purple mascara!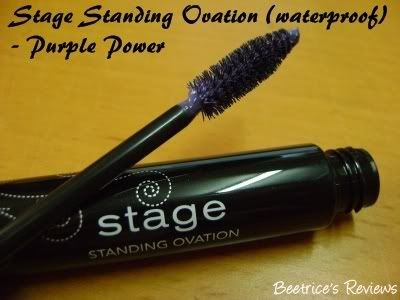 Stage released another shade in their Standing Ovation Lash Lifting Mascara called Purple Power
(no prizes for guessing what colour the mascara is!)
The waterproof mascara is pretty good, but I needed at least two coats for the colour to show up. I found that layering it over a coat of black mascara helps to bring out the contrast better…and being waterproof, no worries about looking like the Penguin with purple mascara streaks!
Of course, if you wanted to omit the mascara, you could opt for one of the two new false eyelash sets available – Stardust
(fine synthetic black lashes with sprinkles of glitter)
or Dreamcatcher
(feather-like lashes with a combination of black and deep purple lashes).
For the results, the Floral Fatale collection is pretty affordable:-
Stage Limited Edition 5-shadow palettes in Floral Frenzy and Floral Flirtation – RM135 each
Stage Liquid Eye Liner in Eucalyptus – RM52
Stage Standing Ovation Lash Lifting Mascara

(waterproof)

in Purple Power – RM50
Stage Stardust and Dreamcatcher Fake It! Lashes – RM30 each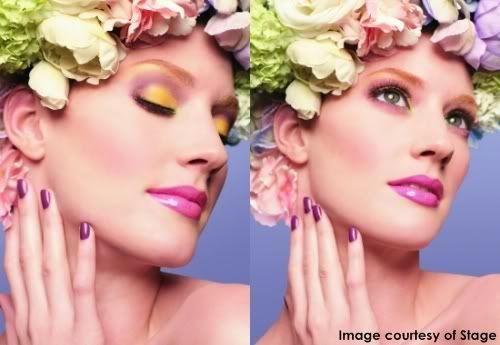 Hey, maybe with some help we can all look like this! :D

Stage Floral Fatale collection is available from 25 June onwards at Stage outlets.


So, did you guys like any of the items in particular? Or which one would you love to have? :)
Labels: false eyelashes, makeup, mascara