Revlon Beyond Natural Protective Liptint SPF15…
I recently got a couple of products from the Revlon Beyond Natural range to try, and brought it with me to Singapore to road-test. One of them was Revlon's Beyond Natural Protective Liptint SPF15.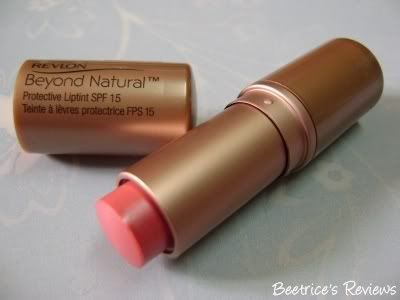 Description:
Revlon Beyond Natural Protective Liptint SPF15
tints lips with beautiful color while providing moisturising shine and sun protection. Formula tints lips with semi-sheer color with a soft, moisturising shine, and the shades are designed to match any complexion for naturally beautiful lips. In addition to beautiful colour, your lips are protected when exposed to the sun with SPF15. A delectable berry scent complements the product and delights the senses.
The Verdict:
When I first opened this, the berry scent of the liptint was definitely unmistakable to the point of being rather strong. After a couple of weeks though, I find that the scent doesn't bother me as much – not sure if the smell is dissipating or I'm just getting used to it.

I was also amused that the surface of the liptint was just slightly rounded on the top instead of the typical slanted shape, which made application just the tiniest bit more fiddly but not enough to cause any distress.


The liptint goes on easily leaving a nice hint of colour and nicely moisturised lips, and is rich enough that I don't need to apply lipbalm beforehand like I normally do with application of my lipstick. The shade I got was Pink, which is a little brighter than the shades I usually use, but according to a friend it gives me a sweet look, similar to what my lips would look like after a day out in the cold.
Given its moisturising factor, this liptint doesn't last very long though, and requires reapplication after eating
(drinking is still fine)
but since this is meant to be a liptint I can't fault it. Furthermore, the added SPF15 is a good thing to have given our scorching temperatures nowadays.

Revlon Beyond Natural Protective Liptint SPF15 is available in 8 colours overall, but four are available in Malaysia

On the whole, I like this liptint although I feel that Revlon should look at tweaking the berry scent to something more subtle. Otherwise, most will find that the Rosy or Berry shade works great to give a nice natural sheen to lips without looking
'lipstick-ey'.
Stay tuned for my review of the next Beyond Natural product – Blush & Bronzer. :)
Revlon Beyond Natural Protective Liptint SPF15
retails at RM32 and is available at leading department stores, pharmacies and personal care stores nationwide.
Rating: 4 / 5
Value: $$
Labels: lipcare