Lancome Maquiliquide UV Infinité Liquid Foundation…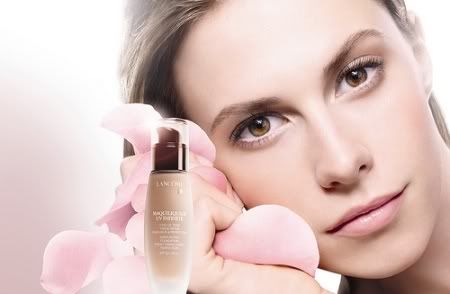 During my work days, I usually use 2-way foundation for its quick no-nonsense application on the go. However, after trying out Lancome's Maquiliquide UV Infinité liquid foundation, I may just have to rethink spending a couple more minutes on my makeup base in the morning…hehe…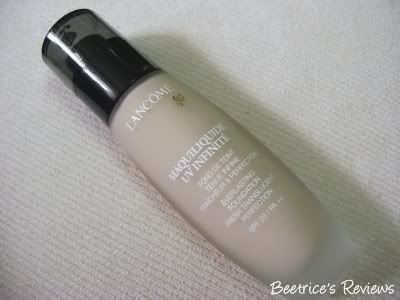 Description:
Lancome Maquiliquide UV Infinité
is a sensationally fresh and light liquid foundation with infinite wear. Its flawless, shine-free, poreless finish lasts all day long as if freshly made-up. This lightweight, infinitely fresh water-based texture easily glides over imperfections and fine lines with impeccable fit, without thickness or cakiness while natural essential glucose derivatives offer comfortable adherence and perfect fusion with the skin, for fade-proof perfection all day long.
The formula also contains pore-tightening complex to improve skin's texture for a smooth, even skin while Aquafix formulation preserves the complexion from shine, sweat and humidity while keeping make-up lastingly intact under any conditions. Specific combination of fillers offer perfect coverage for flawless natural translucent complexion.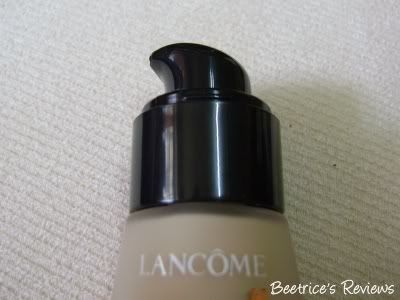 The Verdict:
Lancome's Maquiliquide UV Infinité comes in a sleek frosted glass bottle while has a luxurious feel to it and is dispensed with a pump. This part is different to the other foundations I've tried where the foundation comes in a screwtop bottle, but I find the pump preferable as it prevents contamination of the foundation and a easy way to dispense foundation and keeps wastage to an absolute minimum.


The shade I was matched to was
BO-015
, which is a Beige Ochre shade with yellow tones. There are also O-Ochre
(neutral)
and PO-Pink Ochre
(pink tone)
shades to suit different skintones, but the Maquiliquide UV Infinité is shade- and texture-designed to suit Asian skintones. I don't know about the rest of you ladies, but a perfect match to my skintone without making me look like I'm permanently flushed sounds pretty good to me.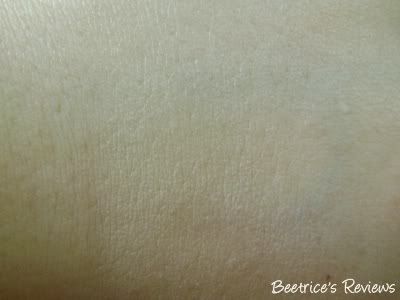 As you can see, after patting it in
(I was advised that patting it in works better than rubbing it into skin as patting will help your foundation last longer)
minor imperfections are fixed, but your skin still shows through. I'm not too fussed about the sheer to medium coverage of this foundation – after all, makeup should be used to bring out the best of your skin, not cover it up right? :)
After using this for the past couple of weeks while I was in Singapore
(admittedly I had more time in the mornings to apply this since I was on holiday!)
I've found that I like the feel of the Maquiliquide UV Infinité on my skin, and it doesn't take long to put on in the morning either!
The entire process is over in less than 5 minutes – I simply shake the bottle well
(since the foundation is water-based)
and squeeze out a couple of pumps onto the back of my hand. From there, I use my fingers to pat the foundation onto my face, wash my hands afterwards and voila! All done for the day
…*grins*…
oh, and did I mention that it has SPF20/PA++ too?
Since using it, I haven't experienced any clogged pores. In fact, the formula actually works to tighten pores to give you smooth-looking skin. For someone that has large pores on her nose, this has worked quite well for me so far, and it's held up for a full day's use too. For that, this scores a firm plus in my book.
On a whole, I can't find anything bad to say about the Maquiliquide UV Infinité, except the price. At RM130 for 30ml, it is rather pricey, but since I only use a few pumps each time, this could possibly last a few months which isn't too bad. Until then, I'm going to enjoy having a smooth complexion! :D
Lancome Maquiliquide UV Infinité
liquid foundation is available in 11 Asian-suited shades and is available at all Lancome counters nationwide, retailing at RM130 for a 30ml bottle.
Rating: 4 / 5
Value: $$
(pricey, but worth the money)
Labels: liquid foundation, makeup, practical