Makeup Primer Showdown: Benefit vs Stage…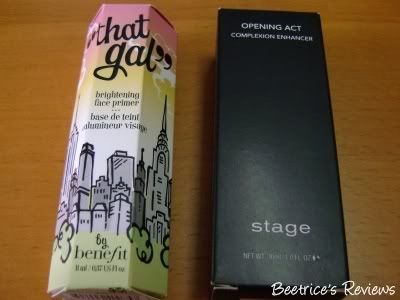 While I was looking through and comparing a couple of makeup bases recently, I realized that I hadn't done a review of either product. So, rather than do one by one, I thought I'd do a showdown between the two makeup bases I've tried in recent months – Benefit That Gal Face Brightening Primer vs Stage Opening Act Complexion Enhancer. One of these two products is now firmly nestled amongst my makeup regulars, so do read on. I decided to break down the showdown to compare several aspects of the products – appearance/ design, texture, effectiveness, pricing/ value and my personal thoughts on each product.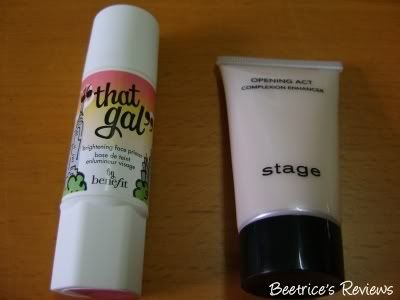 Description:-
Benefit That Gal Face-Brightening Primer:
'That Gal'
is your solution to go from dull to darling. The silky pink primer that makes skin appear smoother & brighter. Wear alone for clear complexion radiance or apply before makeup for smooth, effortless application. Contains light-reflecting pigments to brighten the complexion, along with soothing raspberry & chamomile, combined with sweet almond & algae extracts to help skin retain its natural moisture, for a soft & silky finish.
Stage Opening Act Complexion Enhancer:

Colour correct, brighten and retexturise complexion for the perfect makeup finish with Opening Act complexion Enhancer face primer. This formula minimizes the appearance of fine lines, while enhancing skin's natural luminosity. Mulberry Root Extract brightens skin tone while Soft Focus Complex optically minimizes skin imperfections. Hawthorn Extract helps prevent the appearance of fine lines. Formula blends seamlessly, skin is perfectly even and flawlessly smooth, makeup wear is optimized. Daily sun protection with SPF12. Suitable for all skin types. Apply a thin layer on skin before applying foundation.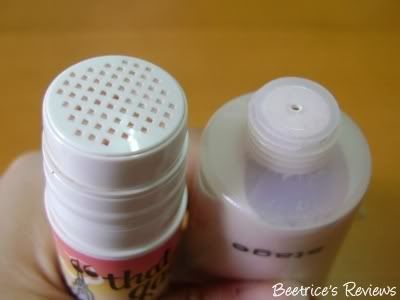 Appearance / Design
Undoubtedly, from an appearance perspective Benefit's That Gal is very eye-catching with its bright design, while Stage Opening Act comes in a plain tube. Then again, it's not smart to judge a book by its cover right? :)

However, when it comes to dispensing, this is where the two differ quite a bit – Benefit That Gal comes in a click-tube with multiple holes on the top, while Stage Opening Act is a simple squeeze tube. From a design perspective Benefit That Gal is better designed for use with a brush since it does make it easier to pick up, but the instructions said to use your fingertips which from experience can cause quite a mess. Furthermore, the click-tube isn't "click-proof", and accidentally clicking out too much product is all too likely. By contrast, the Stage tube is definitely more low-tech, but more importantly, accidental messes are avoidable.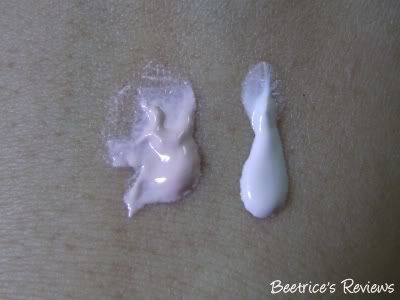 Without flash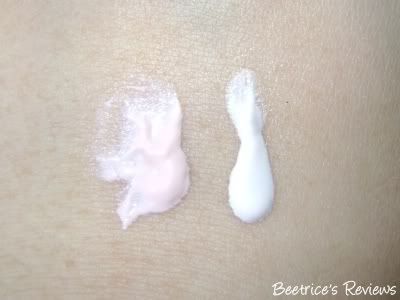 With flash
Texture / Effectiveness

In this aspect, there's not much to tell between the two products. Both Benefit and Stage have great texture and spreadability. Benefit's That Gal is a pinkish cream with a faint raspberry scent to it and gives a cooling effect upon application
(good for the hot weather?)
while Stage is a beige-coloured cream with a mild makeup smell. I found that I liked the cooling effect of Benefit That Gal, but the raspberry scent bothered me a bit.
Both products leave skin nicely prepped for the next step, whether a light dusting of powder or foundation. This is where Stage gets a leg up on Benefit by packing a modest SPF12. I'm in no way saying you should skip your sunblock if you use this, but SPF is an added bonus. :)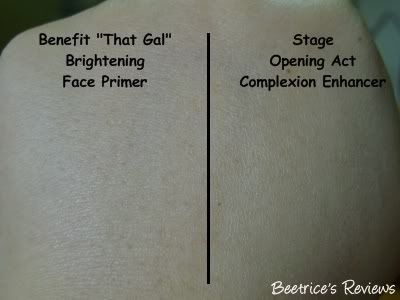 Once both have been well-worked into skin, there was something that bothered me – although it's not very clear in the photo above, Benefit "That Gal" left a pinkish sheen on my skin. For pink-skinned girls, this shouldn't pose a problem, but for yellow-skinned girls this might result in a rather rosy look overall. Girls who have averseness to red faces and overall redness
(apart from your lips!)
may want to avoid Benefit's primer. One of the Benefit SAs once applied That Gal under my makeup – the result was a flushed look even after application of foundation and powder. Stage Opening Act on the other hand is quite neutral, and works for most skin-types. No prizes for guessing who the winner was in this aspect.
Pricing / Value
Now, here is where Stage Opening Act totally trumps Benefit that Gal – for easy comparison, I'll break it down:
Benefit That Gal
– RM138 / 11ml =
RM11.65/ml
Stage Opening Act
– RM68/30ml =
RM2.25/ml
No explanations necessary I'm sure. :D The gap in price per ml is astronomical!
Personal Thoughts

Apart from the design and cooling effect of Benefit That Gal, my eye has gravitated towards Stage Opening Act. If the price point hadn't tipped the scale in its favour, the results and SPF have definitely done the job. My Benefit That Gal has passed to other hands, while Stage Opening Act has wrestled its way into front place in my makeup case for the past two months.
Ingredients:

Benefit That Gal Brightening Face Primer
(click image to enlarge)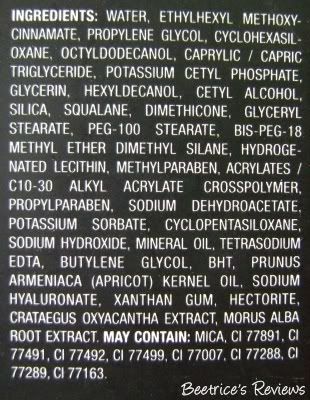 Stage Opening Act Complexion Enhancer
Stage Opening Act Complexion Enhancer retails at RM68 for a 30ml tube and is available at all Stage outlets.
Benefit That Gal retails at USD28 on the website for a 11ml tube

(I think it's RM128 or so locally at Benefit counters)

.