The Face Shop Plus+1 Lip Care Stick in Pomegranate...
Knowing my obsession for lip glosses, it's irritating when applying gloss on chapped or dry lips. Coupled with this pimple-turned-dry scab right at the corner of my mouth, I've found a compelling need to constantly apply lipbalm to keep the skin from cracking...*ouch* I'd picked this out at the Face Shop during their sales a couple of months back, and it's been getting quite a lot of use recently!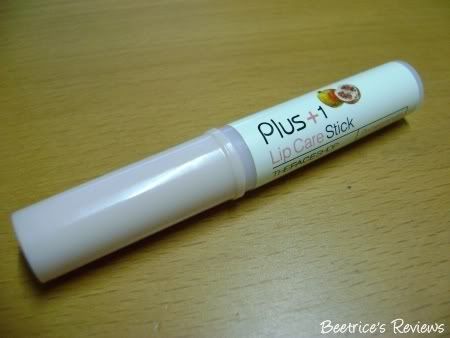 Description:
The Face Shop Plus+1 Lip Care Stick is a convenient, must-have lip care stick for soft and healthy lips. With a non-sticky, lightweight formula, it contains Macadamia nut oil, petroleum jelly, castor oil, beeswax and peppermint oil.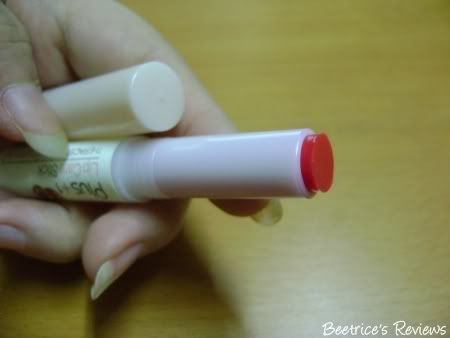 The Verdict:
The first thing that struck me about this lip care stick was the fragrance – it is unmistakably pomegranate, and quite distinct once you open the cap. Now, I happen to like the smell of pomegranate, but if you are sensitive to scents this may not be the lip care for you. Application is quite foolproof, just twist and apply. :)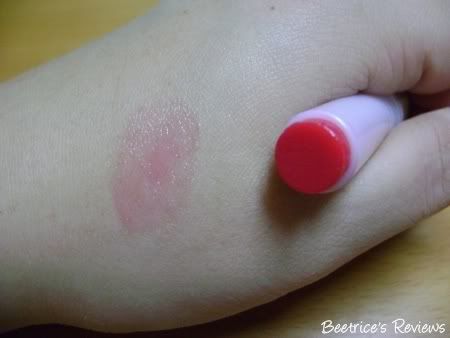 When applied, it comes off as a light reddish-pink giving some colour to the lips which I found quite flattering. This colour wears off after a while, but while it lasts it's quite nice. The lip care stick is also slightly oilier than other lipbalms I've tried, which means that our local heat doesn't do it any favours...if you've ever accidentally left a lipbalm in the car under the hot sun, you get what I mean.

As far as lasting power goes, this is just 'meh' to me. Application brings quite immediate relief in terms of moisture, but it's quite short-lived. If you do choose to get this, be prepared for constant reapplication – this won't even make it through a glass of water! Also, thanks to the soft texture and constant reapplication, one tube doesn't last very long. I got mine about two months back, and it's already two thirds gone with application 3-4 times daily.

If there's one thing that I cannot stand, it's these darned manufacturers that don't know how to design blooper-friendly lip products. There's nothing more irritating than opening up your favourite lipbalm / gloss / lipstick only to find it smooshed against the top of the cap because it's been jostled around in your handbag.

This Lip Care Stick is no different – I've found it pressed into the top of the cap several times, and it's not like it's even being tossed around in my bag! The Lip Care Stick sits snugly in a separate pocket in my bag with minimal movement...and if this is the result, I cannot imagine if it were to be dropped loose into a handbag.


The Face Shop Plus+1 Lip Care Stick in Pomegranate retails at RM19.90 for a 2.2g stick and is available at all The Face Shop outlets.


Rating: 2.5 / 5
Value: $$
Labels: lipcare