Results: Beetrice's Reviews Blogoversary Giveaway…
Have you all been sitting at the edge of your seats waiting for the announcement? LOL…apologies for the long wait, as it was quite a task sifting through all the entries. The entries for both sets were quite evenly matched with a slight tip towards Set #2 – why I wonder…

There were a number of entries that unfortunately had to be disqualified due to non-compliance with the terms and conditions laid out in the entry post – I even had one person try to enter the giveaway TWICE with different emails! I know everyone wants to win, but come on…play fair.

After removing the disqualified entries and adding in the bonus entries, the names were run through a randomiser for the results, and here are the winners!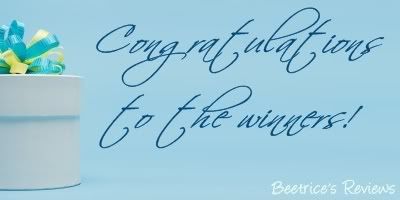 1. SET ONE – FOR MALAYSIAN READERS
KIM CHONG
of narqueliekim[at]gmail[dot]com
2. SET TWO – FOR EVERYONE!
MEL
of melvel[at]gmail[dot]com


Congratulations to both of you on winning the giveaway, and I will be in touch shortly for your mailing details. You have 48 hours to respond, failing which I will pick another winner. :)


For those that didn't win, there will be plenty of other opportunities in the future, so keep on reading and enjoy the rest of the week!
Labels: giveaway