A present from the colleagues…
I do apologize for the recent lack of posts – some of you would have known about the recent turn of events in my work life
(yes, I do have a day job! LOL…).
Last Thursday was my last day at work, after which I'll be taking a bit of a break to focus on my sites as well as a couple of other things before getting back into the rat race…hehe…
The colleagues had a hilarious send-off for me on Thurs
(yes ma dears, I'm going to miss you all terribly too!)
but this was really the icing on the cake – they really do know me and my penchant for purple!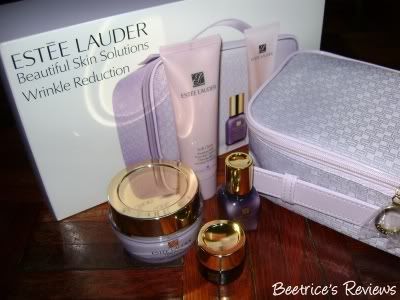 I was quite amused that they bought the
"Wrinkle Reduction"
set
(hmmm…what are they implying?!?),
but it does come with the Perfectionist CP+ which they've heard me raving about, so I'm downright touched that they remembered all this! Love you guys!!
(and now I have even more stuff to review!)
Labels: skincare