Makeup in the Malaysia Book of Records?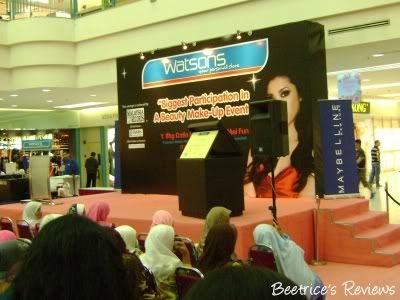 This morning at 1 Utama, there were simply hordes of ladies queued up at the main concourse area of the old wing – all of which were waiting for their turn to be made up for the "Biggest Participation in Beauty Make-Up Event" to be endorsed by the Malaysia Book of Records. Were you one of them?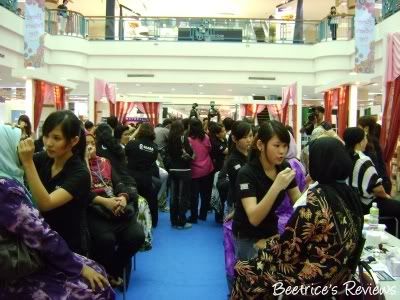 From the information given, the three organisers – namely Watsons, Maybelline and Clara International – had to achieve a target of 1,400 participants between 10am and 9.30pm. The part I found quite amusing was that the complete make-up was detailed out to the last detail – "Each participant must undergo a complete make-up session, which constitutes the application of face powder, eyeliner, eyeshadow, mascara, blusher and lipstick." LOL!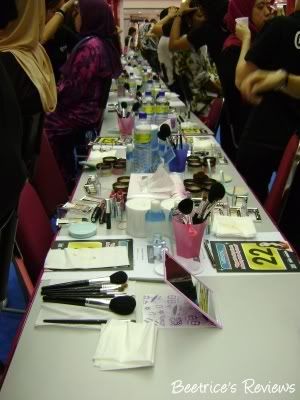 All the makeup was sponsored by Maybelline. I did see them using quite a lot of their minerals range, as well as the Eye Studio quads – funny how the Cats Eye mascara didn't get much use, even though it was heavily hyped at the venue itself.


They had this system where the different makeup artists each had a placard to hold up once they were done – it was quite efficient I must say…if only our local government offices worked as fast!
(It also proves that you can put on a decent 'face' of makeup in under 15 minutes!)
For us though, after looking at the whole queue of people we weren't too keen on participating so we decided to take a walk around the mall after the main announcement. However, when we passed by again at 2pm or so, the queue had shortened considerably, so since we didn't have to wait long, Paris and myself ended up as the makeup guinea pigs!

#832 – over 800 people is just 4 hours? That's not too bad…



Paris getting her makeup done…heehee…



On the way out – done in just under 15 minutes. The girl even had time to fill in my eyebrows!
I found it quite funny that although we had been in separate areas of the makeup corners, they used the same Eye Studio quad (I think it was New York) on us – with quite different results! Paris said she looked scary, while I thought my eyeliner was way shaky. Eeeps!

They took both "before" and "after" photos on the way in and out of the makeup area, and Paris pointed out something we both found hilarious – the statement the photographer at the exit asked us: "So, have you done your makeup already?" LOL!! How would you have answered that?

The first 1,000 to complete the makeup were given a Maybelline Impact Express Smooth Pencil Eyeshadow together with some vouchers and a certificate of participation. One of the vouchers was a RM5 Maybelline voucher only valid for today, so I ended up picking out their Unstoppable Eyeliner in Aubergine…it's a lovely colour that's not quite purple, not quite brown.

The numbers were already bordering on 1,000 when we left the area at about 3pm, but I'm not sure if they managed to hit their target of 1,400 participants by 9.30pm. I hope they did though!

Did any of you make it there for the makeup session? :)
Labels: tips n news