Laura Mercier Spring 2009 Collection…
Ever since resolving to get more sleep by sacrificing my morning makeup time
(I now apply 2-way foundation in the car!),
I've given up on using mineral makeup except on weekends or on my days off. However, Laura Mercier's latest Spring 2009 Collection is making me think twice…they've come out with a Flawless Face set under their Mineral Kit Collection: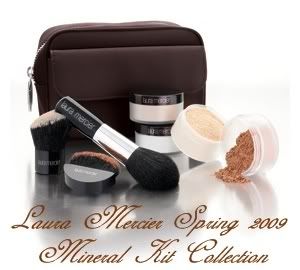 The
Flawless Face Mineral Kit
offers a collection of mineral products for flawless coverage that looks and feels like your own skin. With four products to make your complexion appear clear and immaculate together with three tools and instructions for perfect, easy application, you'll be looking nothing short of a million bucks.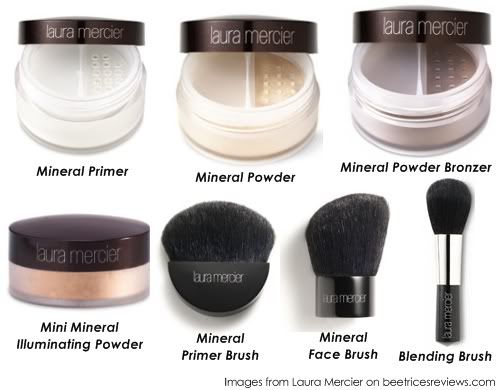 Above are all the items you get in the kit, together with a bag to carry it all in. There's an exclusive introductory price now of
RM449
for this
(original value RM790, while the total actual size is valued at RM1,029).
But here's the bad part – this set retails for just
USD100
on the Laura Mercier website! I know there's sure to be a markup when products are sold overseas, but this is ridiculous! It's literally DOUBLE the price, and that's after applying the conversion rate!
(even the introductory price is about 30-40% higher)
*heart attack*Mineral Primer – RM132
Mineral Powder

(available in Sand / Natural Beige)

– RM135
Mini Mineral Illuminating Powder

(available in Candlelight / Starlight)

– RM139
Mineral Powder Bronzer

(Warm Bronze)

– RM135
Mineral Primer Brush – RM145
Mineral Face Brush – RM155
Blending Brush – RM129

Apart from this, Laura Mercier has also unveiled two other collections for its Spring 2009 lineup – the Gilded Garden Collection and Bronze Goddess Collection.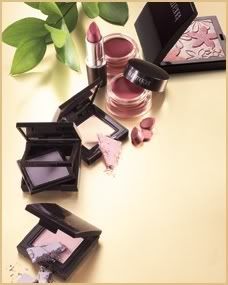 Gilded Garden Collection
– Mosaic Shimmer Bloc softly illuminates cheeks with the perfect flush of rosy color, while a bouquet of four shimmery eye colours add a hint of glamour with gold accents. Lip Stains in Hibiscus and English Rose and Lip Colour - Stickgloss in Azalea and Tiger Lily add a pop of colour to the lips. The Limited Edition collection will have you looking fresh, floral, and beautifully-polished throughout Spring.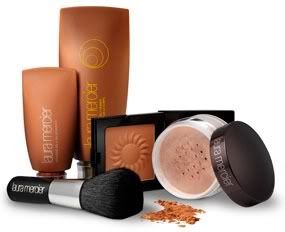 Bronze Goddess Collection
– Limited edition Body Bronzing Makeup and Sun-Free Gradual Self-Tanner gives skin an instant sun-kissed glow with a hint of Almond Coconut fragrance. The Bronzing Gel adds the perfect warmth and radiance to the face, while the new moisturizing HydraTint SPF 15 Lip Balms provide a splash of colour complementing your bronzed summer skin.
I haven't seen these two collections in Malaysia yet though, just the Mineral Kit. I wonder if they'll be coming in or not, but with the ridiculous price differences I doubt if I'd be mad enough over any of the products to buy…sigh…
Labels: makeup, tips n news