Bitten by the nail bug…
Monday's here…already?? Dang, the weekend just flies by doesn't it? Hehe…how many of you went to IBE over the weekend? :)

I happened to pass by the Konad nail stamping booth on my way out, and the pretty designs just caught my eye. I've never been one to DIY my nails other than the usual solid layer of polish since I am a total klutz at manipulating implements with wet nails, but there's a first time for everything right?


Since they had a
"Buy 4 Get 1 Free"
promotion at the expo, I decided to give it a try – 2 bottles of special nail polish
(apparently it's a different consistency to normal nail polish @ RM10 a tiny bottle!),
2 image plates
(M21 and M32 at RM16 each)
and one stamper & scraper set
(RM14).
The total after deducting the lowest value item was
RM50
…not too bad I reckon.
Since then, I've been playing around a bit with the various designs…as you can see, I still have a LOONG way to go before I'm anywhere close to the likes of Nikki and Prettybeautiful… :D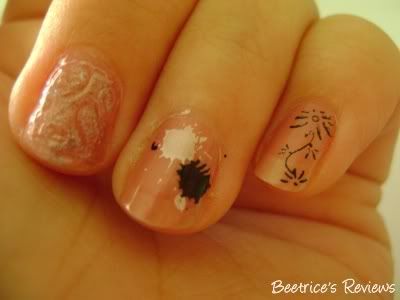 L-R:
Random dots of colour swirled with a pin, monochrome
'splats'
using stamping plate, black flower design
(also using stamping plate)
Still trying to get the hang of it, but slow and steady I suppose…did you guys have fun with your weekend? :D
Labels: events, nail products