Beetrice's Reviews Blogoversary Giveaway!!
Hello ladies!! Enjoying your Sunday? It's about to get a whole lot better… :)

I won't keep you in suspense, so…without further ado…on to the giveaway! After some thought, I decided that since Beetrice's Reviews is turning TWO, there will be two sets up for grabs – take your pick!


SET ONE – FOR MALAYSIAN READERS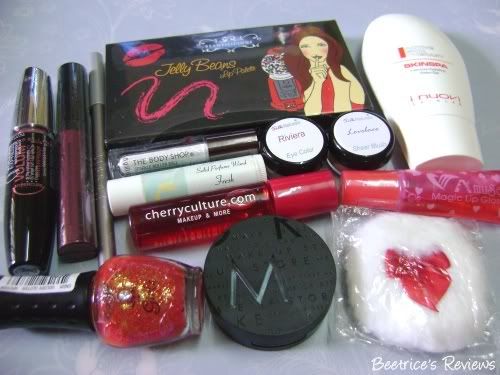 Sponsored Items:

Skinspa Active Skin Therapy and Sparkleliner, courtesy of inuovi
Jelly Beans Lip Palette, courtesy of Beautilicious
Items from Me:
Silk Naturals Solid Perfume Wand in Fresh
Makeup Store Microshadow in Rodeo
Amuse Magic Lip Gloss
Silk Naturals Sheer Blush in Lovelace
Silk Naturals Eye Colour in Riviera
The Body Shop Sparkle Roller Ball
Cherry Culture Cherry Lip Gloss
Maybelline Volume Express Waterproof Mascara in Very Black
LA Colours Lip Gloss in Ruby
NYX Girls Polish in Golden Glitter
Stage Luxury Powder Puff
SET TWO – FOR EVERYONE!
(Yup, this is open to international readers too!)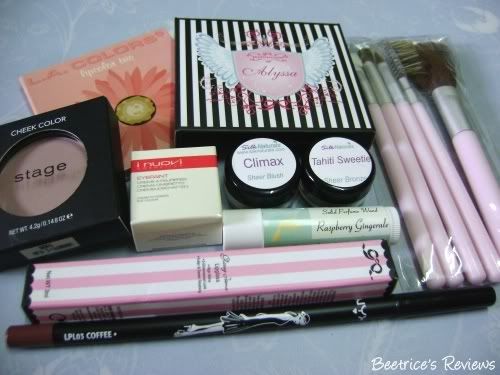 Sponsored Items:
Alyssa Palette and Glossy Jams Lip Gloss in Pureberry Jam, courtesy of Beautilicious
Cheek Color in Snapdragon, courtesy of Stage Cosmetics

Items from Me:
Silk Naturals Solid Perfume Wand in Raspberry Gingerale
Silk Naturals Sheer Bronze in Tahiti Sweetie
Silk Naturals Sheer Blush in Climax
LA Colours Lip Colour Trio
Inuovi Eyepaint in Sahara
NYX Long Lip Pencil in Coffee
Bloop Travel Brush Set


So, have I gotten you stoked yet? LOL…read on for the entry details!

HOW TO ENTER:
Subscriber to my feed via email or in a feed reader. You can do this by entering your email in the box on the right side of the page and clicking "Subscribe". Please note that you have to verify your subscription

(a confirmation notice will be sent to your email),

or it won't be activated.

Leave a comment on this blog post with the following details:
tell me where you're from

which set you'd like to win

answer a simple question:

"How old is Beetrice's Reviews?"

(Hint: The answer is somewhere in this post)

anything else you want to say – what you like, what you would like to see, anything!

your email address for me to contact you
Sample: "I'm from ***, I'd like to win Set #2 and Beetrice's Reviews is **. I love the site! (the last bit is optional…obviously I love my site, but you get the general idea…*grins*). My email is ****.
See? Easy peasy! :)


Terms & Conditions:
Please indicate clearly which set you'd like to win, and read the details above carefully. Incomplete entries will be disqualified.

One comment per person please. Be nice and let everyone have a fair chance, okay?

Please play nice – keep it clean and spam-free. Comments with advertising links and such will be deleted.

This giveaway is open to ALL readers subject to the respective categories of the sets, and anyone can enter regardless of whether you've won anything here previously.

Winners for each set will be selected at random. I will be notifying the winners via email, so please keep an eye on your email. If I do not get a response within two days, I will select another winner.

Bonus Entry:
If you have a blog, you can obtain an additional entry by linking to this blog post on your site. No need for a full post on it, just a link and passing mention is fine. Please email me the link to the relevant post (together with the name you made your original comment with – so that I know who gets the extra entry!) to beetricesreviews [at] gmail [dot] com. Easy enough for an additional entry yes? :)


Closing Date:
Closing date for this giveaway is 11.59pm on 20 May 2009 Malaysian time (GMT +8.00), after which all comments will be tabulated. The winner for each category will be selected at random and announced shortly thereafter.


Of course, even if you're not participating (although you're most nicely encouraged to!) do feel free to spread the word. Let's spread the love a bit, shall we? Thanks a lot, and good luck!
Labels: giveaway