Stila & MAC mini-hauls…
Why is it mini? Because I didn't overdo it this time…I think… :D Anyway, let's start with the Stila stuff first…
I've dropped by various Stila counters over the past week or so, and found that I had mixed experiences – some were really good
(like the IU Parkson outlet)
or really REALLY bad
(shame on the Isetan Gardens outlet!).
But that aside, I did manage to grab a few items that were a steal at the going rates.
Two Stila single e/s with a blush – I loved Mist in particular because it shows up as an iridescent white-pink, and looks absolutely scrummy with a black eyeliner I have…


These would have to be my absolute favourites – Stila e/s duos…I think it's not hard to see why right? The pans are as soft as I remember them, and they're really easy to blend. It's a bummer the tops aren't see-through, which makes it hard to know which is which, but I managed to find a way around that too…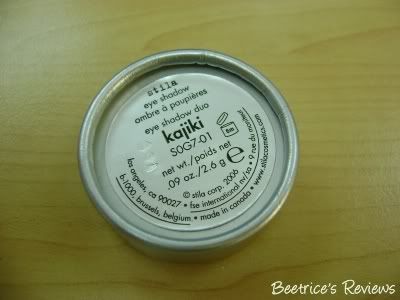 Since the labels are a similar silver colour and fit quite nicely on the base of the case, I peeled them off the plastic cases and stuck them on the bottoms! Problem solved for now…but what do I do when I forget what each name looks like? LOL…
Next up, the tiny MAC haul…this lot is thanks to
Connie
, who gave me the tip-off…I'm wondering whether or not I should actually thank her now, since she made me spend more $$!! What's more, I added to my
already substantial lipgloss collection
…eeps!!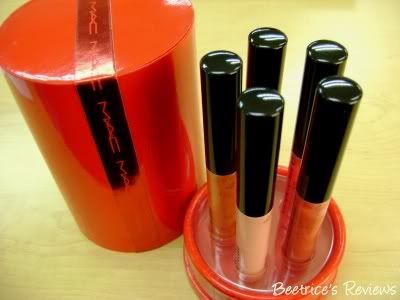 MAC Little Darlings – this contains 5 coral lipglasses / lustreglasses in a cylinder…so pretty!!


Not content with that, I also picked up two other full-sized lipglasses as well…hey, after the discount, they were cheaper than even Silkygirl lipglosses! :D


MAC Lipglass in Soft & Slow
(muted rose shade)
and Pink Grapefruit
(orangey-pink).
Now, I won't be keeping ALL of them for myself…some will be going to new homes
(you may or may not know who you are! LOL…)
but they're just so pretty all the same, no?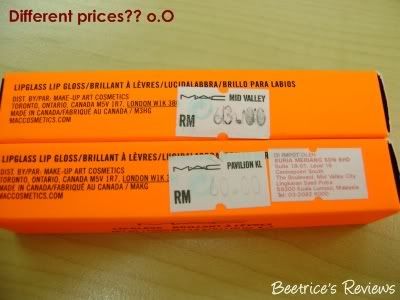 I found this a bit peculiar when checking the tube cases – there are slightly differing prices on the tubes
(one was from Pavilion, the other from Midvalley).
Not sure why but ah well, the end price was the same at any rate! :)
Did any of you guys get any good hauls at the recent Stila sales / otherwise? Share share! :)