Firstcoach...

Since I've started working, I've actually gone down to Singapore quite often…in fact, I think I've gone more often in the past couple of years than the rest of my life, which is saying something!

Of course, going down by plane is fine when it's on the company account, but when it's on personal matters, there are more financially attractive means of making it across the Causeway. Driving into Singapore is just EXPENSIVE and the train stops quite far out of town, so Firstcoach is a great alternative.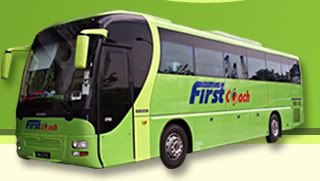 Firstcoach was first introduced in November 2004 as a Luxury Executive Express servicing between Malaysia and Singapore. If I'm not mistaken, it was also around the same time Aeroline emerged. While Aeroline has since gone on to extend their route to include Penang, Firstcoach has worked on expanding their existing Malaysia-Singapore route, and in my opinion have done a great job.
When I first started taking Firstcoach back in 2005, everything was run out of their Bangsar branch. Today, Firstcoach has got stops at Novena Square and The Plaza in Singapore, as well as Bangsar and Bandar Utama in Malaysia. I love the latter, since it's near my house.
The rate is pretty good – RM115 for a return trip, and approximately half price for children. When you arrive at the pickup point, you can expect a welcome drink, as well as a bottle of water and a packet of biscuits at the start of the ride. There is also at least one scheduled 15-minute stop along the way for those needing a toilet break or just to stretch their legs.
As far as seating goes, their seats are spacious and quite comfortable. It reclines quite a way down along with the leg rest – even those with longer legs
(or a little bit more in the seat area!)
will have no complaints.
However, if I could select one thing that sets Firstcoach apart from the other dozen or so Malaysia-Singapore bus services, it would be their drivers. Over the various trips I've taken with Firstcoach, I have never come across any of their drivers who were anything less than friendly and courteous. They've cheerfully chatted with the passengers, offered help at every turn and once, even helped me to charge my mobile when the battery died.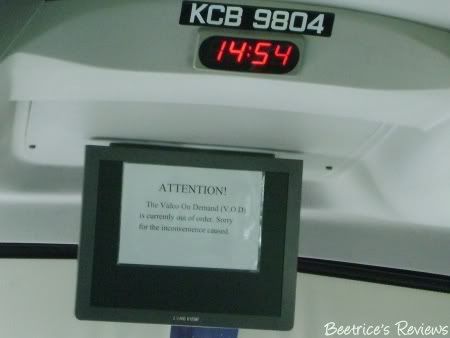 Firstcoach installed Video on Demand
(VOD)
services a while back, which I hear are pretty good. Unfortunately, I didn't get to try the service out since they were servicing the system.
From what I heard from friends that have tried the VOD, it's pretty good so I'll definitely be looking forward to checking it out the next time I head into Spore. Will I continue using Firstcoach? You bet!
Rating: 5 / 5
Value: $$$
Labels: services