Boots No.17 Duo Eye Shadow Glamour…
It seems that every time I get reminiscent of my Bangkok shopping trips, I tend to dig out something I bought along the trips to quell my hankering to go back. Well, either that or actually go back to Bangkok, but the next trip is still a time away, so this time it was my Boots No.17 Duo Eye Shadow Glamour.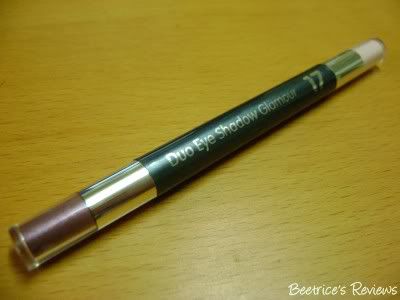 Description:
Each one of Boots No.17 Duo Eye Shadow Glamour contains two complementary shades, with a fine texture that blends easily over eyelids. Provides an even, luminous brilliance of colour that lasts for hours without creasing. Available in 5 stunning combinations, dermatologically tested and fragrance-free.


The Verdict:
I like the way the powder tips are a bit springy so that the powder in the ends are kept firmly packed instead of spilling out when the ends are unscrewed. Of course, that doesn't mean that you can open the ends anyhow, but it does help minimise the spill factor. And as you use up the powder, the spring tips help ensure that you can reach the powder at the very ends.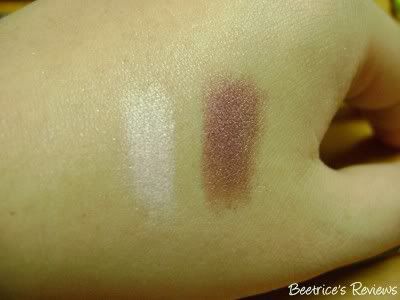 As far as the colour goes, the shades are gorgeous – one is a pale iridescent pink, while the other is a deep plum. The pale pink is excellent for as a highlight, although this is better suited for cool-toned girls. I actually count myself quite lucky since I can carry off most cool and warm shades
(with the exception of matte pastels…bad bad bad!)
There's the notion that purple/violet makes people look like people have been punched in the eye, but I found the combination of the pink and plum works quite well as long as you keep the plum close to the upper lash line, and
AWAY
from the lower lashes.
However, the staying power of this eye shadow isn't quite as good as I'd hoped. I tried it with and without a base, and even on both counts it creased something bad a few hours into the day. Colour-wise, it has decent pigmentation so my only gripe would be the creasing. Even the price point is pretty good
(especially in this economic crunch!)
so for a short event, this would work pretty well. Have any of you tried this out? Let me know how you like it!
Boots No.17 Duo Eye Shadow Glamour is available from all Boots outlets. I bought mine from Boots in Bangkok Thailand for THB129

(approx. RM12.90).
Rating: 3.5 / 5
Value: $$
Labels: makeup