I think I'll call this my "Braidy Bunch" bag… :)
** Sorry about the gap in posts - I was meant to post this up on Sat morning, but a water pipe burst in my room on Fri nite and the internet just refused to work..ARRGHH!!
After having dinner with a couple of gal pals the other day, we happened by the Vincci when a bag in the front of the store caught my eye. Sadly, the white one I was eyeing turned out to be covered in
'parachute-like'
silky flimsy material and looked rather flimsy. I was about to leave when this little baby caught my eye, tucked away in the corner behind a bigger bag.
I can see why it didn't catch my sight at the first glance – the colour isn't remarkable, especially next to the other turquoise and orange (!!) bags surrounding it. However, once I took it off the rack, it turned out to be a lovely neutral creamy off-white with dark brown stitching…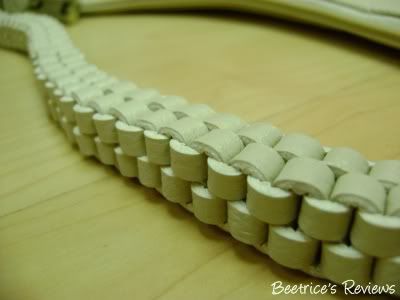 This is the part that really pulled at me (and my wallet!)...the unusual handle – and I'm such a sucker for this sort of braid…teeheehee…and besides, it was quite a steal at RM70+…*grins*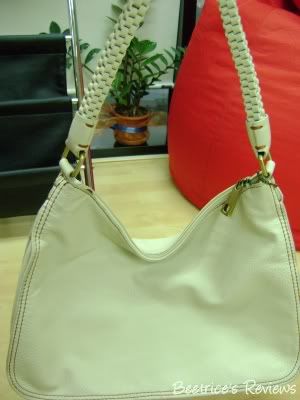 By the way, you can now get a free eco-friendly tote bag from Vincci with any purchase of RM60 (RM50 for PMC holders). Alternatively, HSBC cardholders get 20% off purchases – which is the promo I used – but in which case you're not entitled to a tote bag.

But hey, I'll take the cash discount over a tote bag anytime, especially when it lops almost RM20 off the bill! :D