E.L.F. Hypershine Gloss…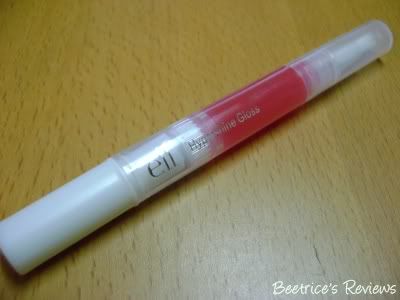 Finally, I get to test E.L.F.! Gosh, it's been so hard to get my hands on it, and getting it from Singapore
(most of the items there retail at SGD4.90)
just isn't worth the marked-up price.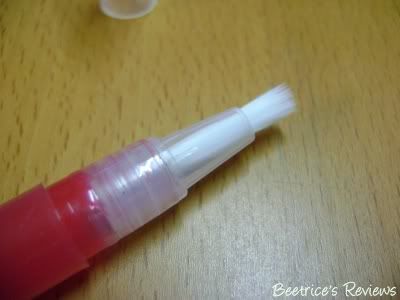 Description:

E.L.F. Hypershine Gloss
is a hyper, glass-like shine infused with micro-mirror technology to reflect light. Smoothes lips on contact with a conditioning shine that lasts for hours. Create that natural lip stain of colour that's sheer, subtle and beautiful! Just twist bottom to apply. Apply gloss alone or on top of desired lip colour.
The Verdict:
The gloss comes in a twisty click-pen format with a paint brush-like applicator. Being the first time I used it, I was expecting to have to twist the pen a few more times in order to get the gloss from the chamber. However, I wasn't expecting to have to twist it about 35 times to get the gloss into the bristles! That's a bit much even for a first-time use. After the first time repeated twisting, I still had to twist it a fair few times to get the gloss going.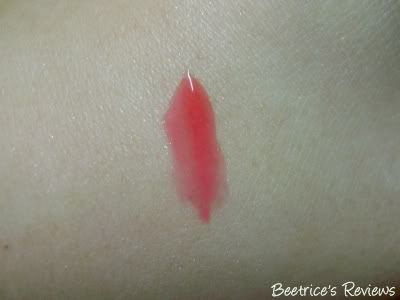 The shade I tested was
Vixen
(nice name huh).
The gloss is of the sticky variety so for those that don't like sticky glosses, you may want to give this one a pass. I'm not particularly finicky about it so it's still fine for me – besides, sticky glosses last longer. :) There's also a faint cotton candy scent and taste to the gloss.
As far as application went, the gloss went on smoothly, although I had to click for more gloss halfway through application. The brush does its job perfectly for precision application, which is a big factor for sticky glosses in my book.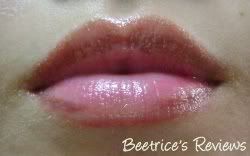 Colourwise, I got the darkest shade of the lot, which looked a lot like a deep pink jelly in the tube. However, once applied it gave just a hint of pink to my lips – I can see myself layering this over my new favourite Benefit lipstick, but for work today I applied the gloss on its own and it's a pretty nice look just for a little wash of colour. And it's held out until now too!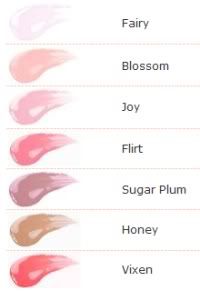 There are seven glosses in total for the E.L.F. Hypershine Gloss range, but unless your lips are very light or you like clear glosses, I'd suggest you stick to the darker shades. The only thing that miffed me was the fact that it was still possible to twist the pen even when the cap was closed, which seriously ups the accident factor. However, E.L.F. may have designed it as such
(seeing as how I had to repeatedly twist the pen to get the gloss out)
although it is rather annoying – can you say 'repetitive strain injury'? That said, it's sitting in my bag as I'm typing this, so…I reckon it's worth a try if you can get your hands on it.
E.L.F Hypershine Gloss retails can be gotten on the US E.L.F. website for USD1 – in Singapore, this is retailing for SGD4.90.

Rating: 3.5 / 5
Value: $$
(this rating is only valid if you get it at the US price though)