Daiso Fresh Grapefruit Lipbalm…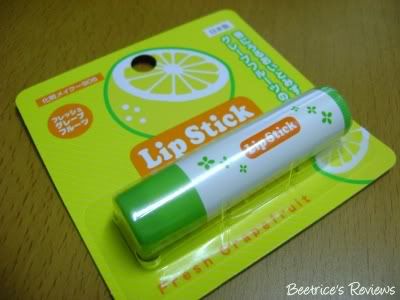 While browsing at Daiso with
Connie
and
Kahani
the other day, Kahani came running up to me and dropped this into my basket – well, seeing as she and I are both ardent fans of all things citrusy, I decided to give it a try…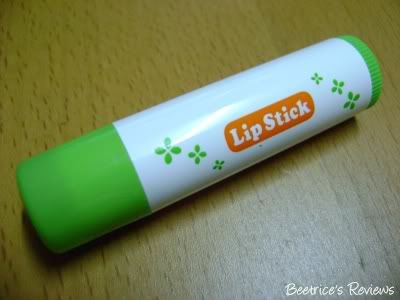 Description:
Daiso Lipbalm prevents dry and rough lips by providing a layer of protection for smooth silky lips. Contains mineral oil, jojoba seed oil, paraffin and petrolatum.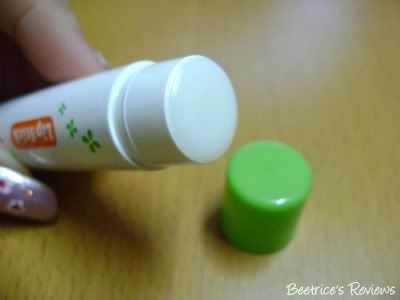 The Verdict:
I was quite taken by the simplistic design on the lipbalm – clean fresh design, and a bright colour. With its lime green cap and accents, it should be pretty easy to find in your bag too. There's a whole rack of variants available with this Daiso brand lipbalm
(even if the packaging calls it "Lip Stick")
In terms of scent, this lipbalm goes on clear and smells
EXACTLY
like grapefruit!!
(Or 100plus, if you're familiar with the drink)
Ab-so-lute-ly
top marks
in the scent department. :) The texture of the lipbalm is slightly towards the waxy side, which is good as it seals in moisture. I'm not a big fan of lipbalms that leave a layer of oil on my lips, especially since on a windy day my hair will be greased up if it flies across my face. Also, it makes for a good base before I apply my lipliner or lipstick.
It's pretty lasting as well, and will give you a good 3-4hours of protection before you have to reapply. Then again, with the addictive scent, I was reapplying it every hour or so just to get a whiff of the grapefruit…mmm…so should that be counted as a plus or minus? o.O
However, there is one point that you need to note about this product is that it contains jojoba seed oil which some people are sensitive to. I don't have a problem with it, but please do test for sensitivities before buying up the whole lot! :)
Also, as far as the price tag went (RM5), it definitely won't put a dent in my pocket even if I were to get one for my purse, one for my car, one for my drawer at work…you get the idea. Dammit Kahani, now I'm going to want to stock up on this!!
Daiso Fresh Grapefruit lipbalm retails at RM5 and can be found at Daiso @ The Curve, Mutiara Damansara.

Rating: 4.5 / 5
Value: $$$
Labels: lipcare