The Body Shop 2009 Award Finalists…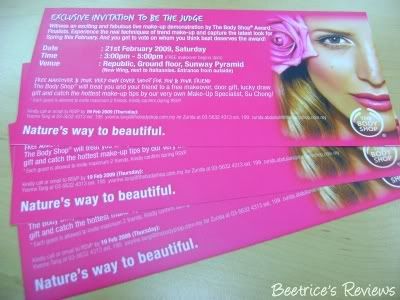 I was recently invited by my usual TBS SA to attend The Body Shop Award Finalists session at Republic @ Sunway Pyramid. Since I had attended the
last session in 2008
, and he was taking part, I figured why not? So last Saturday, I hauled myself
(along with Paris and another friend)
to Republic to see what all the buzz was about…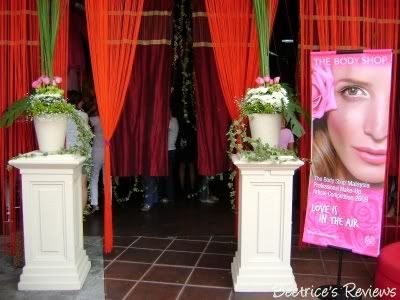 The entrance to Republic…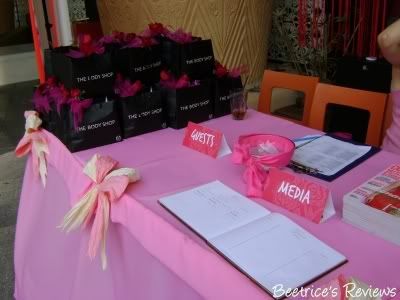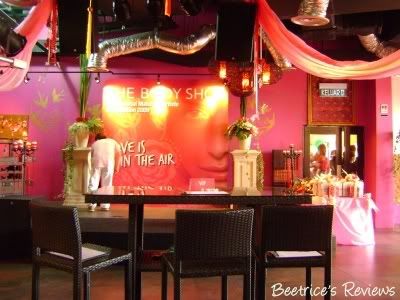 Stage area…we were on time, but there weren't many people around…that's the one thing I cannot understand. The invitation clearly said 3.00pm, and people were just happily sauntering in at half past! Malaysian timing or not, starting an event FORTY minutes late is a bit TOO much!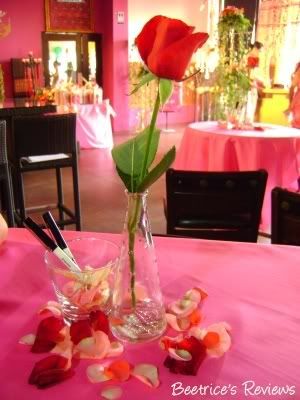 Can you guess the underlying theme flower for this year? Last year it was gerberas, which I really liked. This year it was roses…but sad to say, it seemed to have just WAAAY too many around (a bit like someone getting rid of the surplus after Valentine's, if you ask me)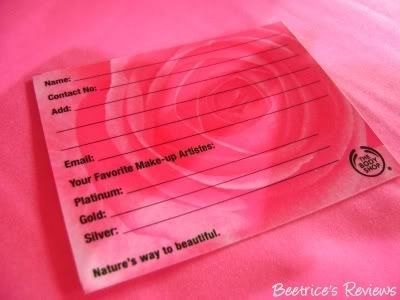 Last year's vote card was so much nicer too! It had a lovely pattern of a gerbera printed on white card. By the way, small tip for the organisers – please TEST the pens you're giving people to fill in the cards with! The markers they gave would not adhere to the cards, which resulted in a LOT of smudging, and many ended up borrowing ballpoint pens to fill in their details.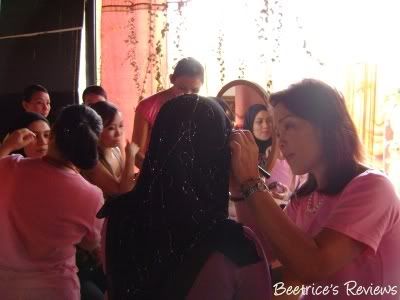 There were simply SWARMS of people at makeover table wanting to get their makeup done, all for the sake of having a studio pic taken. I'd done that the year before, and the picture was okay so this year I decided to just do away with it…especially knowing now what I know about how they share the makeup between so many people! *ewwww*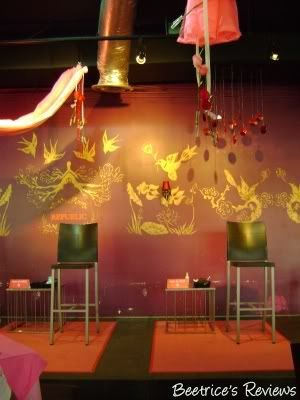 The set up this year was a bit better, although the lighting didn't do much to help the artists…wasn't makeup supposed to be applied in natural or at least close to natural light?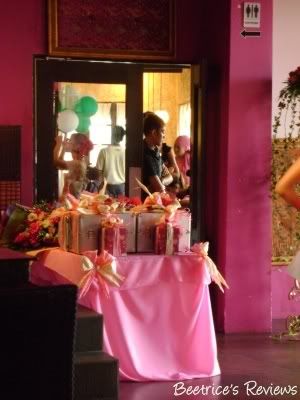 I thought this was pretty cute – I can just make out Man sweating it out just behind the doors next to the gift table!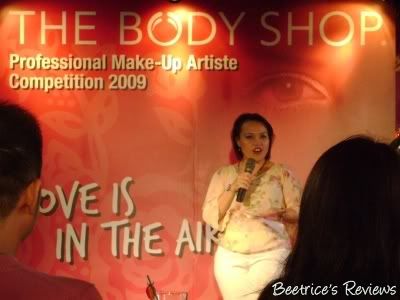 The emcee, Jane…as it was, the event already started super late, but then we were subjected to a long self-absorbed prattle from her before the actual program started. PB and I both agreed that she was probably loving the sound of her own voice, and trying way too hard to impress the GM of TBS who was sitting right in front. Honey, saying "I wish I could dance like that" after the flamenco demo would have sufficed…saying "If I want to dance like them, sway here, sway there, so glamorous...I have to take dance lessons first hor" with all the over-drama additions in your voice is err…*rolls eyes*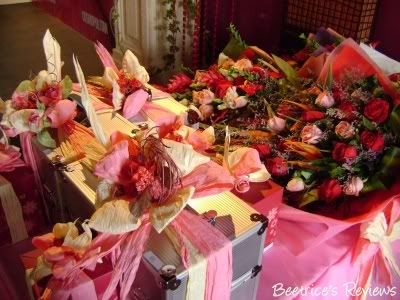 Check out the prizes…and see what I mean about the roses?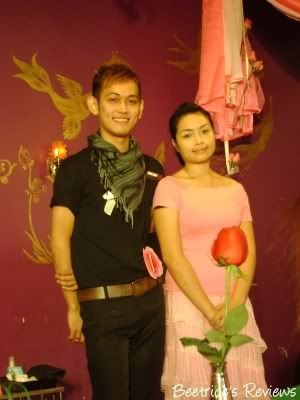 Man and his model…you can just see the tension in his face!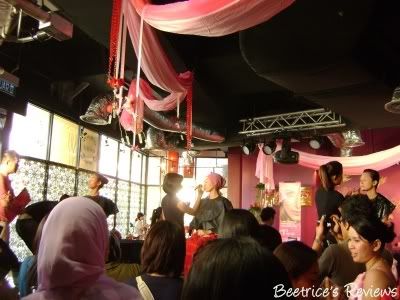 Ready, set, go! All the finalists had only 20 minutes to create a theme look, which this year was based on love. They had to create a look with the latest collection of Morrocan Rose makeup, which we were dying to see, since the Morrocan
Roseflowere Eyes
in Sunshine Gold was barely noticeable when we swatched it previously. There was one in particular who I think actually applied the
Roseflower Lips
to the model's eyelids and was frantically blending it in…quite painful to watch!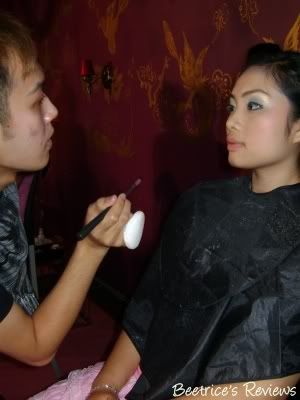 As far as Man's work went, I loved the eye look he created…her lips were a bit pale, but the graduated colour was simply gorgeous on his model. Oh, and another thing…this event was supposed to be about the makeup right? Why then are the models dressed in PINK? It would simply clash with the makeup! Last year it was so much easier to highlight the makeup…the models were all in white!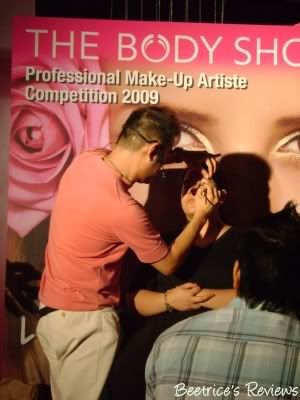 While waiting for the results to be tallied, we had "make-up specialist extraordinaire" Su Chong (or so the emcee called him that…REPEATEDLY) to give a make-up demonstration and some tips. I was totally disappointed by him – for one, he just started whacking on makeup on the person he picked from the audience. No base, no foundation, shiny skin and all…she looked a bit scary when he finished! Thanks, but no thanks…it didn't help that his own skin looked greasy while he was under the spotlight too! Remember the concept about never going to a hairstylist that has got bad hair? Same thing…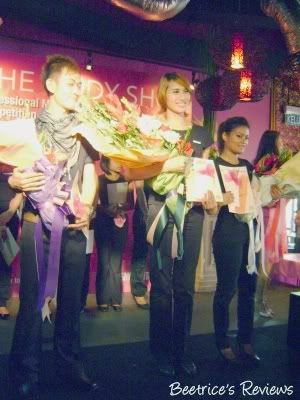 In the end, Man didn't win, but he got Silver placing…I could tell he was a bit disappointed, but well, it was good for his first try.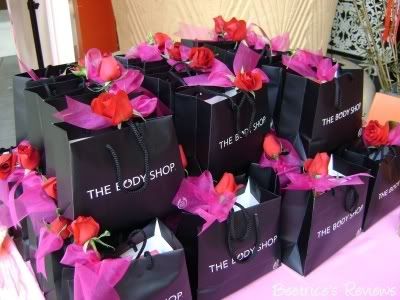 Then of course, came the goodie bags…I was quite peeved that they differentiated between the attendees and their guests. In fact, remember I brought
Paris
and a male friend along as my guests? On the way out, they gave me one of the bigger bags, while Paris got a smaller bag. And my male friend? He was thrust a copy of Cosmopolitan and they told him
"oh, that's for the men"
…what the hell? Talk about gender discrimination. In his words,
"They could have at least given me a copy of FHM!"
(typical male response, but you get the point)

We got a Flawless Skin Protecting Foundation, Matte & Shimmer cheek Colour and Eyecolour
(which were press samples from 2007 and 2008)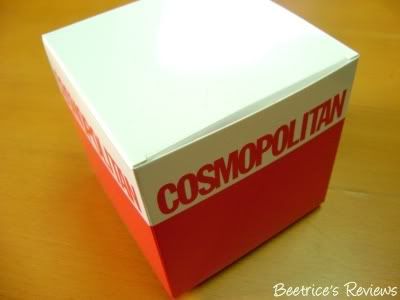 My bag had this weird box from Cosmopolitan, this year's event sponsor…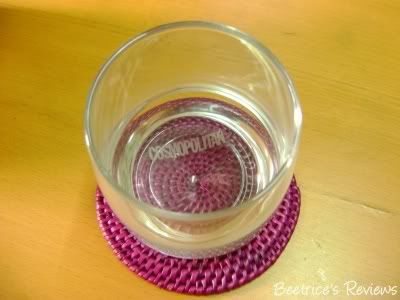 I dunno what this is, to be honest – can anyone help?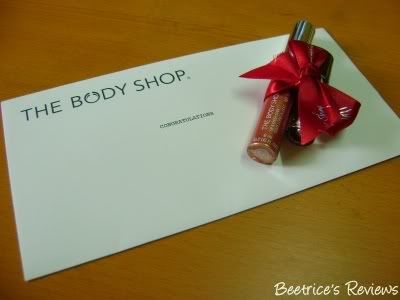 As luck would have it, I also won one of the lucky draw packs
(although there were FORTY winners, so…)
which consisted of an envelope, a Sparkle Roller Ball
(from 2007)
and a Lip & Cheek stain
(from 2005!!)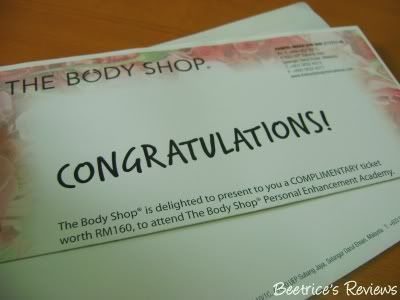 This letter was the most interesting though – it was a complimentary ticket to The Body Shop Personal Enhancement Academy
(worth RM160)…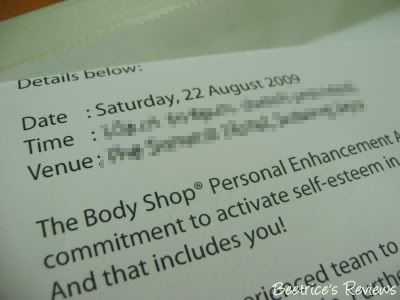 There was just one thing about the invitation I found exceptionally unusual…I have to book my date in advance for
AUGUST
!! Oh well…
Personally, having attended two of these Award Finalists events, I'd have to say that last year's event was more challenging for the finalists, and much better managed. The venue
(at Pavilion)
was airier, more spacious and felt more luxurious compared to the black walls of Republic in a cramped space. Also, last year's event gave more space for the attendees to walk around and inspect close up the work of the finalists, instead of trying to fight their way around the space which is what happened this year.
The lighting this year was HORRENDOUS – if it was meant to be a makeup competition and they invited press
(which they did),
I can't imagine a worse condition for taking photos. Yellow dim lighting, shadows…it's a photographer's nightmare aitelyu!
I love most of TBS' products
(
I'm still the biggest advocate for their Vit C Skin Boost
),
and I love the service I get at the Midvalley outlet, but their event management
(and quality control of the products they give away!)
need work.