Oh so happy...
They say Christmas is the season to give…and hoo boy, was it a season to receive as well! :) This year I had a lot of unexpected gifts from fellow bloggies, and they were just lovely…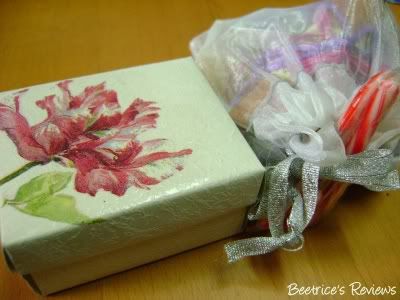 These were the first two of the season which arrived a couple of weeks before Christmas – being over-excited, I ended up tearing into them even before Christmas Day! (ooops...)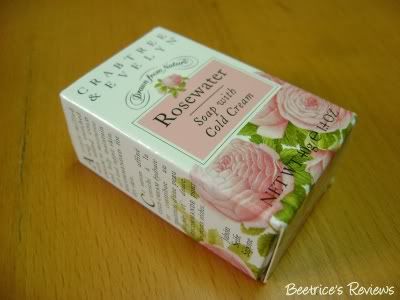 #1 – Crabtree & Evelyn Rosewater Soap with Cold Cream…I've heard cold cream's great for the skin, can't wait to try this!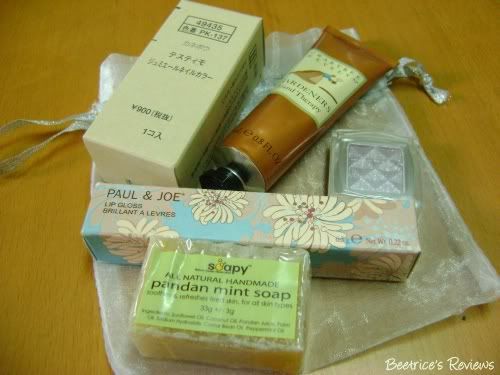 #2 – Kanebo nailpolish, Crabtree & Evelyn Gardeners Hand Therapy, T'estimo eyeshadow, Paul & Joe lipgloss and Soapy pandan mint soap…girl, you really spoil me! :D The Hand Therapy is already inside my bag, and I love the shades you picked out…*big hugz*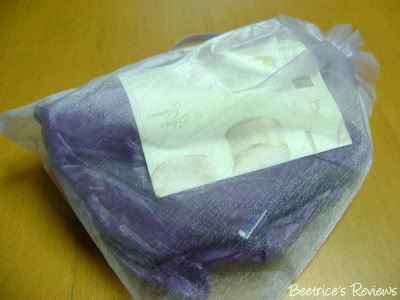 This package arrived all the way from Australia…the card itself was so pretty babe, and you're right – these are things a girl can never have too much of! *wink*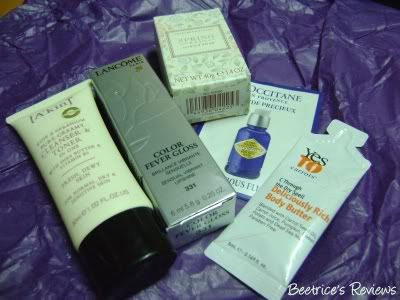 #3 – A'kin Rose & Geranium Pure Creamy Cleanser & Toner, Lancome Color Fever Gloss
(in a kicka*s fuschia shade no less – I can't wait to try it out!),
Crabtree & Evelyn Spring Rain soap, L'Occitane Precious Fluid sample, and Yes to Carrots Deliciously Rich Body Butter
…I've heard great things about Yes to Carrots, and have been dying to try it!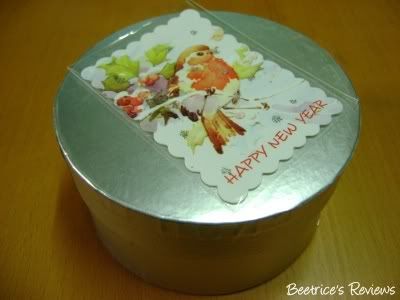 The next item was not exactly from a blogging pal, but oh so pretty that I just had to show you all… :)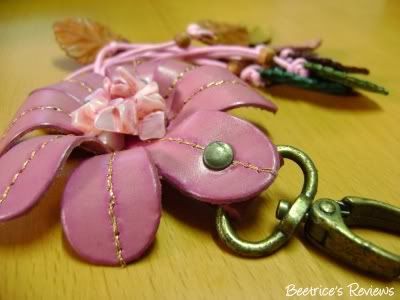 #4 – a new charm to hang on my handbag…I love the colour!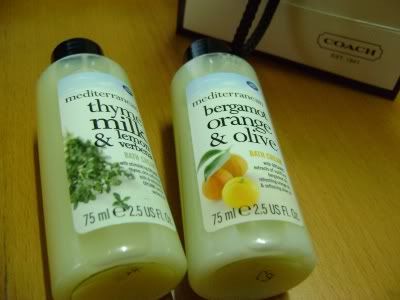 #5 – Boots Mediterranean Thyme Milk & Lemon Verbena as well as Bergamot Orange & Olive bath cream
from
PE
…these smell absolutely lovely babe, thanks!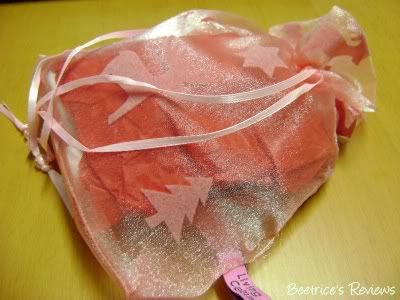 And if that wasn't enough, I had an unexpected delivery at my doorstep no less…from
Prettybeautiful
!
#6 – Oooo…Esmeria Moisturising Bath Wash and Moisturising Body Lotion
(I've never tried this before),
Skin Food Fresh Juice C Serum sample and Clarins Extra-Firming Tightening Lift Botanical Serum sample
…they smell super refreshing…mmm…
Last, but definitely not least, I got these today from Syen and Kahani
(the babes behind SoLoverly)…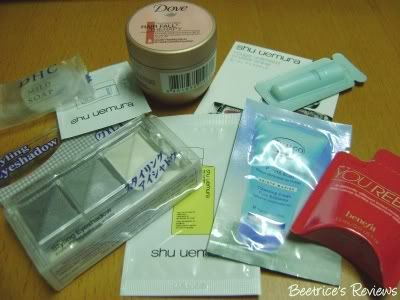 #7 – DHC Mild Soap, Shu Uemura WR EX Activating Whitening Cream sample, Styling Eyeshadow trio, Shu Uemura Skin Purifier cleansing oil sample, Thalgo Cleansing Cream sample, Shiseido Pureness Foaming Cleansing Fluid sample, Shu Uemura rouge unlimited crystal shine sample, Benefit You Rebel sample and Dove treatment mask
(Syen, you've totally piqued my interest on the hair mask after your post!)
And there you have it – what was under my
(figurative)
bloggie Christmas tree this year!!
(what was in my 'other' annual stocking is another matter of course…hehe…)
When 2008 started, I never thought I'd be able to meet so many bloggers throughout the year, and I feel incredibly blessed and touched by your continued friendship both new and
*ahem*
not so new. Here's to a wonderful year ahead, yeah?
So, what was under your tree this year?
*wink*
share share!!