Laura Mercier Sensual Metals Collection…
I was walking through Robinsons @ Gardens during lunch this afternoon and happened past the Laura Mercier counter. I had been looking out for the Limited Edition Sensual Metals Eye Palettes, and today when I checked they're out! Yay!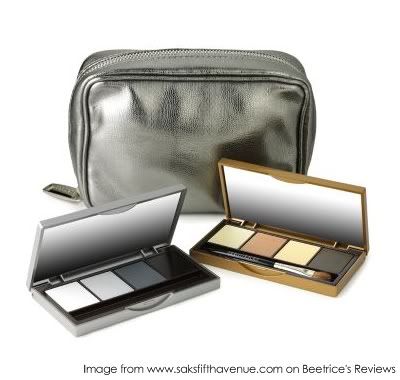 The Laura Mercier Sensual Metals Collection consists of two eye palettes in a silver zippered bag. The Sensual Silver Palette
(left)
has more blue-grey shades while the Gold Glamour Palette
(right)
is made up of earthy tones, some of which are exclusive shades to this collection.
Sensual Silver Palette: Vapor

(exclusive),

Celestial, Serene Silver

(exclusive)

and Carbonize

(exclusive)

Eye Colour
Gold Glamour Palette: Star Fruit, Burnished, Gold Dust and Bronzite
(exclusive)

Both palettes come with a mini Eye Colour Brush. The palette case is slim and sleek with a glossy surface, which irked me a bit because it's a total fingerprint magnet
(just picking up the case left prints)
but that aside, I loved the texture and colour of both palettes! The Sensual Silver palette in particular looked surprisingly nice and blended nicely
(I don't have any swatches though, as the girl wouldn't let me take photos!).
Dang, yet another notch on my
'lemming list'
– and yes, the list is already a mile long!
The Laura Mercier Sensual Metals Collection retails in Malaysia for
RM275
, which is rather pricey but not too bad considering you're getting two palettes. However, they're not available separately which is a bummer. I suppose one way around it would be to find someone who wants the other palette and split the cost?
Has anyone else tried this yet? If so, what did you think of it?
Labels: makeup, tips n news