Boots Green Tea & Soybean Hand & Nail Cream…
During my trip to Bangkok in October, this was one of the items that I picked up from Boots
(that is like my favourite drugstore)
after falling in love with the mild green tea scent. I've been using for a couple of months, and I figured it's about time to do a proper review. :)
Description:
Boots Green Tea & Soybean Hand & Nail Cream is specially designed for ageing skin. With natural extracts of green tea and soybean, Boots hand & nail cream is specially formulated to revitalise and rejuvenate skin, leaving hands smoother and more supple, whilst helping nourish nails and cuticles. To use, massage liberally into hands and nails.


The Verdict:
When I first came across the entire range of Boots' hand & nail creams, a lot of the variants didn't really appeal to me in terms of the scent. I'm the kind of person that likes my hand creams to smell nice and mild at the same time, but quite a few of the variants had me wrinkling up my nose. I was going to bypass the Green Tea & Soybean one without even smelling it, but on a whim I picked it up…and I'm pretty glad I did!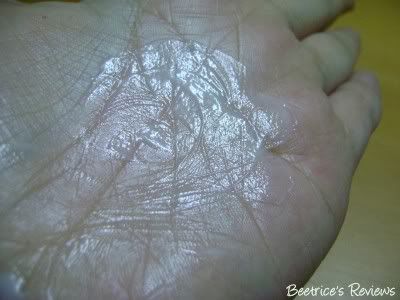 Pricewise, you can't beat this – it was on promotion on a BOGOF, at just THB100
(approximately RM10)
for a 100ml tube. The texture of the cream is just the right texture without being too thin, thick, runny or creamy. Better yet, it goes on smooth. In the picture above, it may look a little oily but it sinks right into skin without any greasy feeling.
However, the moisturising factor is really good. On average, my hands, nails and cuticles remain nicely moisturised for most of the day – which is pretty good especially considering I'm constantly typing at work in an air-conditioned environment. For me, this fulfils both my benchmarks for effectiveness as well as value
(especially when it's on promotion!).
Suffice to say, I'll be picking up a couple more tubes of this the next time I pass a Boots pharmacy… :)
Boots Green Tea & Soybean Hand & Nail Cream is available at all Boots outlets and retails for approximately THB100

(or its local equivalent)

for a 100ml tube.

Rating: 4 / 5
Value: $$$

* BOGOF = Buy One Get One Free
Labels: handcare