Askmewhats Seminar For a Cause…
This isn't a review, and I know I don't usually promote events on my site, but after reading Nikki's post this is definitely worth promoting just for the cause.
Askmewhats

(Nikki)
has a friend's sister Judith who is currently undergoing treatment for leukaemia, and in order to raise funds for Judith's family to help with the medical costs – has set up the Askmewhats Seminar For a Cause.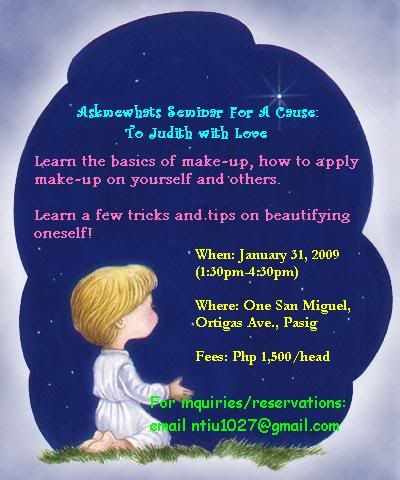 Nikki will be holding a
3-hour makeup seminar
at
Php1,500 per person
on the
31st of January

(Sat)
in the Philippines, and all proceeds from this seminar will go to Judith's family to defray her hospital/ treatment bills.
So, if you're living in the Philippines, or will be in Philippines on that day
(What? It could happen!)
, why not sign up for the seminar? Not only is it for an admirable cause, but you could not get make-up tips from a better teacher – my jaw always drops at the gorgeous looks Nikki creates on a regular basis. :)
Please email Nikki for further details at
ntiu1027[at]gmail[dot]com
or visit
her site
for more details. Oh, and do spread the word too if you can! Thanks!
Labels: promos, tips n news