Think Happy Thoughts – of Clinique, that is!
Okay, if I absolutely cannot get my hands on the Marc Jacobs Daisy Necklace in my previous post, I think I've found the next best thing…Clinique's Limited Edition Happy Thoughts!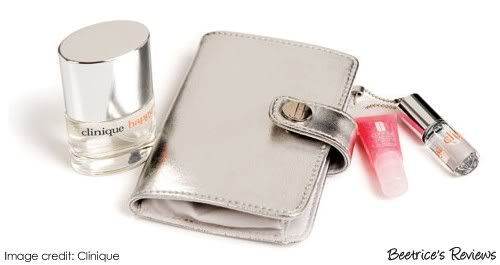 The silver perfume case
(or PDA case as some sites have listed it)
also comes with a Happy Perfume Spray
(15ml),
a Mini Happy Rollerball
(2ml)
and a Mini Superbalm Moisturising Gloss in Rootbeer
(4ml).
Me
*heart*
!!
And better yet, this is already available at our Clinique counters in Malaysia! :) Limited quantities of course, but hey, it's only
RM100!
(o.O) I just did a quick online price check, and it's retailing for £17.62 and AUD50.00 in UK and Australia respectively so by comparison, RM100 is a pretty decent bargain.
This is going on my Christmas wish list…and that list is just getting longer by the minute! :D What's on your Christmas wish list this year?
Labels: tips n news