Paperdoll Boutique - I *heart*…
Who'd have thought a chance meeting would have burnt a big hole in my pocket??
It all started when we met during the auditions for
"Something Funny Happened on the Way to the Forum"
waaaayy back in…1999 I think? Long story short, she got a part, I didn't
(which I'm quite thankful about after hearing about the fiasco!)
but that was it – or so I thought.
A couple of months back, I got waylaid by this busty, bubbly lady at the Benefit warehouse sale who I thought looked quite familiar. Lo and behold, we got reacquainted...and as they say – the rest is history! I'd heard of
Paperdoll
before, and was seriously drooling over their designs already…so imagine my surprise when I found out she was the owner! LOL!!
Needless to say, I didn't need any more encouragement to make my first purchase on her site – expedited by almost
"instant"
give-me-when-I-see-you-for-mamak
delivery…hehe…
I lurve this top…it doesn't make me overheat! (RM55)

Of course, that's not the big news. The major announcement is that Paperdoll boutique now has it's first storefront at Tropicana City Mall!!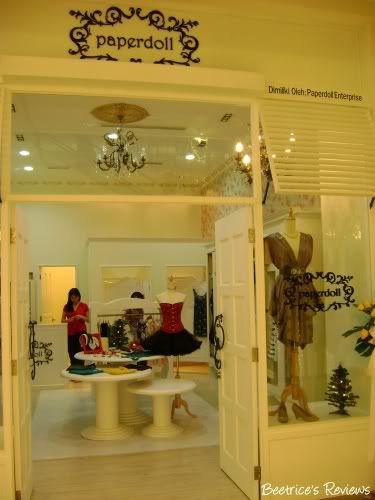 Tres chic, no? And so Ms Jo too…I love what she's done with the store interior…

I dropped by to check out the outlet last Friday, and hoo boy, since it was still a little quiet, we had a field day! She had these 'ooolala' corset tops for sale, which to me looked rather dominatrix on the rack…but I must say, I did like the end-result…
Okay, okay…I obviously don't look as hawt as the mannequin…LOL…

But the best part? I think I've just found THE Christmas outfit for me…I told Ms Jo she's a real devil's spawn for tempting me with all the designs in her shop, but this I seriously could not resist when I tried it on…
What do y'all think? Am I ready for my Christmas party? :D


The only gripes I have are about Tropicana City Mall itself, since my short trip there left me thinking it must be one of the most badly-managed shopping malls I've seen. But I'll save that for a separate post.

In the meantime, do go drop by Ms Jo's boutique…and let's see if you can resist her designs! *teeheehee*


Paperdoll Boutique
Lot L1-43, 1st Floor,
Tropicana City Mall,
3, Jalan SS20/27,
47400 Petaling Jaya
Labels: apparel, tips n news