M-IFA 2008 Gala Nite…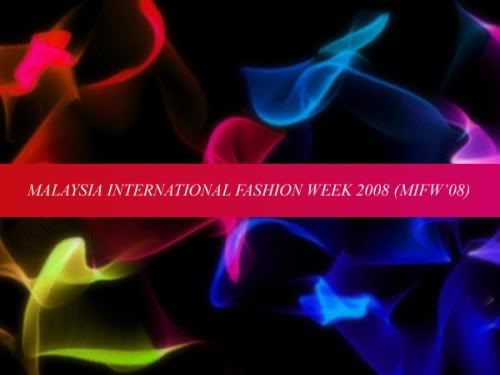 M-IFA 2008
, or the Malaysia International Fashion Awards 2008 was held at Gardens Midvalley this year, in the midst of all the bustle and rush of the upcoming Christmas celebrations and sales – where better than in Fashion Central right? :) There were a lot of runway shows as well as promotions ongoing throughout the week to showcase local and international designer creations.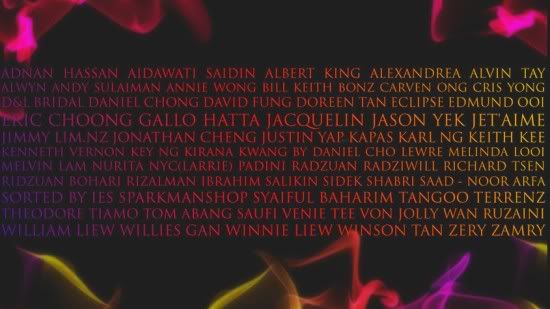 List of designers that had displays / runway shows throughout M-IFW 2008…substantial, isn't it?
Anyway, when I was offered the chance to attend the Gala Nite on Saturday, I could not resist...especially since I'd be meeting up with
Paris
,
Pinkelle
and
Rinnah
. Good time to have a good poke around the whole scene since it has been at least two years since the last time I attended M-IFA.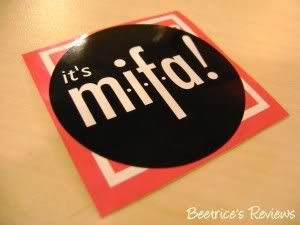 Entry pass sticker – we were guests of the Melium group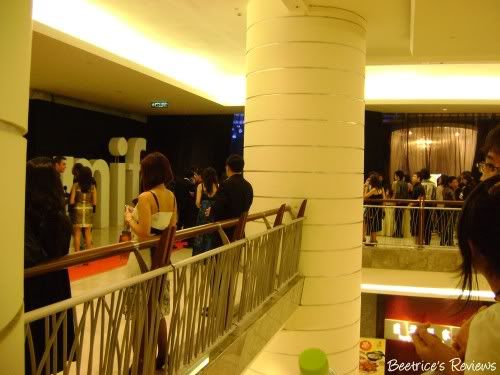 The entrance outside Redbox on Level 4, Gardens Hotel & Residences
Dress code for the night was supposed to be "Fabulously Glam"…the setting was somewhat glitzy, but not everyone was dressed for the occasion. Most of them looked like they were wandering out for a night on the town, although some dresses in particular were absolutely breathtaking
(and I mean this literally as well since they looked skintight!)

Cocktails and dinner were served at the venue, although I found it odd that the food they served was hard to maneuver, and were problematic foods ie. those that could get stuck in your teeth or leave you with dragon breath afterwards
(I suppose that's part of the reason these models stay so thin – they don't eat!)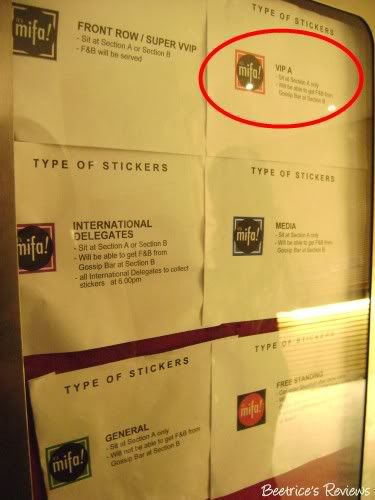 The fashion and awards show was held on Level 5, with designated areas for seating – we didn't realise until we were up there that our entry stickers put us in the "VIP" section…and hence got seats with a great view of the runway and stage…yay!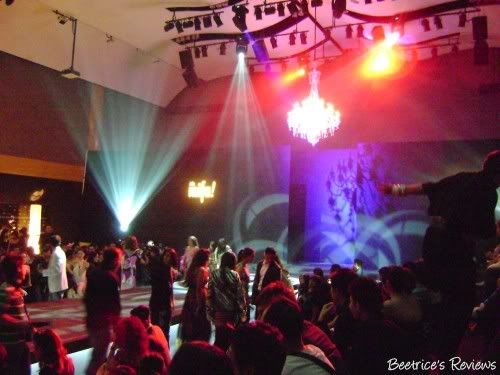 I liked the set up of the whole stage…looked very simplistic with clean lines, and just check out that chandelier!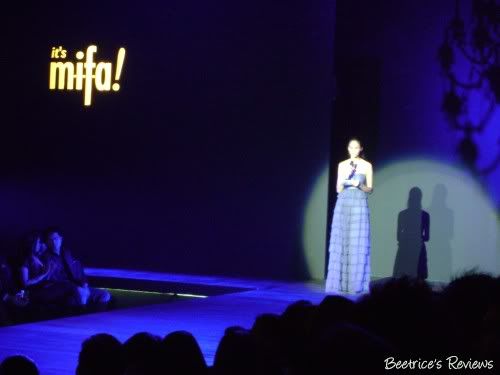 Emcee for the night was Deborah Henry, dressed in a lovely tiered Tangoo dress

There was an opening show by Peter Choo and The Dance Company called "Circus Circus" – if you ask me, it was very flouncy…just check out the costumes!!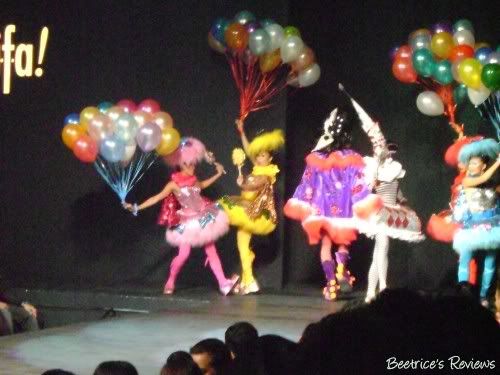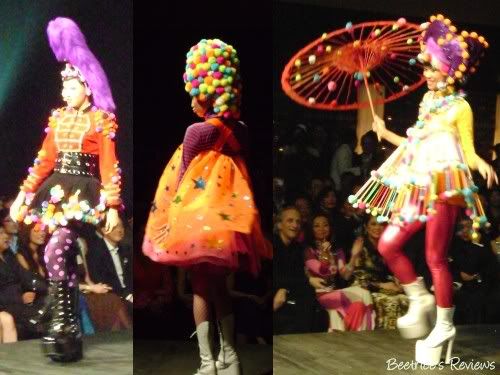 I must say, some of the outfits caught my eye…not because I'd wear them, but because they were quite unique – it was a nice concept! Got a bit freaked out by the "torso"-jiggling, balloon-wielding girls tottering their way up and down the stage though.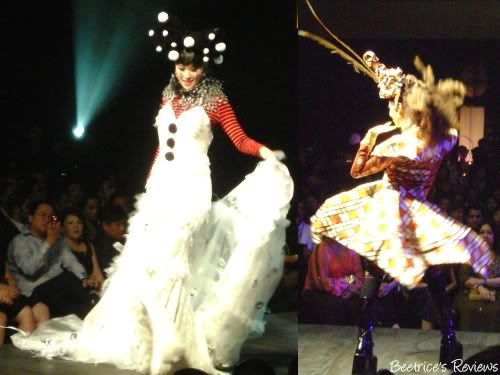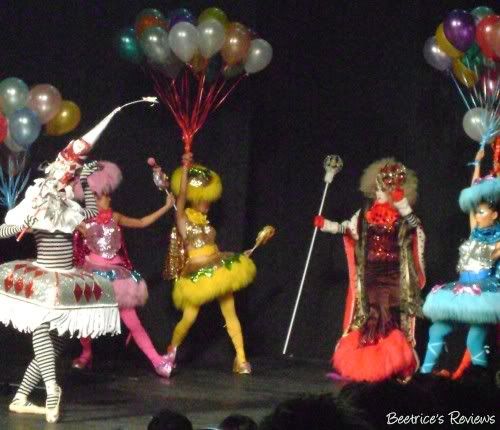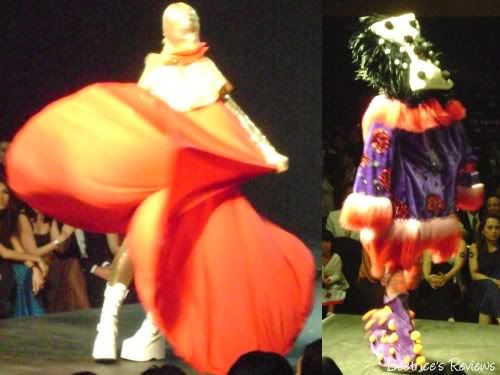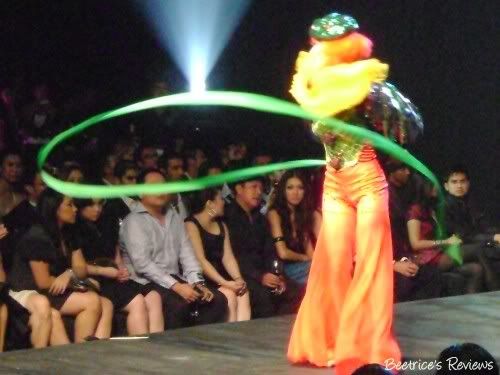 The troupe were more dancers than actual models, seeing how some of them were really quite flexible…but it's amazing how they managed to pull it off – just check out the girl below prancing down the runway on ballet toe shoes!!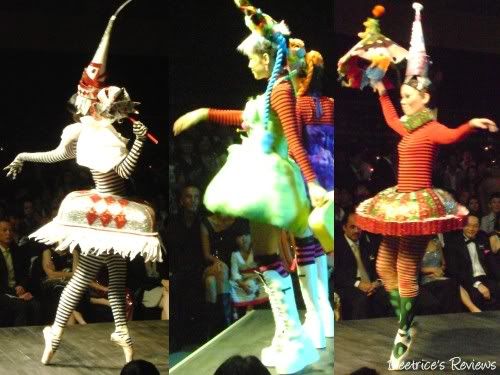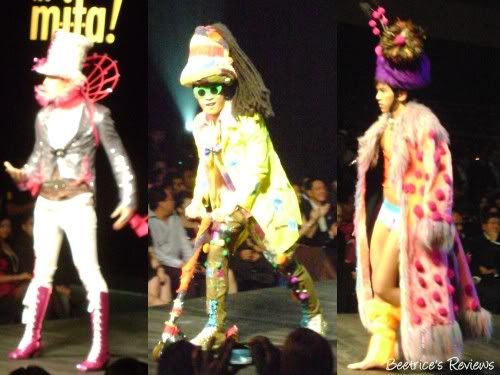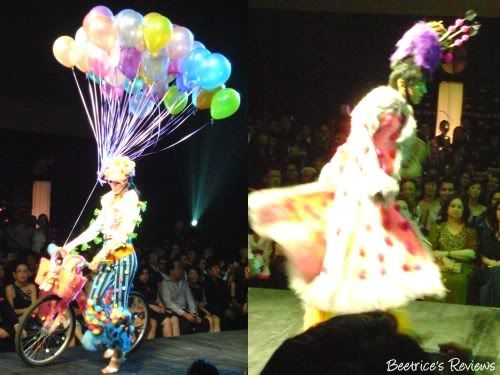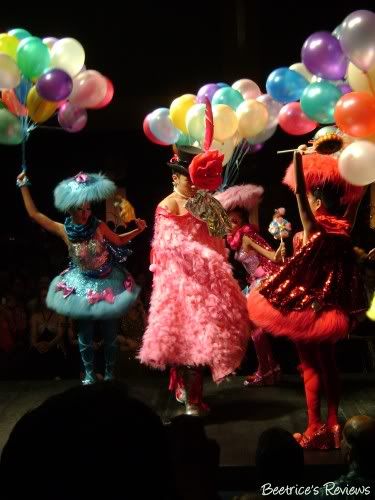 This one with the guy in pink was rather disturbing, actually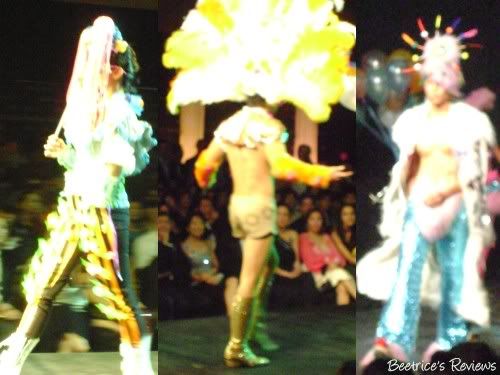 And for sure, the guys were definitely NOT regular models – they were all half dressed, literally SPEED-WALKED up and down the runway and hardly stopped…probably to avoid anyone taking clear photos of them and their 'packages'…LOL!!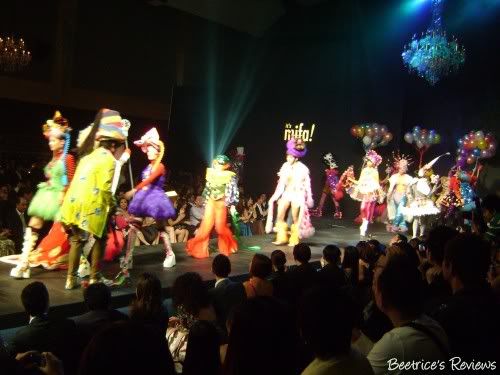 Grand parade for the finale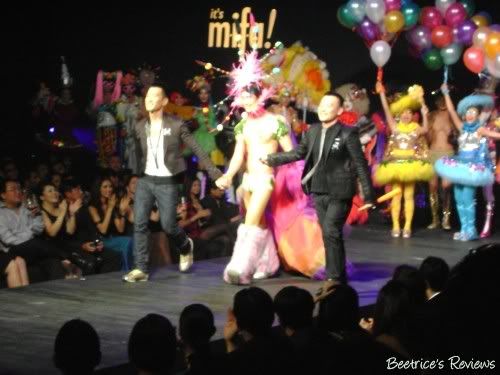 The designer himself, together with the choreographer and lead of the performing troupe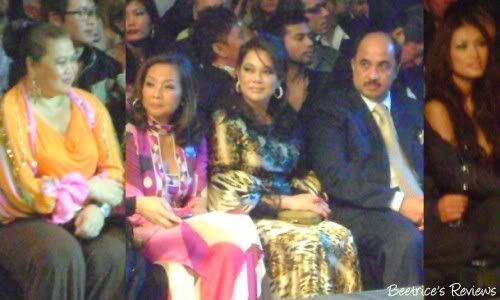 Of course, no show would be complete without its VVIPS…we saw some big names at the Gala Nite:
(L-R)
Tom Abang Saufi, Datuk Farah Khan, the guest of honour Datuk Zulhasnan Rafique and
"I attend every single event"
Amber. Others at the show that I recognised were Chef Wan, Maya Karin and a whole host of models and designers. I also ran into quite a few people that I knew at the event – some of whom I have not seen in YEARS…funny a reunion should take place at an event like this! :D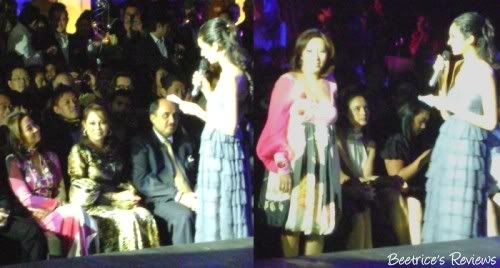 But first, a little Q&A with a couple of the awards judges – Datuk Farah Khan and someone from L'Oreal
(if I'm not mistaken it was the brand or marketing manager?)
Seriously, they should have just whacked the person who wrote her script for her – it was so clearly regurgitation of a memorised script, not to mention an OVER-plugging of L'Oreal. Come on, we all know L'Oreal is a major sponsor, with their banners and products seen EVERYWHERE. So in that case, did you still need to TELL us who your spokesmodels are when their faces are pinned up on walls just next to us about 10ft high?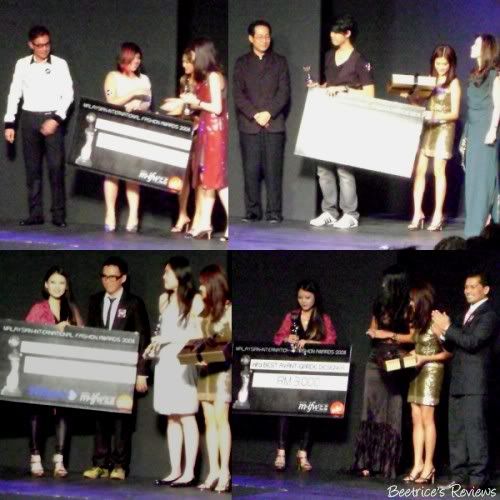 Presentation of the M-IFA Awards for best designers
(casual, evening and avant garde)
, best newcomer and so on…all of them got a cash prize, as well as a hamper from L'Oreal. Which brings me to the single most over-used phrase in the Gala Nite –
"because she/he is worth it"
. L'Oreal plugging! Once at the beginning and end of the awards would have been sufficient…but nooo, they had to squeeze it in at every single opportunity:
"So and so gets a cash prize from *** and a token from L'Oreal…because she's worth it".
What the…
But of course, the most anticipated award of the night was for the M-IFA Designer of the Year 2008…Eric Choong won it last year, so this year's winner was……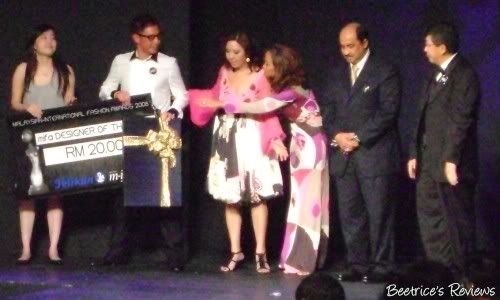 …none other than Sonny San!
(hoo boy, his clothes are going to skyrocket in terms of prices after this!)
How was your weekend? :) By the way, if you're looking to get an early start on your Christmas presents, hop on over to
My Women Stuff
where Santarina Paris is giving away some fabulous gift sets!!
Labels: events