The Body Shop Holiday Collection 2008 – Sparkling Seductive…
While I was doing a bit of Christmas shopping yesterday
(I tell you, I've started shopping SO late this year, I wonder if I can finish in time!!)
I dropped by my usual Body Shop outlet to replenish my Vit C Skin Boost supply and saw their Sparking Seductive Holiday Collection lineup! The theme this year is to have plenty of sparkle, which is clearly evident in all the products offered.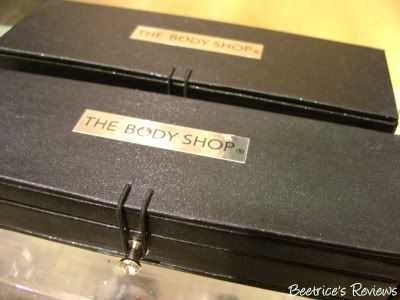 These are the
Sparkle Eye Palettes
available that come in a sturdy black shimmery paper box. The lid is held shut with a elastic clasp, and includes a mirror on the inside of the lid.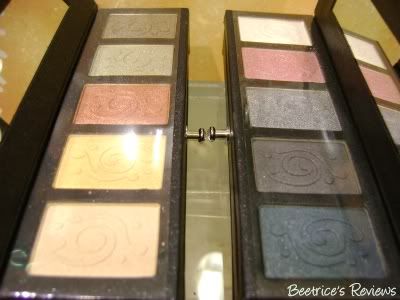 There are two variants available – Gold & Green, and Blue & Pink

The eye colours contain marula oil which is supposed to be moisturising, and can be applied with a damp brush to give more intense colour. I loved the pattern embossed on the surface of the shadows!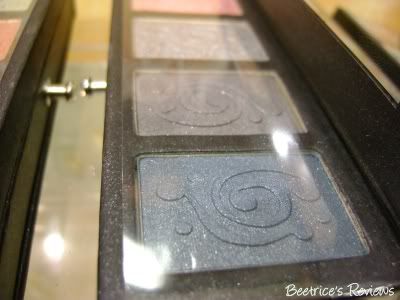 Nice pattern, isn't it?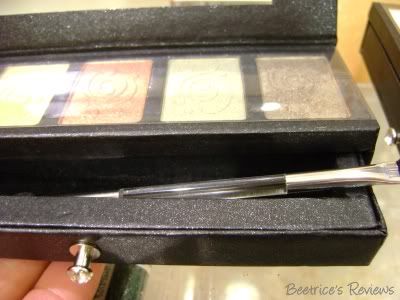 Pull-out drawer with applicator

The Sparkle Eye Palettes come with an applicator stored in a pull-out drawer – I found the drawer rather stiff to pull out, but it could be due to it being a brand new case. There's space in the drawer to slip in a couple of extra brushes and a couple of cotton buds for touch-ups too, and I think you could just about slip in a small lipgloss in there as well.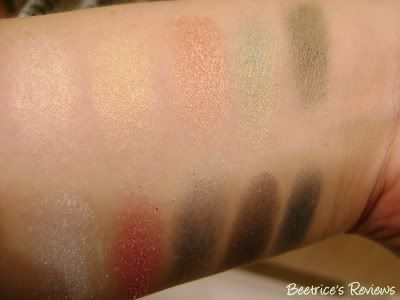 Of course, in the name of beauty, this collection would not be complete without swatches right? Just look at what I did to my arm! :D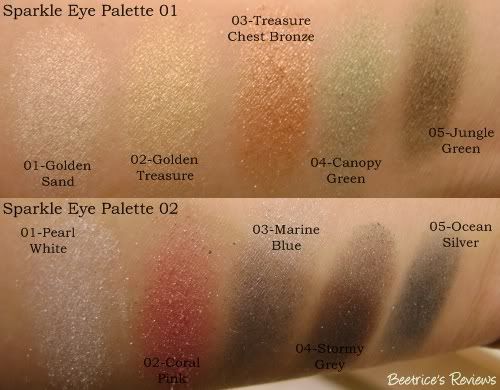 Out of the two palettes, I'm preferential to Set 02 based on colour. However, Set 01 did apply exceedingly smooth onto my skin. I'm loving the texture of the shadows, although their pigment is a tad inconsistent – some of the colours needed a little extra powder to really 'pop'.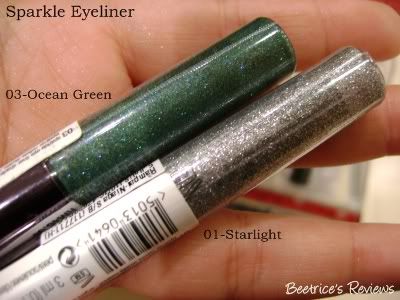 There are also two shades of
Sparkle Eyeliner
– Starlight and Ocean Green. I was told there's also Golden Sun which is a yellow-gold shade but isn't available in Malaysia. The Body Shop has also managed to infuse aloe vera into the mixture of the eyeliner…does that mean I'll have
(literally!)
cool eyes when I use it? Hmm…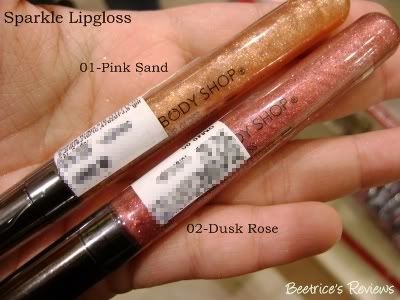 Of course, what collection would be complete without some
Sparkle Lipgloss
? Only two shades available locally – Sand Pink and Dusk Rose
(it's called dusk pink on the UK website though)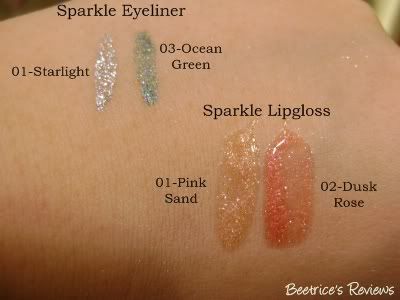 Swatches of the Sparkle Eyeliner and Sparkle Lipgloss
I found the Sparkle Eyeliner consistency to be a little too watery for my liking, although the colour was quite impressive. Also, it dried pretty solidly
(which I found out after trying to remove it from my hand!)
so I'll be giving this one a miss.
As for the Sparkle Lipgloss, I'm loving 02-Dusk Rose as the colour's perfect for my skintone. It's a neutral enough shade to work on most skintones, actually – and the glitter isn't too 'over the top'. The lipgloss also contains marula oil to add the moisturising factor, which is great. However, I have one big gripe about it…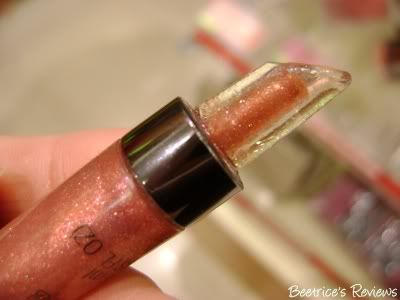 The gloss comes in a plastic tube with a slant-tip applicator. Granted, you squeeze the tube to get the gloss out, but with the shape of the tube and its pliability, it would be almost impossible to squeeze out the gloss once you get about halfway through the tube since the gloss has a tendency to stick to the bottom of the tube. Also, the cap isn't very firmly fixed on – high chance of a "oops" spill or leakage.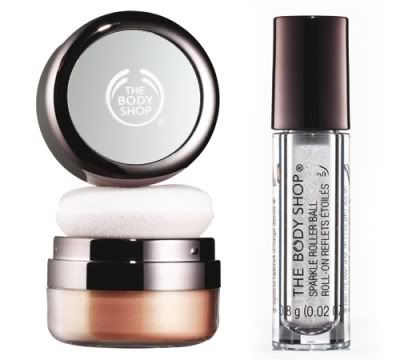 There is also a
Sparkle & Shimmer Powder Puff
as well as
Sparkle Roller Ball
available for plenty of shimmer and sparkle this Christmas, but I didn't try those out since my hand
(not to mention arm)
was already full of shimmer and sparkle! :p They looked really nice though…maybe I should go back for another closer look…
As far as prices go, the Sparkling Seductive collection ranges from RM45.00 – RM89.00…not too bad for a holiday selection I suppose.
Sparkle Eye Palette – RM89.00
Sparkle Eyeliner – RM45.00
Sparkle Lipgloss – RM49.90
What do you guys think? Love it/ hate it? :) Share your thoughts!
Labels: makeup, tips n news