Gift from a Dear Friend… :)
Some surprises never fail to put a big goofy grin on my face…on Monday night when I got back home, what should I see but this package on the table waiting for me…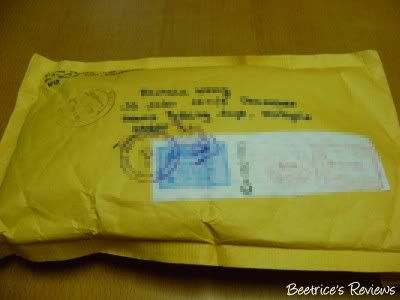 It was from none other than fellow bloggie
Nikki
!! I had sent her some stuff earlier just for her to try, and she wrote to me telling me she had sent off a package to me with a
'sorry if it's a bit late for your birthday ya'
. Aww babe, I told you you didn't have to send me anything!
(but since you did I'm not complaining either! Hehe…)
Anyway, here's what I found when I opened up the envelope…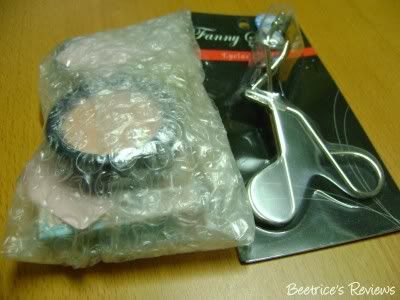 A small bubble wrapped package with an eyelash curler!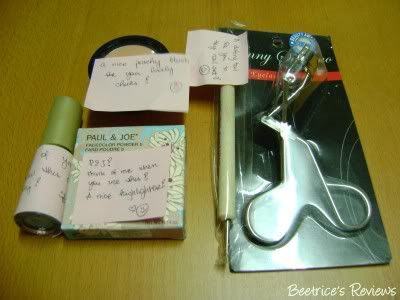 The package contained an eyelash curler, nail art dotter
(I have no idea what this is called!),
nail polish, a pot of blush and…yes! Paul & Joe!
I love the way she stuck little post-it notes on every item explaining what it was for – and laughed even harder when she said she doesn't know why she thought of me when she saw that Hawaiian shade of nail polish… :D thanks to you sending me that dotter thing, I'm now tempted to jump on the nail art bandwagon – horrible though the results may be!!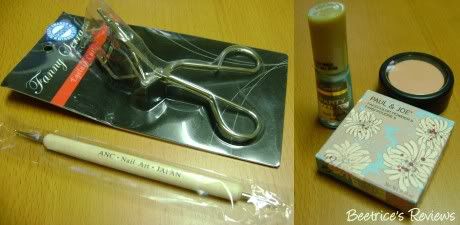 Nikki also included a pot of
Nichido blush in 'Peach Glow'
as well as
*heart*
a
Paul & Joe facecolour in #46 Etoile Filante
which I could not resist taking swatches of on the spot!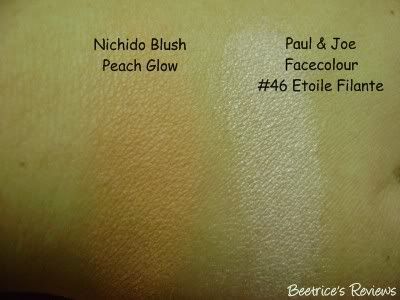 Such lovely colours, aren't they?


Nikki, you're an absolute darling…seriously, you have GOT to get your behind to KL soon k? *grins* And no, I haven't forgotten my promise to fatten you up before you go back with all the yummy food here!!