Benefit's 'Betty Brushes Up On Beauty'…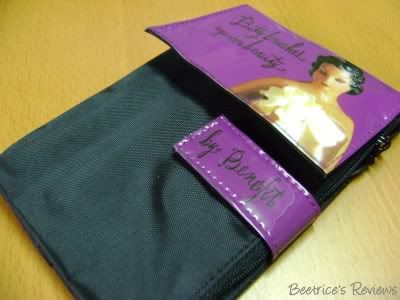 After my recent Benefit haul, a few readers have been asking me about the
'Betty Brushes Up On Beauty'
brush kit I picked up – I've been trying them out for a few days now, and they've brought a lot of fun
(if not colour)
to my makeup kit.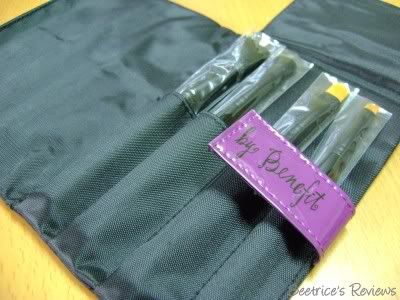 Description:

Betty knows beauty best – she's chosen the four most essential brushes for any makeover in her
'Betty Brushes Up On Beauty'
set. The powder brush, fluff brush, hard angle brush and talent brush are instant beautifiers. She's even added an extra pouch for more makeup. This bad is "all that" and more. Measures 6" x 4". Limited Edition.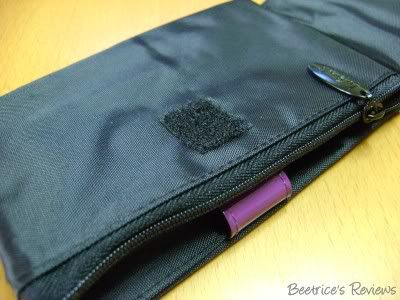 The Verdict:

Benefit has some of the cutest items I've ever seen – way to go on making us buy adorable-looking cosmetics! This pouch comes in purple
(my fave colour!!)
with a retro-inspired design and four brushes. The Velcro closure on the pouch is not my particular favourite since I don't like that ripping sound it makes when I open it. However, it does function well so I suppose I can overlook that small matter. There is also a sturdy zippered compartment for carrying cosmetics.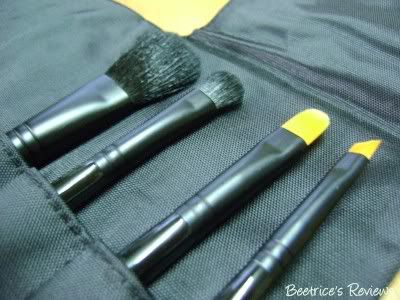 The interior of the case has individual compartments for each brush. One thing I found odd about this is that the four compartments for the brushes are similarly sized, while the brushes are different thicknesses. This means that only the powder brush fits snugly into its compartment, while the other three brushes have ample space to move around in their respective compartments – not ideal, but since there's a minimal chance of the pouch accidentally opening it's not a big deal, but I wish they had thought about it before manufacturing the pouch.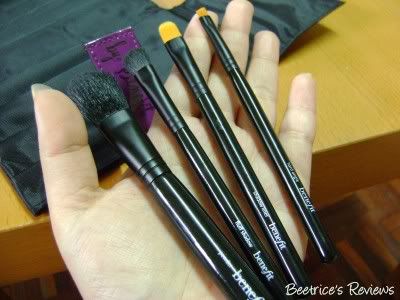 As far as the brushes themselves go, they are an ideal size for travelling and first perfectly into the palm of my hand. The bristles are synthetic, but they're really soft and a pleasure to use.
Powder brush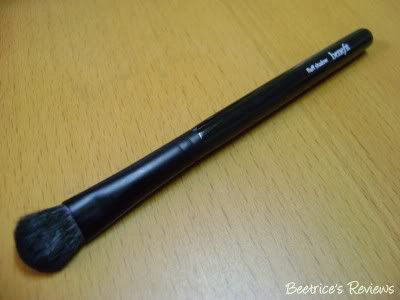 Fluff shadow brush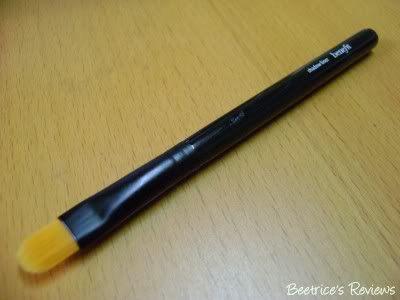 Shadow liner brush – this one works really well with my Skinny Jeans Creaseless Shadowliner… :)

Hard angle brush
All the brushes are really easy to manipulate and handle – I only wish I'd managed to get a few more of these for the bargain price I bought them at! At just RM50 for the set
(the US retail price is usually about USD44!!),
this is just such a FANTASTIC deal! It's so absolutely pretty too…dang my weakness for gorgeous packaging…LOL…
For me, this is going straight into my travel kit for sure – heck, it's going into my makeup kit, period! :D
Rating: 4.5 / 5
Value: $$$
(based on the price I bought it for)
Labels: makeup