Beauty Blogger Event with Stage – and a GIVEAWAY!
Warning: Picture heavy post!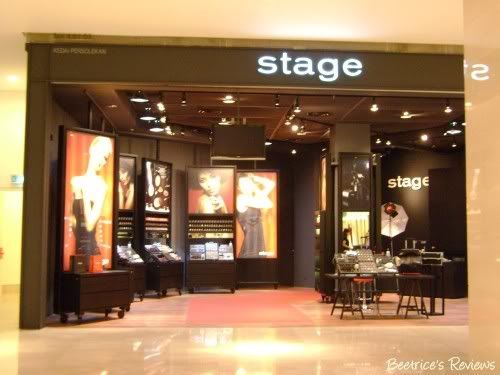 Last Saturday, a small group of us got a chance to attend a makeup overloaded event at Pavilion organised by the nice people at
Stage Cosmetics
to introduce us to the brand. And before you ask, yes, Stage is one of our very own home-grown brands, brought to us by none other than Alliance Cosmetics – the same beauty house that handles brands like Revlon, Avene, Elancyl and Silky. There is a giveaway at the bottom of the post, so do continue reading!
The following pictures are either taken by yours truly or Stage's official photographer for the event – Adam. I finally had the chance to meet Syen and Kahani from
So Loverly
, as well as meet up with familiar bloggies
Paris
and
Kimberlycun
.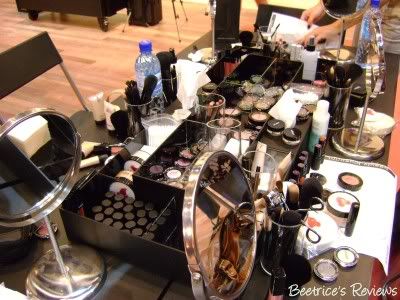 Just check out the amount of makeup!!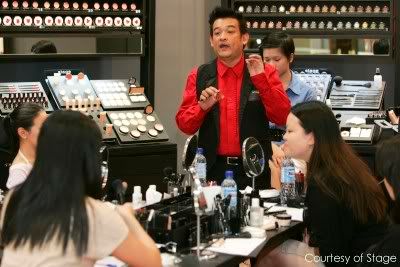 The session was run by John Boudville
(dressed in red)
who
*cough*
attempted to guide us step by step through the various types of makeup Stage had available. Sadly he wasn't too successful – don't get me wrong though, he was an excellent guide…just that we were overexcited over the whole mass of makeup in front of us, and gee, I guess all of us were pretty headstrong too!
*oops*
See what I mean? I think John was shaking his head in disbelief here…heh…
However, whatever I DID pick up from him was really good. I'd never really applied foundation with a brush before – I usually use my fingers or a sponge, although with the brush the foundation did go on pretty smoothly. Stage's Opening Act Complexion Enhancer
(RM65)
provided a great base for their Picture Perfect Foundation
(RM90).
I have combination skin ranging from dry to oily, but the foundation held up pretty well especially after a dusting of loose powder
(RM68).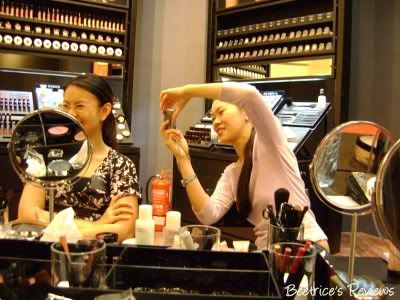 Some of us that were a little faster ended up taking pictures of those still at work!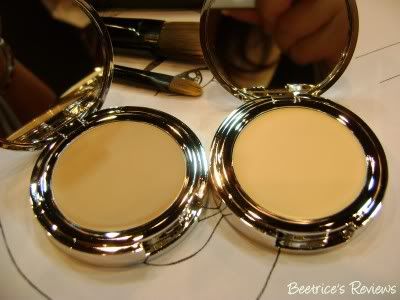 I found the Prime Time Eye Perfecting Base
(RM75)
to be a bit unusual in terms of toning though – one was pink-toned, while the other was yellow-toned! Most fair to medium-skinned Asians would do fine with the yellow-toned one though.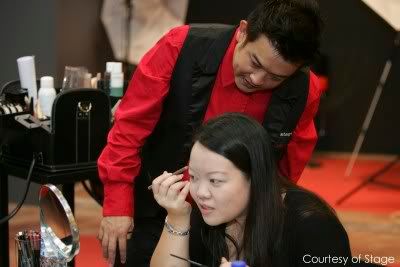 Drawing my eyebrows was a totally different story. While the rest of the ladies were relative pros at filling in all the gaps, or already had nice thick brows
(I'm looking at you Syen and Kim!!),
I was the one bumbling my way along with the Brow Defining Pencil
(RM42).
I usually leave my eyebrow shaping to my facialist or just swipe some brow mascara on to tide me through, so actually DRAWING my eyebrows turned out to be a bit of a disaster.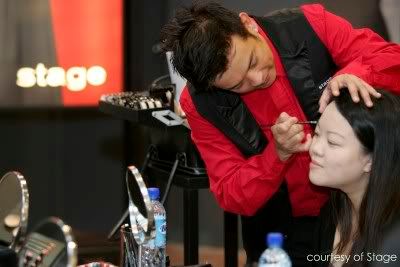 So paiseh – John had to step in to help (although the end result is something I'm definitely going to try!)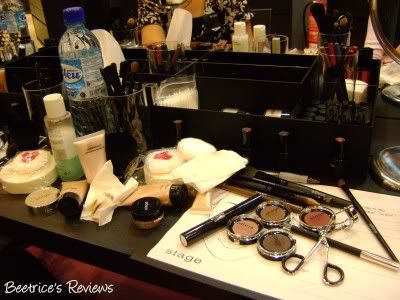 Everything you see on the table is what I used for my look – three shades of eyeshadow, the eyelash curler, mascara and the kohl pencil. I really really want to go back and get the Kohl Pencil
(RM45)
as it simply glided on to my lash line. I normally don't draw any pencil under my eyes for fear of looking like Morticia Addams, but for this occasion
(and after getting egged on by the others)
I settled for a half-smudged line underneath. And whaddya know – it looked quite nice in the photos! :D
As far as their mono eyeshadows
(RM45)
went though, there was a bit of inconsistency as some of the shadows were very pigmented, while others had to be layered on to see any colour. By contrast though, the Cheek Colour blushes
(RM58)
performed perfectly
(although the bunch of us squealing "ooo…Orgasm dupe!" was probably not a wise thing to say out loud with the brand people standing behind us!)
The Wonderlust Moisturising Lipstick
(RM48)
in #02-Judy as well as Wondergloss High Shine Lipgloss
(RM55)
in #04-Dido were just amazing. Oh, and did I mention I love the range of colours they have?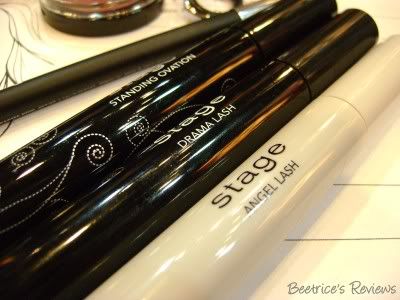 There are three types of mascara available – Angel Lash, Drama Lash or Standing Ovation
(RM50 each).
I tried Angel Lash, which is really good. The testament to that was Syen – you would not believe how amazing her lashes looked after just a light application of mascara.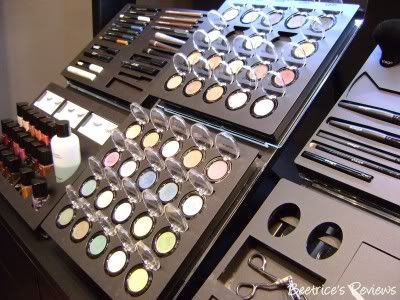 After the makeup session, we had a chance to go around taking pictures of the store as well as with each other. The makeup displays at Stage are just so pretty and luxurious, no?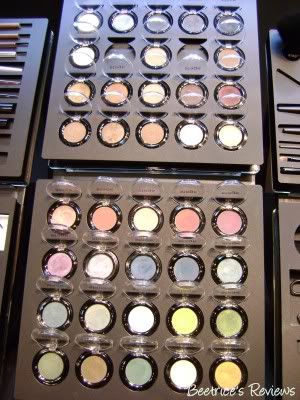 Eyeshadows in a kaleidoscope of colours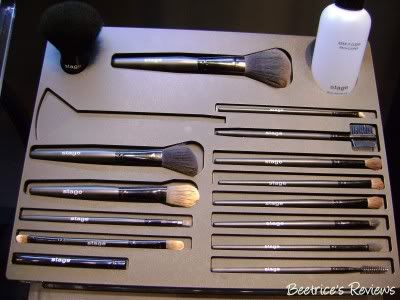 There's a full range of brushes and brush cleansers available too

Stage claims to have a really extensive range of products from bases, colour cosmetics, brushes and even cases to suit all skintypes and colour preferences, and after looking at the displays, I'd have to agree! The photos are all about fun from here on out! :)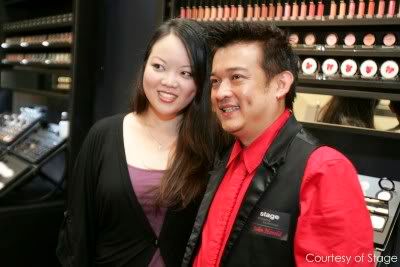 With the man himself – John Boudville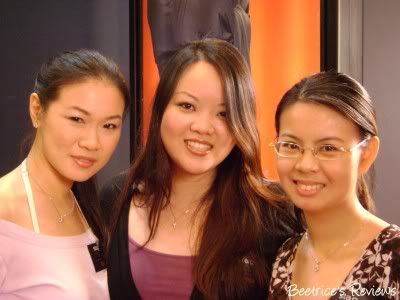 With the lovely ladies from So Loverly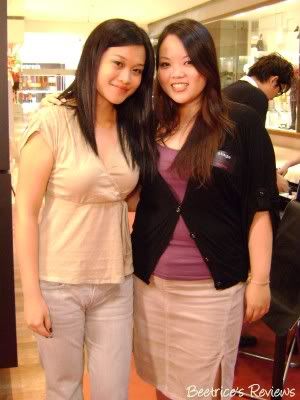 With Kimberly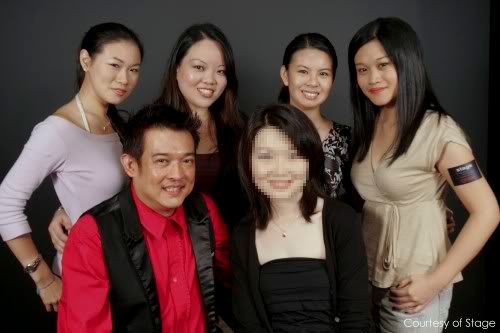 Group shot – everyone looks gorgeous!!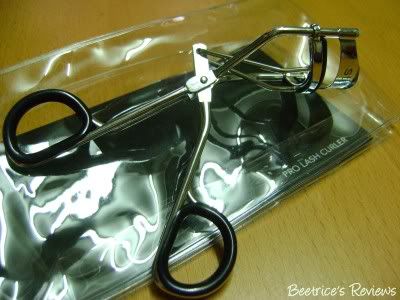 The one product that really
REALLY
stands out for me at Stage is their Pro Lash Curler
(RM35).
After trying out this curler, I'm so tempted to chuck the rest of my eyelash curlers into the bin! This particular curler is slightly more angled than the others, which avoids pinching at the lash line. I loved it so much that I picked one up immediately after the session – and I wasn't the only one…Syen, Kahani and Paris picked up one each too! LOL!
For more details on the full range available at Stage, you can surf on over to their website –
Stage Cosmetics
. You can also read Kahani's account of the blogger workshop
HERE
.
Now, on to the
GIVEAWAY
…
Want to try out Stage Cosmetics for yourself? Thanks to the nice people at Stage, I've got
two cosmetic sets worth approximately RM100 each
to give away to two lucky readers! :)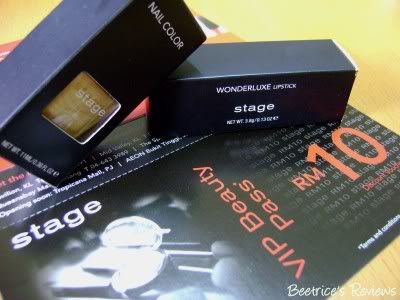 1. SET ONE – Stage Wonderluxe Lipstick in #17-Apricot Angel, Stage Nail Colour in #20-Dazzling and a RM10 VIP Beauty Pass discount voucher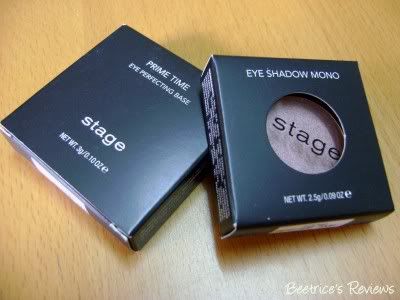 2. SET TWO – Stage Prime Time Eye Perfecting Base in #01-Vanilla and Eye Shadow Mono in #21-Ballerina

How to get it? Simple…just drop me a comment telling me which set you'd like and why, together with your email address. The closing date for entries is by 12 midnight on Friday, 21 November 2008. Good luck!
Terms & Conditions:
This giveaway is open to residents of Malaysia only.

One entry per set per person – please play fair and let everyone have an equal chance.

Entries submitted via email will not be eligible.

I will be contacting the lucky winner via email, so please use a valid email address. If I do not get a response from you within 2 (two) days, I will pick another winner.

That's about it from me…hope y'all are enjoying the lovely weekend!
Labels: giveaway, makeup, tips n news