Agua @ Barcelona…
While going through my photos, I realised that I hadn't posted about this lovely place that I ate at with SF along the Barceloneta beach.
Agua
has a gorgeous view overlooking a scenic spot at the end of the Barceloneta beach boardwalk, but wasn't easy to find! We actually ended up walking along the whole stretch of Barceloneta beach
TWICE
looking for it…I was ready to strangle SF by the time we finally found the place, but oh, the walking was worth it after tasting the food… :)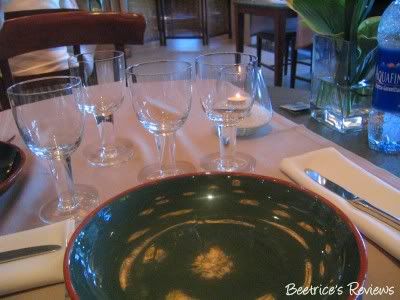 Agua doesn't consider itself one of the hoity-toity eateries in Barcelona, but the place is beautifully laid out. I got the feeling I was rather out of place in my shorts in such a nice place, but judging by the way the locals dressed to eat there, casual dressing is perfectly acceptable…hehe…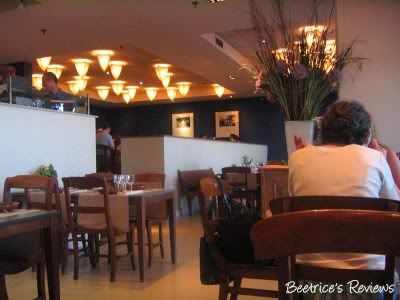 You see what I mean? The interior of the restaurant looks more like one of those thematic places we get back in KL like C. Club, and yet it has a very friendly feel about it. A lot of people have commented about the brusqueness of the Barcelonans, but I've found some of the friendliest people are the waiters at these places. Despite their limited English, they will happily attempt to explain to you every dish and make their recommendations – and I tell you, their suggestions are always spot on!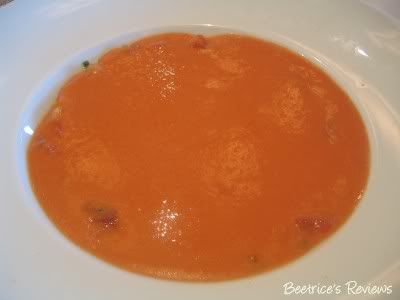 We started out with the
Andalusian Gazpacho
(€7.50)
which was served quite interestingly. The waiter served me an empty plate with a small pile of garnishing in the centre and walked off without a word…it wasn't till later that he came back with a decanter and poured the chilled soup into the plate, and said with a grin,
"you no worry, soup sure come"
(he must have seen the bewildered looks on our faces!)
The soup itself was very tasty, with bits of crunchy croutons and tangy tomatoes. I normally never go for cold soups
(in my head, soups should always be piping hot!)
but this one was seriously yummy – maybe the loooong walk had something to do with it, but we totally demolished this dish. :D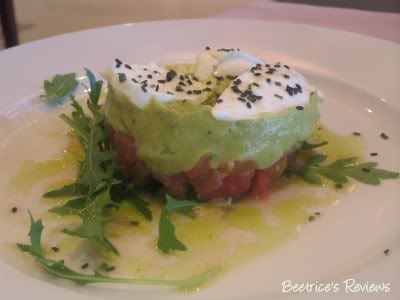 The
tomato, guacamole and mozzarella salad
(€8.50)
was also pretty good, although I wasn't a big fan of the guacamole. Nothing to do with the taste, just a personal preference.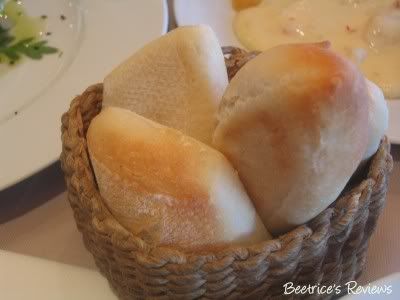 Oooohh…I loved the bread!! The idea of having bread and butter with every meal could seriously send me to heaven
(and unfortunately, also to the fat farm – it's probably a good thing that I'm not living in Barcelona!)
Their breads are freshly baked daily and served warm in a bread basket with your choice of butter or olive oil.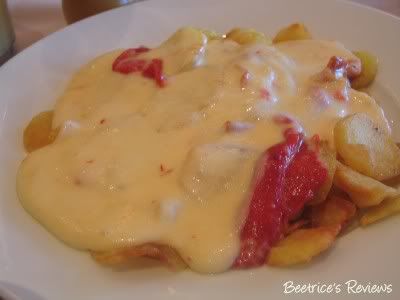 Buthan Potatoes / Patatas Buthan
(€5.50)
was the waiter's recommendation…I must've had a week's allowance of CHEESE in that one sitting! The mixture of sliced baked potatoes, interlaced with sundried tomatoes, a sprinkling of bacon chips and a thick layer of mozzarella cheese left me speechless. I really have to try making this myself one of these days, since it's quite simple and yet so nice. This dish has to be eaten piping hot though, since the cheese isn't as nice or fun once it cools down.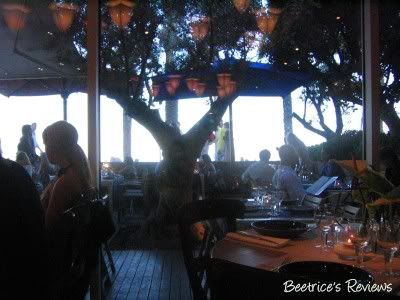 Eating at Agua, you can usually opt to eat inside the restaurant, or on its beachfront terrace. We had originally requested to sit outside, but the terrace had been fully booked in advance. This place is incredibly popular, so I'd suggest you make reservations in advance, or be at the restaurant when it opens at 8.00pm otherwise you may have problems getting a place…hehe
…(we did the "be there at 8.00pm" bit!)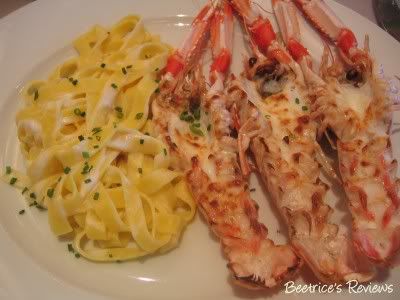 The
Gratinated Mediterranean Crayfish with fresh pasta
(€17)
looked fantastic, but this wasn't my dish – it came to us by mistake
(although after seeing it, I was seriously tempted to change my order!)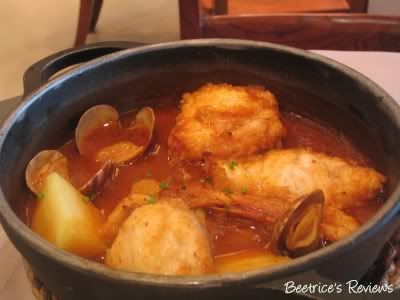 If you're a stew lover, you just have to try the
monkfish and clam stew
(€21)…
the monkfish is panfried until the surface is crispy before being put in to the stew and cooked with clams in a tomato-based stock. The result is something similar to bolognaise sauce, but nicer. I particularly liked the fact that it didn't taste too
'fishy'
despite having a very generous amount of fish and clams inside.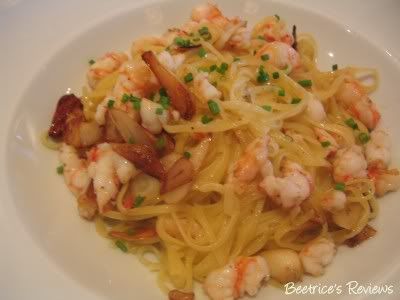 This was my selection –
taglioni with shrimps, fried garlic and cayena chilli
(€9).
This was just PERFECT for me – al dente taglioni tossed in butter, garlic and chilli with succulent shrimps
(just ignore the film of melted butter at the bottom of the plate after finishing!)
It wouldn't have tasted nearly as good without the butter I reckon, since it really brought out the sweetness of the shrimps. Gosh, just thinking about this dish has me wanting more
…*drool*
By the time it reached the end of the meal, we were already rather stuffed but thanks to the rest of the diners ordering this mouth-watering looking dessert, we decided
"oh heck"
and ordered one to share.
Apple and apricot crumble with yoghurt and blackberry ice cream
(€6.50)
– there's something to be said about the yoghurt and blackberry ice cream which has a lovely creamy tang to it and goes beautifully with the crumble. The crumble itself is also really good…I think I detected toasted oats, cinnamon and brown crystallised sugar in it…talk about a gastronomical experience!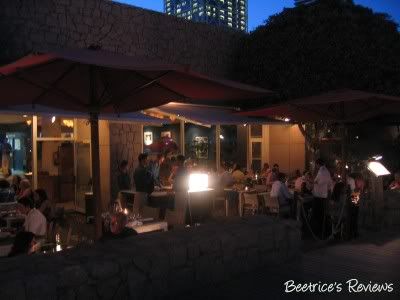 If you have your dinner at 8.00pm during the spring/summer months, you'll be able to catch the lovely sunset as you're eating your dinner since the sun sets as late as 8.30-8.45pm! What's more, the beachfront makes a perfect setting for a nice after-dinner stroll to work off some of the dinner
…*grins*
What can I say – Agua is a lovely place, and despite the hassle in finding it, it was more than worth it. Even if the food wasn't excellent, the view is breathtaking. Gotta hand it to them…they really knew how to pick prime position on the beachfront! Couple that with a delectable menu selection, and there's little wonder that Agua's one of the most popular restaurants along the Barceloneta beachfront!
Agua usually opens from 1.00pm – 3.45pm on weekdays and 1.00pm – 4.30pm on weekends for lunch, while dinner is served from 8.00pm – 11.30pm Sun-Thurs and 8.00pm – 00.30am on Fridays and Saturdays for dinner. You can expect to spend an average of €30 for lunch and €35 for dinner.


Agua

PG Maritim de la Barceloneta, 30
08003 Barcelona, Spain
Tel: (34) 93 225 12 72
Rating: 4.5 / 5
Value: $$
Labels: food