Try It: Truita Trempera…
While I'm gone for the next couple of days, I thought I'd share a recipe you guys could try out over the break – after falling head over heels with this dish, I managed to get the recipe for Truita Trempera
(somewhat similar to a potato omelette)
from the Cal Pep owner! :)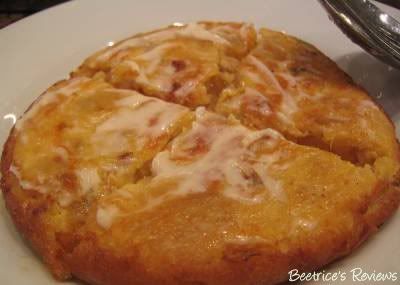 Ingredients:
1 egg

1 potato, cubed and lightly pre-cooked with olive oil

2 tablespoons of roughly minced, cooked onion

1-2 slices of spicy salami, chopped up

(or any type of spicy meat)

2 tablespoons of garlic mayonnaise

olive oil

salt to taste
Directions:
Put a frying pan with little olive oil in the fire and fry the chopped up salami. The cooking has to be fast, so keep tossing as it goes round and goes round, without allowing it to finish frying completely. Add the cooked potato and chopped onion to the mixture, fry lightly and take off the fire.

Beat an egg until fluffy in a bowl (add salt to taste), and stir in the contents of the frying pan. This is important for the omelette to be light and crisp around the edges. Once mixed, pour it into the frying pan and brown on both sides so that it comes off light cream inside and crispy outside. Spread on some garlic mayonnaise just before serving. Best served hot and fresh.

You can read my review about Cal Pep HERE.


Happy experimenting!
Labels: try it