Sizzling Stonegrill @ Tebrau City JB...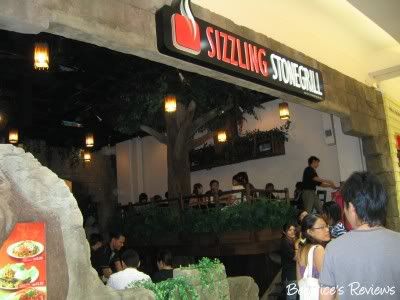 It isn't often that I happen down to the southern end of Malaysia, but when I do, oh dear – again it's all about food. Some relatives introduced me to a outlet at Jusco Tebrau City which serves its food on hot stones…not exactly new, but a lot of fun all the same. Sizzling Stonegrill if I'm not mistaken has got 2or 3 outlets throughout Johor
(sorry, no branches in KL although I did ask!)
and brings a pretty unique experience to dining. Not only do patrons get to cook their own food, but the interior atmosphere of the restaurant looks like something out of the jungle.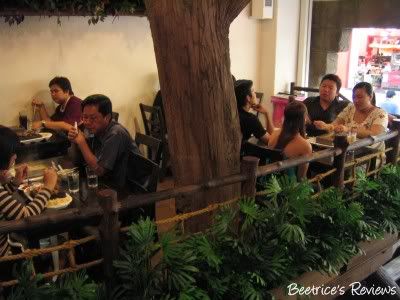 There's actually two levels in the restaurant – ground level, and two to three elevated platforms that can house large parties.
As far as the food goes, it's meant to be healthier as the food is minimally seasoned, and is freshly cooked with no oil
(apart from the meat's own juices, that is)
. Be warned though that it
DID
take us quite some time to actually cook the meal before eating it, so for those looking for a quick bite, this is definitely not a restaurant for you!
What's good to eat at the Sizzling Stonegrill? Ahhh…let me show you… :)
Crabmeat & Egg soup – this is quite light, and required a bit of additional pepper for that extra 'kick'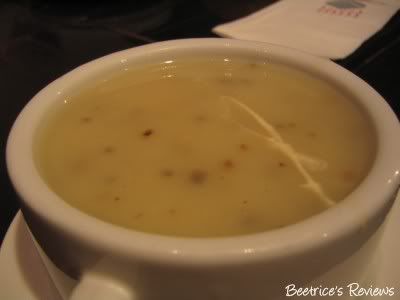 Mushroom soup – pretty generic, I felt…nothing spectacular, but pleasant enough.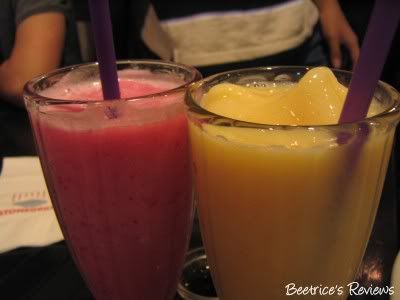 Their smoothies are thick and icy – and very decent at RM5.90 each.
Almost everything is served
"on the rock"
at Sizzling Stonegrill
(duh!)
and is delivered fresh to your table on a hot rock. They're minimally seasoned with spices
(no sauces, unless requested on the side or marinated beforehand)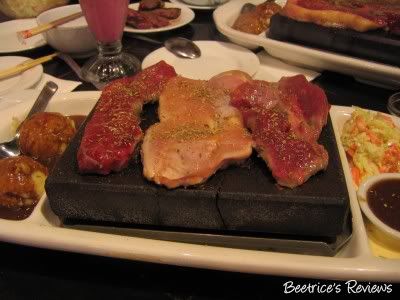 This is the
New Zealand Grilled Mixed Meat on the Rock
– a combination serve of chicken, lamb and sirloin steak
(RM29.90)
and comes with mashed potatoes and coleslaw on the side. I must say, the lamb here is particularly juicy…mmm…you can also have it on its own, marinated with yellow ginger & brown sugar for RM25.90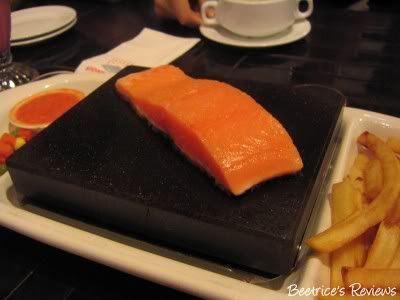 Another must-try dish is the
Norwegian Salmon Fillet – RM21.90
. I tell you, I was so tempted to just start eating it raw
(a la sashimi)
because it looked so fresh! Ah well…instead, I sliced it up to cook on the side while picking at the sides of chips and mixed vegetables.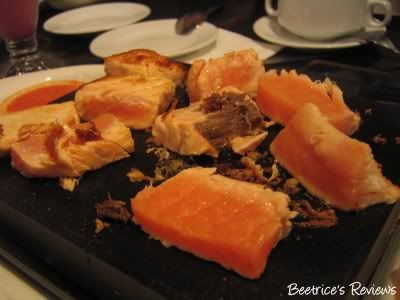 There's something fun about chopping and cooking your own food at the table, no? I loved the fact that I could control how 'done' I wanted my meal – and that you can have 'rare', 'medium' or 'well done' at any different time you want to with the remaining pieces of your meal. The stone will remain hot for a good hour or so – plenty of time to get all the cooking done… :)


It CAN get pretty messy though, what with transferring cooked pieces of meat off and on the hot stone, so do try and get a decent table space k? No squeezing 6 people into a table meant for 4 here!!
Another unique bit I tried was the Noodle Soup on the Rock for 1 person
(RM8.90 each).
You get to choose your meat
(seafood or chicken),
choose your soup
(Tom Yam or chicken)
and choose your noodle
(mee, beehoon, kuey teow or tang hoon)
and it's delivered in a square tin on top of a hot stone to your table.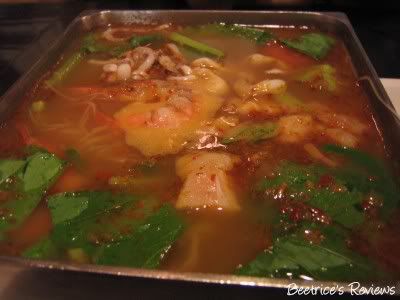 Seafood Tom Yam with Beehoon
– this is surprisingly quite authentic, and can pack a pretty good blast for
'Malaysian'
Tom Yam. And since it's on a rock, the soup is kept piping hot throughout the meal…just the way I like it!
Price wise, I'd say it's quite reasonable for the quality and portion of food. Drinks like ice tea and fruit punch are sold at RM3.90 each, while milkshakes go for RM6.90 each. I'll definitely be heading back to this place the next time I'm back in Johor!
Sizzling Stonegrill
Lot MB-11

(2nd Floor)


Jusco Tebrau City
Johor Bahru

Rating: 4.5 / 5
Value: $$
Labels: food