Pink for October!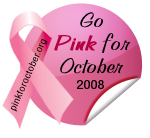 Once again, October is upon us…and besides the current Hari Raya celebrations going on, it also signifies the start of Breast Cancer Awareness month. Some have opted to have their website in pink, but it's not particularly suited for my site. That said, Beetrice's Reviews is still going to support Pink for October in its own little way, by the pink support in the sidebar. :)

After all, breast cancer is the second most common type of cancer after lung cancer

(alarming, isn't it?)

– and we need all the support we can get to spread awareness on this issue right? Do go and check out Pink for October for news and information regarding breast cancer, and show your support too!
Labels: tips n news