Origins Smileage Plus™…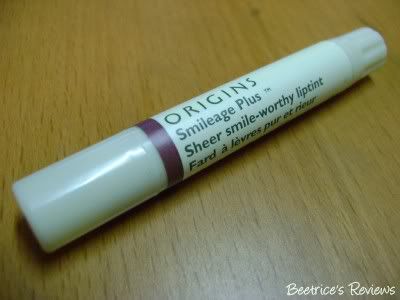 Description:
These 95% organic lip tints are formulated with Organic Beeswax, Organic Sunflower Oil, Organic Coconut Oil, Organic Jojoba Oil, Organic Cocoa Butter and Organic Aloe Vera, plus an organic essential oil blend of Tangerine and Lime.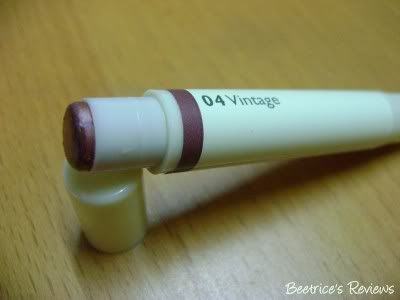 The Verdict:
The shade I have is #04-Vintage. The part that initially piqued my interest in it was the fact that this product is 95% organic. Origins has touted this as a "sheer smile-worthy liptint". Once opening the tube, I was treated to a citrusy scent which is probably attributed to the tangerine and lime essential oil blend.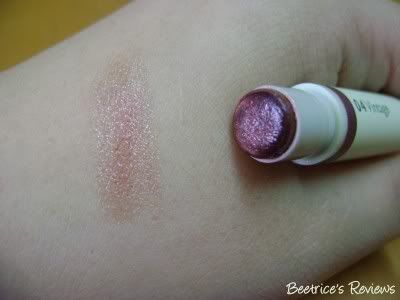 With the list of natural ingredients listed, it came as no surprise that the tint went on my lips really smoothly, although it took a couple of layers for the tint to show on my lips. Although the shade in the tube looked really dark, it goes on really sheer as promised. Among the colours available in Malaysia, Eco-Pink and Vintage were the prettiest of the lot. However, Eco-Pink only gives the tiniest hint of colour on my lips, while Vintage gave me a lovely natural sheen – think of lipbalm on healthy pink lips…yummy! :D
As far as its moisturising factor goes, this tint will hold out as long as you can. Just one application of this tint saw me through a particularly messy lunch, which was great! The Smileage lip tints are small and compact, which is ideal for slipping in a pocket or a
*cough*
'not big enough' purse. And did I mention that it's 95% organic?
(uhuh, like I really needed a 'practical' excuse to like this lip tint!)
So does the Origins Smileage Plus™ liptint live up to expectations? Yes – this tint is one of the better ones I've tried so far. Simply put, this is about as great as organic gets. :)
Origins Smileage Plus™ comes in a 2g tube and is available in 6 shades, although only four are available in Malaysia.

Rating: 4.5 / 5
Value: $$
Labels: lipcare