NYX Diamond Sparkle Lipgloss…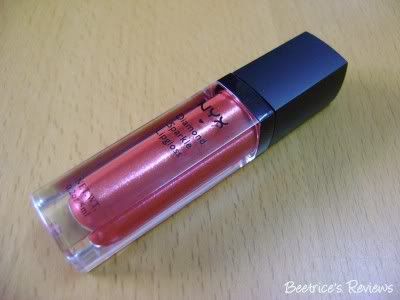 NYX is a brand that I've always wanted to try, but since it's not available in Malaysia the wait has just been looooonngg – until now, that is. Not only did I get a whole stash with my recent
Cherryculture order
, but a lovely angel
(you know who you are!)
sent me this as well in the post some time back.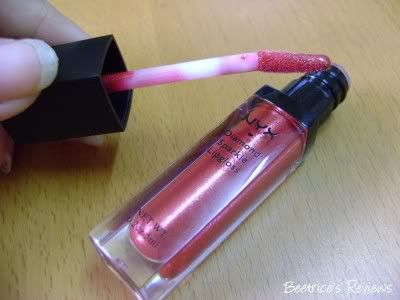 Description:
These portable tubes and sponge wands makes applying easy and quick. A must have, this high shine lip gloss gives your lips a diamond shine that lasts all day.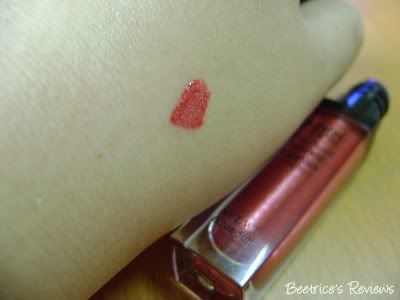 The Verdict:
The colour I tested was Red Sparkle. There's just something about red lip gloss that makes it look particularly appealing – to me anyway. This particular colour is definitely very glamorous, don't you think? For the sake of this little beauty and because I loved the colour so much, I'll post up a picture of my *cough* lips for the colour test!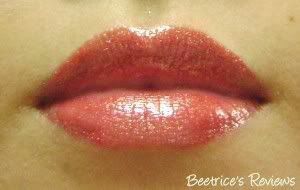 As you can see, it turned out a little different from the smudge test further up above, but that's about as close to proper lighting as I could get – the colour is redder in real life, but aihh…after 5 attempts to photograph it in
'natural'
tone, I'll just chalk the slightly
'peachy orange'
tint to my skintone!
I loved the feeling of this on my lips. However, it didn't last very long. It's perfect for those who can manage without licking or touching their lips throughout the day, but for others
(read: ordinary people like you and me!),
it'll start wearing off gradually over the course of a couple of hours.
Now, red or bright glosses start looking tacky once they start wearing off, but this one is a pleasant exception. Even when it's smudged, it manages to look relatively decent which is why I've kept it so far. But this is strictly on the basis that my lips have been properly hydrated beforehand – if not, it would be
QUITE
a disaster, I kid you not.
For the price, I'd say it's an okay buy…it's definitely cheap for the price
(below RM15)
, but a pretty average performer in all other aspects apart from the colour.
NYX Diamond Sparkle Lipgloss
is available in tubes of 5ml and retails for approximately USD4.00.
Rating: 3 / 5
Value: $$$
Labels: lipcare