Foodbuzz...and a long weekend is here!!
Haha…what better way to smile on a Friday than to get an unexpected package?? This unassuming white envelope was waiting for me when I got home from a looong day at work…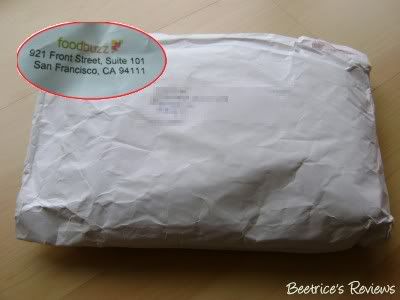 I got such a shock to see it was from the
Foodbuzz
people – if you're looking for a site to get good food reviews, recipes and all things foodie, THIS is the site to go. They have been recruiting a whole group of people to be a part of the Foodbuzz Publisher Community, and after much ado it's just been officially launched – hence the package! Yay!!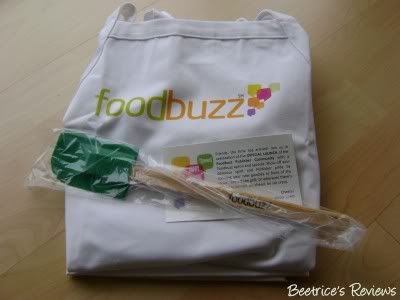 This is just too unbelievably cute – they sent me a SPATULA and an APRON!! I was in such stitches when I opened this I tell you
…(and my mother wanted to nick the spatula from me!)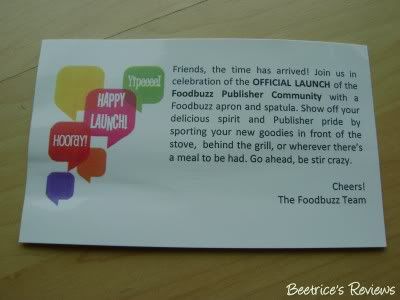 If it wasn't for this little note, I wouldn't know what the whole purpose of the package was, right?
I thought it was just so sweet of them to send this over – my colleagues at the office had a great laugh too! And just so I can say it's been sported
(in the nicest possible way),
here's one of my colleagues in the apron! LOL!
Ok, so I don't know what he's attempting to cook, but these lovely little touches have gotten me in the mood for some cooking – or rather, FOOD.
(hoo boy!)
Ah well, that's the purpose isn't it? There's a nice long weekend coming up for Malaysia on account of Deepavali on the 27th, so I'll have some nice posts coming up just after. Oh, and to answer the unspoken question - yes, I'm one of the publishers in the Foodbuzz program. Heehee!
A reader has asked me for swatches of my
Cherryculture haul
, so that's definitely coming up! Stay tuned, and have a fab weekend ahead!
(if you're looking for something to do in KL, why not check out the Metrojaya warehouse sale or the MPH distributor's warehouse sale?)
Labels: sales, tips n news