Durian Ice Cream @ Yik Kee Restaurant…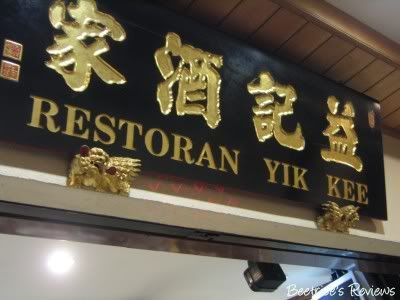 For durian lovers, you simply have to try this if you're ever on the way up to Genting Highlands. There is this unassuming Chinese restaurant called Yik Kee that is situated in Gohtong Jaya serving plenty of durian-flavoured delicacies. However, one of their key products is their durian ice cream.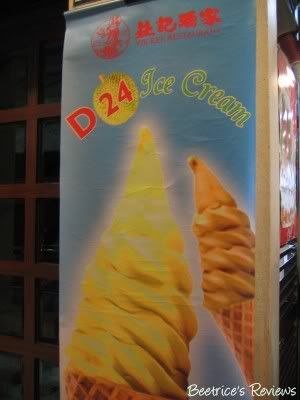 Stop when you see this sign! :) It's made with real D24 durian flesh!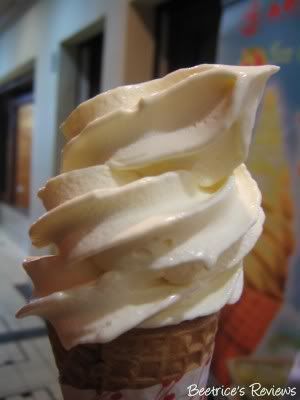 You can either have it just durian flavour, or have it twisted with chocolate ice cream as well – I preferred to have mine purely durian ice cream…a lovely soft serve in a crunchy cone. The cone is pretty much the kind you can buy at any store, but the ice cream…what's more, it's quite cheap too at RM3 per serving.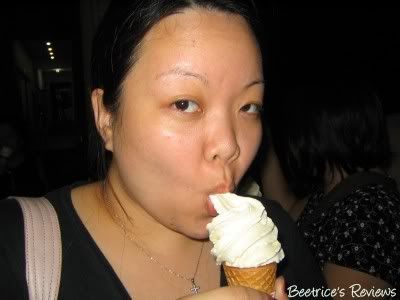 Would this be enough to sum up my whole feeling about the ice cream? Of course, disregard my sleep-deprived, bare face since we'd been wandering over the whole of Genting before going for dinner!
Sadly, it's situated halfway up to Genting, which makes it difficult to get to, but if you're ever in the area, drop by and indulge in some seriously creamy durian ice cream. If the ice cream for whatever reason does not pique your interest, try some of the other durian delicacies there – they have a whole range from durian Portuguese egg tarts to durian puffs and dodol.
(Of course, if you DON'T like durian at all, their normal Portuguese egg tarts are great too!)
The durian egg tarts and puffs can also be picked up from their outlet in Taman Tun
(same row as Guardian Pharmacy)
, but I'm not sure if the ice cream is available there as well – last I heard, it was only available at the Gohtong Jaya outlet. Just thinking about it has gotten me drooling…LOL!
Yik Kee Restaurant
22 & 23 Jalan Jati 1
Gohtong Jaya
69000 Genting Highlands
Pahang

Rating: 5 / 5
Value: $$$
Labels: food