Boots Botanics Intensive Lip Balm…
I got this as part of a gift set from Boots in Bangkok. Ever since my favourite Lancome line of Vinefit was discontinued, I've been hankering for another lip product with grape extract. You see, with grape extract, it gives a lovely smell without the fake purple grape sweet additives you normally find in coloured lipglosses, but for this one, sadly, it didn't make the mark.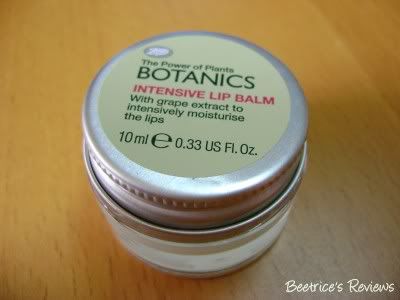 Description:
Plant extracts at levels that really work – Boots Botanics Intensive Lip Balm is an intensively hydrating balm to help soothe and soften lips. Ingredients include cocoa butter, shea butter, jojoba, grape extract and sunflower seed oil. Dermatologically tested. Colour may vary due to natural extracts.
(comes in a 10ml jar)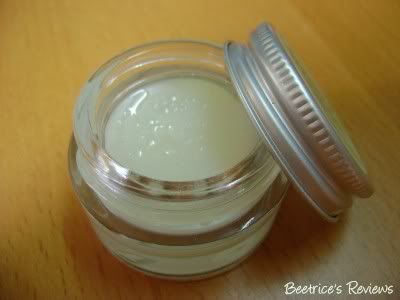 The Verdict:
Sorry, but this one doesn't make the cut at all. Despite it coming in a nice solid jar with a clean minimalist design, that's about the only thing I liked about it. On first opening the jar, I was struck by a really strong 'plasticine-y' smell of the balm. Yeah, you know the kind I mean – the smell you usually get if your lipstick's been sitting at the bottom of your drawer and you finally open it after two years. Or go sniff a Crayola – you get the drift. :)
Now, I know I said I didn't like the fake smelling additives, but this is really a bit too much. I thought I had gotten a dud, but when I was back at the Boots outlet recently, I tried out the tester they had on display
(which was newly opened),
and still got the same smell.
As for actually applying it on, I think I nearly threw up 2 minutes into the experiment. It went on smoothly enough, but felt like I was rubbing melted crayon onto my lips. The smell was exactly like paraffin, and really, I know my lips don't exactly have pores, but if they had, this would've clogged them up something major. Within less than 3 minutes, I had rubbed it off vigorously with a tissue, scrubbed my lips, reapplied my Origins liptint and chucked the pot into the rubbish bin. Good riddance.
It wasn't a purchase, so it may not have been a big deal to me – but to anyone who actually PAID for it, they are definitely going to be disappointed with this. This goes out the window, to be sure. Now if you don't mind, I still feel like my lips are sullied…where did I put that scrub?
Rating: 0.5 / 5
(only for the smooth texture, nothing else)
Value: -
Labels: lipcare