Benefit Holiday Collection – I Love!!
We're barely finishing up with October, but already beauty holiday collections are hitting the shelves – figuratively speaking, since I'm referring to Benefit's holiday collection that was just released online. I tell you, I'm in love…for like the umpteenth time…LOL!
Benefit 24k Sexy Gold Set (Limited Edition)
– USD32.00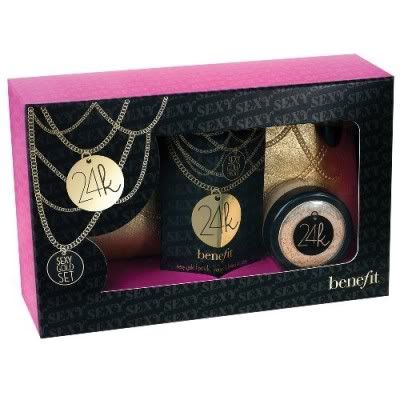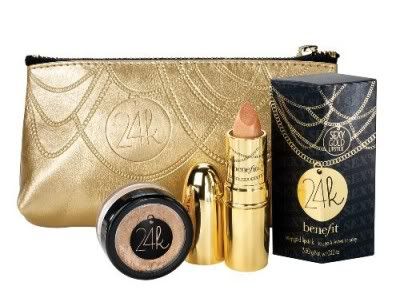 Description:
She'll be more precious than the real thing, baby! This sexy gold set is all chain, chain, chains of 24k. With a golden embossed clutch, a sheer gold 24k lipstick & a complementing, golden loose powder to adorn her eyes & cheekbones... this gift is the ultimate status symbol!

Contents:

Gold-embossed clutch

24k lipstick

24k loose powder

Benefit Beauty Uppers – USD68.00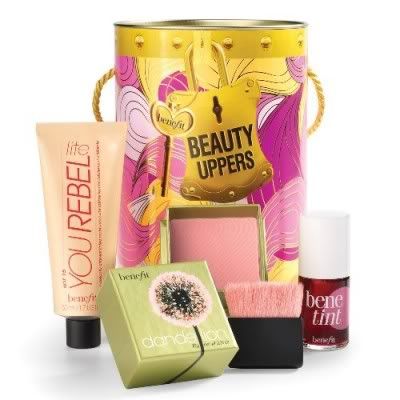 Description:
This holiday, give the gift of a sassy canister of beauty pick-me-ups! These little uppers: dandelion, our brightening face powder, benetint, our rose-tinted lip & cheek stain, & you rebel lite, a defiantly different tinted moisturizer, are all wrapped & ready to go! They're so treasured we've kept 'em under lock & key. Invitingly priced & tucked in a darling reusable canister with peel peel-off price labels, it's the perfect hostess gift. Get one for every party you attend and you're sure to be invited back next year!

Contents:
Canister
Dandelion

(10g)

Benetint

(12.5ml)

You Rebel Lite (50ml)

Benefit B Spot Set (Limited Edition) – USD38.00 (this is the same price as a standalone bottle)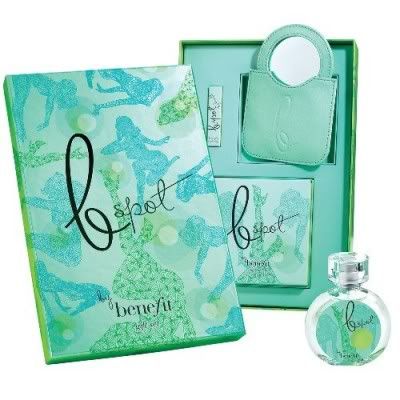 Description:
This is one beguiling gift! The b spot gift set includes a 1.7 oz. bottle of b spot eau de toilette, our sensual fragrance with notes of lush mango, frolicking freesia, provocative peony, steamy sandalwood & shake, shake, shakin' amber. There's also a purse-sized b spot deluxe sample, a limited edition b spot beauty mirror & an illustrated lesson to help every gal find her b spot. Even the box is sexy with a luxurious satin-metallic finish & provocative b spot girls.

Contents:
Limited Edition B Spot mirror
B spot eau de toilette

(50ml)

B spot eau de toilette deluxe sample

(1.5ml)

Benefit Peace, Love & Glossiness – USD26.00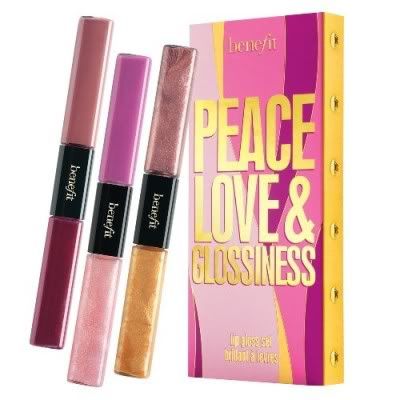 Description:
Give the gift of gloss & make the world a prettier place for every "lip" on your list! What gal wouldn't want not one gloss... but SIX glosses? These are our most coveted colors all in one special set. Perfect for the gal who changes her gloss as often as she changes her mood!

Contents:

Benefit Primpcess (Limited Edition) – USD34.00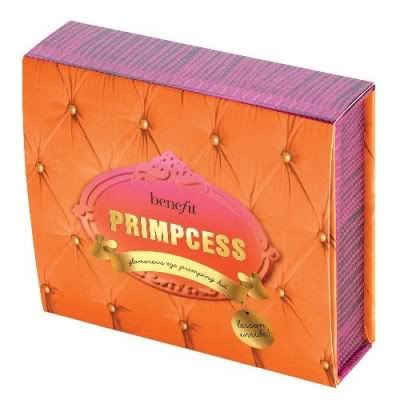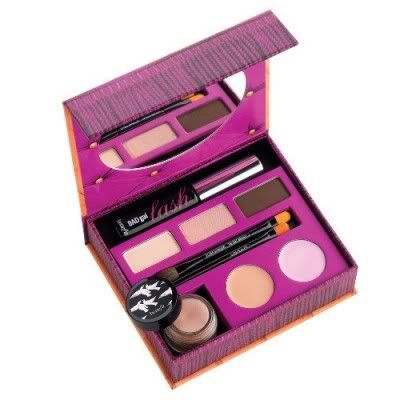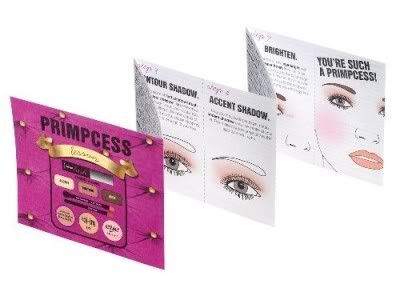 Description:
Primpcess is a jewelry box for your eyes. Open it up & see what's inside. Concealing, contouring, brushes galore... lining, brightening, sexy lashes & more! Complete with step-by-step primping lesson so glamourizing is a snap. For every gal on your list, this is the gift to buy & wrap!

Contents:
Boi-ing 02 Concealer
Creaseless Cream Shadow/Liner in RSVP
3 Powder shadows: for countouring, accenting & lining
BADgal mini mascara
Eye Bright instant eye brightener
Brushes galore
Beauty lesson sheet

Benefit Sexy Stash – USD58.00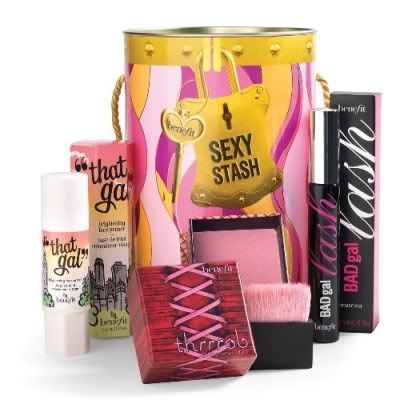 Description:
It's an eye-catcher that will look darling wherever you put it! Sexy stash includes Benefit's sassiest faves: thrrrob, our pulse-racing pink face powder, that gal, our brightening face primer & BADgal lash, our lavish black mascara for sexy lashes. It's so treasured we've kept it under lock & key. You might want to "stash" a few for yourself! Go ahead, we're not looking...

Contents:
Canister
Thrrrob

(12g)

That Gal

(11ml)

BADgal lash

(8.5g)


As always, Benefit offers free international shipping for orders above USD100, as well as two free samples with every order. Maybe it's time to make another gander…anyone wanna share? :) Seriously, I dunno about you, but packages like these under the tree will definitely put me in the mood to celebrate Christmas…hmmm…time to drop some strategic hints? LOL!!
Labels: promos