So much for a break...
Okay, I might as well get to it…I'm still here.
My trip to Krabi got cancelled thanks to the airport closures…and the best part about it? We were notified about it only
TWO
hours before the flight, and via
SMS
. And this was after I had already logged on as late as
12.00 noon
to confirm that our flight was still on
(our flight was at 3.30pm!)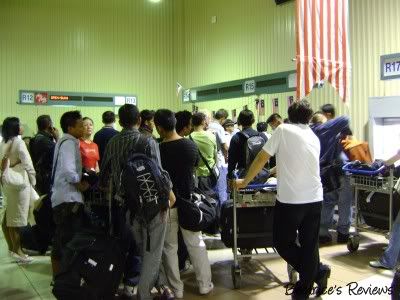 This was the queue of people waiting to rebook their cancelled flights just after we reached the counter…other flights that got cancelled included those from Hangzhou and Gold Coast...
Better yet, we were already near the LCCT before the sms came. At that point, we figured since we had already converted all our money and were packed, we would try re-booking our destination. And guess what – we had to go and check with customer services…and just to clear TWO people
(we were third in line),
it took nearly TWO hours!! Grrr…
Imagine how irate these people were…only two people and we waited TWO hours…what more all these people?
When a flight is cancelled, there are only two options – either you get rebooked at the earliest possible flight at no extra cost
(but end up having to wait around for god knows how long)
or you get the credit back
(minus service fee)
and have to utilise the credit within 3 months
(which also comes with a whole lot of conditions and service fees too!).
We tried to rebook to Bangkok instead, but were told that we'd have to
top up about RM700 PER PERSON
to go there
(on top of the RM400+ we had already paid for the Krabi flight…RM1100 to go to Bangkok? Oh come on…a flight to BKK on MAS is only RM800+ by comparison!)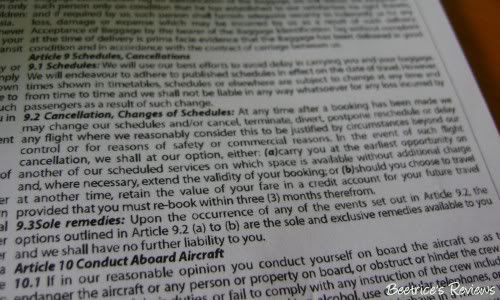 Long and short of it…we ended up just scrapping the whole trip. And by the way? Next time you guys book Air Asia – please don't bother to book their GoInsure…it has so many conditions, you won't get anything at all!


*sigh*…can anyone suggest another location for a good break?