H&M Eyeshadow Palette…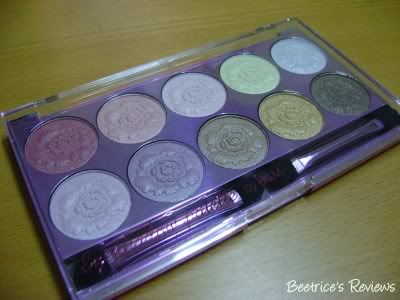 Ever since my first heavy duty shopping spree in London in 2007,
H&M
has been a must-go place since their clothes are just so cheap and good. However, even though they've had their own makeup range for quite some time now, they've never really caught my eye – I think it was the
"budget clothing = budget makeup"
thought. But during my last trip there, this eyeshadow palette caught my eye.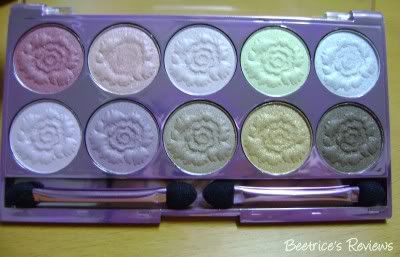 Pretty, isn't it? I like it that the palette comes in a range of colours rather than just one colour family. The palette also comes with two double-ended applicators.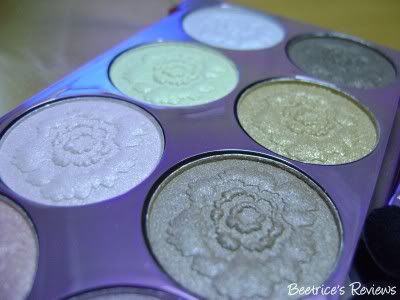 The surface was what caught my eye – just check out the rose motif! I'm such a sucker for pretty looking cosmetics…sigh…but hey, this one has brains too…check out the swatches!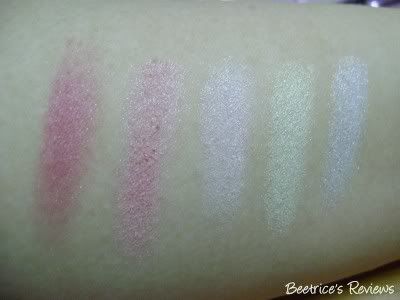 Top row – shades 1 to 5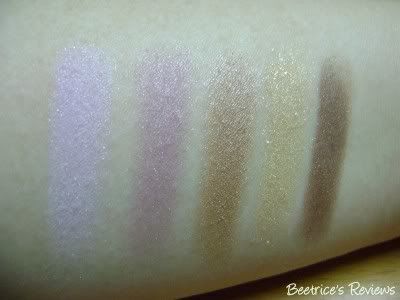 Bottom row – shades 6 to 10
It's not very obvious in the pictures, but the eyeshadow comes in a gentle shimmery shade. The pastels are definitely light but true to colour, and very easy to apply. And with 10 different shades, imagine how many colour combinations I could get out of this!
(I'm partial to the bottom row at the moment though - which ones do you like?)
As far as wearability goes, it's not bad either – apart from some minor creasing at the end of the day
(which was fixed by wearing primer the next day),
this holds up pretty well. And I can't find a better thing to love than the price tag -
£3.99!!
(that's like RM25 – I could never find anything remotely similar in quality AND price from our local stores here)
H&M eyeshadows come in various sets including duos and quads, and are available at most H&M outlets worldwide. Sadly, it's not available in Malaysia or Singapore… :(

Rating: 4 / 5
Value: $$$
Labels: makeup