Dr Murad Hydrating Toner…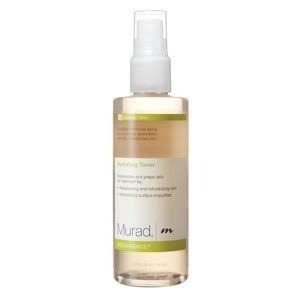 Description:
Refreshing tonic balances and hydrates. Replenishes hydration, soothes sensitivity and restores supple skin. Toner replenishes and preps skin for treatment by rebalancing and rehydrating skin while neutralizing surface impurities. Contains Witch Hazel, Peach Fruit Extract, Algae Extract, Nobilis Flower Extract, Cucumber Extract, Grapeseed Extract. Lecithin helps lock in moisture and restores suppleness, while Chamomile and Cucumber soothe irritation and soften skin.
Every day after cleansing, gently spray over entire face and neck. Allow to dry, or gently wipe with cotton pad. For optimal results, follow with recommended Murad treatment. Dermatologist developed and tested. Murad does not test on animals.
The Verdict:
I first got hooked on this toner when my facialist used it during my treatments. This smells really good once spritzed on my face to give a lovely relaxing feeling. After getting my own bottle, I usually use it before applying my moisturiser as I found that I actually use slightly less than compared to when I'm applying it directly onto dry skin.
The one thing that stands out about this toner, is that it's great to use as a skin soother. One particular time, after picking up this horrible sunburn on my nose and the apples of my cheeks from squinting in the sun at an outdoor event
(bad, I know, and that was WITH sunscreen on!),
I resorted to spraying this on cotton pads and applying them on the
*ouch*
affected areas, which brought almost immediate relief and alleviated the peeling. At that point, all the
'after sun'
remedies I tried didn't work, so by far you could say this toner has stood trial by fire… :)
It IS quite pricey though, so I wouldn't recommend it for everyone. The one bottle I have is being used up very sparingly just once a day in desperate hopes that Murad will go on sale
(which will probably never happen, but one can hope!).
However, if you have the moola to spare, this is an excellent buy.
Dr Murad Hydrating Toner
retails at RM115 for a 150ml bottle, and is available in Malaysia at all CN Beauty outlets.
Rating: 4 / 5
Value: $
Labels: skincare