The Body Shop Nature's Minerals™ Kabuki Brush & Foundation…
Ok, ok, so I said in my last post that I had been a bad girl right? Well, this is why…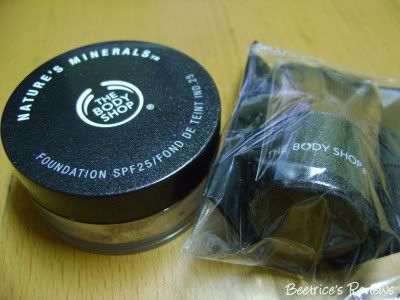 Yup, I succumbed to the call of TBS' Nature's Minerals™ Kabuki Brush & Foundation combo…sigh…but really, who could resist? First up is the Kabuki foundation brush – I love!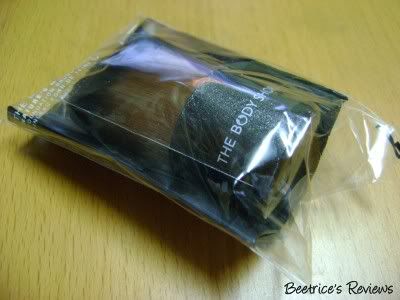 TBS' Kabuki foundation brush is made from 100% synthetic hair, and is much denser than the existing brushes in TBS. The thing I like about this is that it feels really luxurious against my skin – not scratchy like some others I've tried. The bristles have just the right amount of flex in them too, which is a big thing for me…there's nothing more irritating than using a Kabuki and having it rub on your skin when the bristles are too stiff, or offer no control when the bristles are too soft.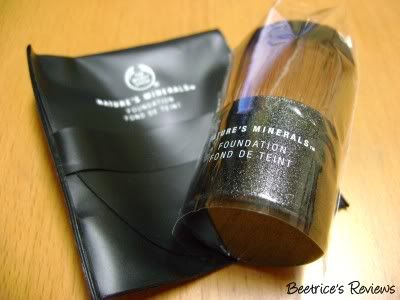 It also comes with its own cute pouch. This isn't entirely practical, since it can get pretty mangled if thrown in your bag along with a hundred other things, but it serves its purpose.


Simply said, this has to be one of the better Kabukis I've come across. The handle of the Kabuki could be the teeniest bit longer, but it works fine nevertheless. And oh, the way it picks up the foundation
(or any other powder for that matter)
is just brilliant – I'm so going to guard this very closely… :D It's mine I tell you! All mine!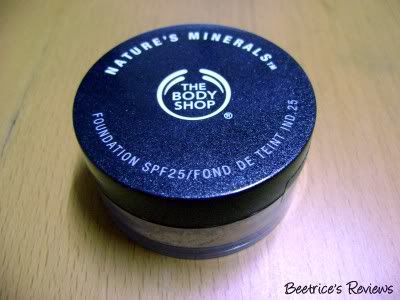 Now, on to the other half of the combo – TBS Nature's Minerals Foundation…I got mine in 02
(I swiped the last one at the Midvalley outlet, so if you're looking for the same shade, you'll have to try other outlets – sorry!)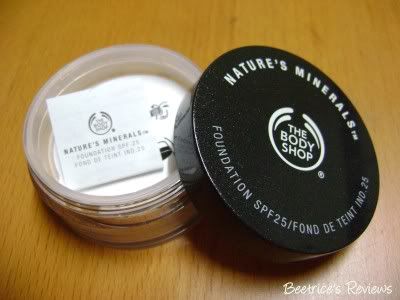 Description:
The Body Shop Nature's Minerals™ Long-Lasting Foundation with SPF25 helps to protect skin from sun damage. Pure mineral powders have been carefully selected by The Body Shop to deliver adjustable coverage for a light, naturally radiant finish, offering 'barely-there' make-up with a slightly pearlescent formulation for healthy-looking skin. Nature's Minerals™ Foundation SPF25 is oil free, dermatologically-tested, non-comedogenic and free from potential irritants like preservatives and fragrances.

The Foundation is made up of ingredients including Mediterranean clay and kaolin, which together ensure amazing staying power, Sericite to promote lustre and mica based pearls for a natural healthy looking glow. Clinically-proven to be perfect for those with sensitive skin, free of preservatives, fragrance, and oils – and ideal for those with sensitive skin. Comes in 6 shades.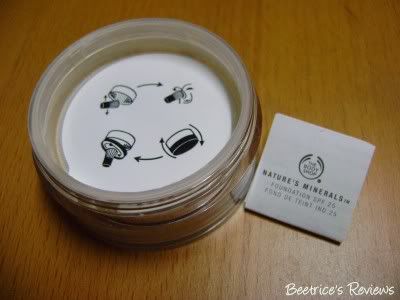 The Verdict:
First things first, this is not entirely relevant, but the jars are made from part recycled content – all in the name of being environmentally friendly. And it's a pretty sturdy case too, with a sparkly cover. The inside comes with graphic instructions on how to apply the foundation, as well as a small leaflet.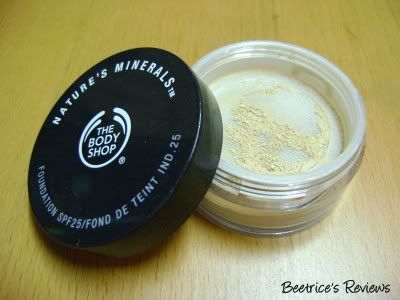 The Nature's Minerals™ makeup collection doesn't come with the standard sifter, but instead uses a mesh sifter that claims to make distribution easier. After trying this out, I'd have to somewhat agree. With the mesh, not as much product flies out when you tap the case, so it minimises wastage. The mesh also doubles up as a sifter
(duh? I meant a real sifter!)
and 'sieves' the powder as it comes out, so what you end up using with your brush is just pure, 'lumpless' powder
(who has gotten lumps in their loose powder before? I know I have…this shares the same concept as sifting your flour before using it to bake a cake)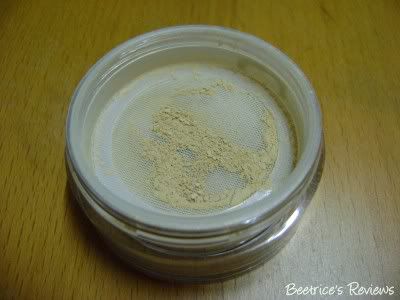 As far as coverage of the actual foundation itself goes, I've tried it out for a few days now, and it's not half bad. The powder goes on smoothly and has given me some much needed coverage
(it's been a stressful week, and I've had to cover up the lack of sleep that shows on my face!)
For those with oily skin though, you may have to apply a mattefier beforehand, as I found that this one did give me a bit of a shine halfway through my day – but lasted through my usual work day with the mattefier.
I'd say this I'm not as excited over this as the Kabuki, but the foundation would make a solid addition to my makeup kit. The mesh feature is definitely something to look forward to – more MMU companies should look into this! :) Do check it out if you happen by your local TBS, and let me know what you think!
PS: I got the eyeshadow brush too - review of that one coming up soon! *wink*

Rating:
4.5 / 5
(for the Kabuki)

4 / 5
(for the Foundation)

Value: $$
Labels: makeup