The Body Shop Mineral Makeup...
** 6.00pm edit: Replaced the photos with images sent to me courtesy of The Body Shop. Enjoy!
Finally…The Body Shop has joined the mineral makeup craze and come up with their own Nature's Minerals™ MMU range, made up of long-lasting foundation, cheek colours and eye shades.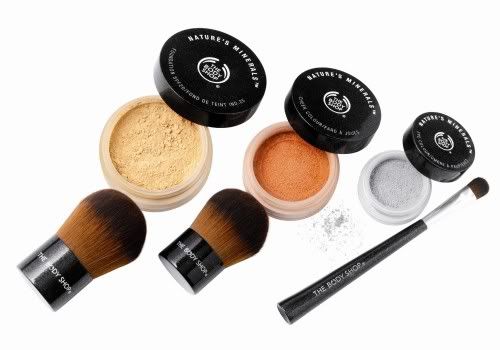 From what I know, this range is only supposed to be launched on 19th September, but is already being sold at our local TBS stores. And nosey ol' me decided to go and grab some swatches of the new colours…simply gorgeous!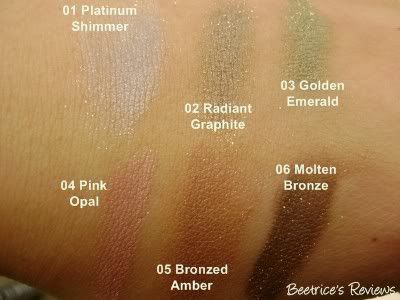 There are six pearlescent eye colours available – Platinum Shimmer
(pearly silver)
, Radiant Graphite
(gunmetal grey)
, Golden Emerald
(dark green)
, Pink Opal
(mauve)
, Bronzed Amber
(which is more bronze/brown than actual amber!)
and Molten Bronze
(dark brown)
. Compared to the other MMUs I've tried, these hold their own quite well – the swatches you see above are from using a
'dab and swipe'
motion. I've got my eye on shades #1 and #2… :)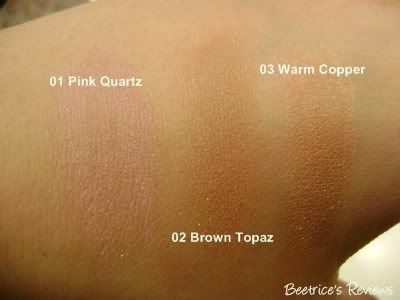 Next up are the cheek colours in three shades
(locally, internationally there are four shades available)
– Pink Quartz
(fair skin)
, Brown Topaz
(medium skin)
and Warm Copper
(dark skin)
. Out of the three, the Pink Quartz gave me a lovely flushed look, but I wouldn't go past using Brown Topaz as a bronzer rather than a blush, since it has slightly yellow undertones.
The long-lasting foundation is probably the most eye-catching one since it has SPF25, but I don't have swatches of that – it comes in 6 shades, although based on the amount of stock left in the store after its first week, I'd say
Shade 02 is the most popular
. Ingredients in the foundation include Mediterranean clay and kaolin
(for staying power),
Sericite
(for luster)
and mica-based pearls
(for a healthy glow).
With all the three items above, the sifter jars are a little different to the typical sifter jars I've seen to date – these come with a mesh sifter, which is supposed to make it easier to manage/ distribute with less mess. I'm not sure if this is true just yet, but after the shaking of the jars I did in the shop, this could be true...all in the name of testing, of course! :) Oh, and did I mention that TBS has some new brushes in as well?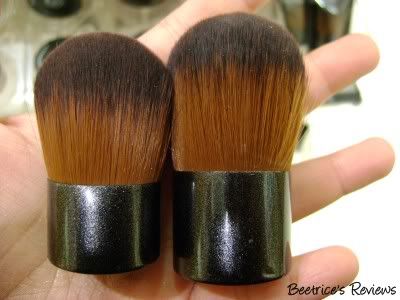 The one on the left is a Blusher Brush, while the bigger one on the right is a Foundation Brush. To be honest, they're really just Kabuki brushes in different sizes.
But oh the bristles!
If you ever happen past a TBS outlet, you simply have to try this one. There's also a new Eyeshadow Brush available.
By comparison, these new brushes are denser than the previous brushes and I was told this is because they're designed to be used with the MMU. And keeping with TBS'animal-friendly policies, they're 100% synthetic.
The Body Shop is currently running a
'combo'
promotion for the Nature's Minerals™ range, which I thought was quite nifty…
Any Mineral Eye Colour
(NP: RM55)
+ Eyeshadow Brush
(NP:RM45)
=
RM85.00
(save RM15.00)

Any Long-lasting Foundation
(NP:RM99)
+ Foundation Brush
(NP:RM75)
=
RM147.90
(save RM26.10)
Cheek Colour
(NP:RM65)
+ Blusher Brush
(NP:RM73)
=
RM117.30
(save RM20.70)
The Body Shop Nature's Minerals™ range is available at The Body Shop outlets nationwide as of 29th August in Malaysia, so do go and check it out!
PS: I've been a bad, bad girl...but...the foundation + brush was just too much of a temptation! :D
Labels: tips n news