Rimmel London Color Rush Quad Eyeshadow...
I had the opportunity to try a
Rimmel London Color Rush Quad Eyeshadow
recently, and after trying their Glam'eyes Mascara (and liking it), I was expecting some good things from this. Sad to say, it didn't quite pass the test.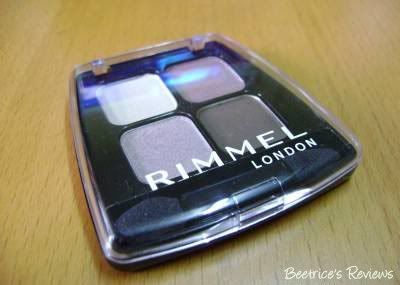 Description:
Rimmel London Color Rush Quad Eyeshadow features four shades of shadow perfect for highlighting, layering and contouring. The quads are presented in four rich, complementary hues for pure colour impact and blends easily for hours of crease-proof wear.


The Verdict:
The quad I tested was
Café Latte
, which is a combination of a shimmery white, lilac, a slightly darker shade
(close to aubergine)
and a matte brown. At first glance, I was quite taken by the shades – they definitely looked very pretty and looked like they would suit my skin tone well. However, once actually testing it out, I had an entirely different opinion. For one, the surface of the powders are
HARD
! I had to literally scrape at the surface to pick up the colour, and even then it was nothing close to the colour in the pan unless I heaped it on.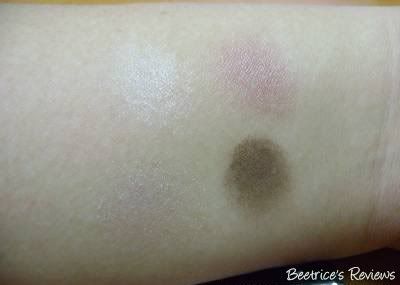 As you can see from the swatch above, there's very little colour
(except for the bottom right one, which had a more matte shade and more powdery than the rest)
and the bottom left one is barely discernable. This was already based on me
twisting
my forefinger onto the colour before applying it to my arm, and still barely any colour.
Their
US website
claims to have a lot of comments that say their users love this, but I beg to disagree. I didn't like the way it felt on my eyelids…slightly gritty/ powdery, and it just felt quite uncomfortable blinking. Even using a base didn't help, as I felt like I was rubbing off the base when applying the eyeshadow. Blending was also a big problem since I ended up with stripes on my eyelids – the colours just refused to blend, to the point I had to resort to my
Kanebo eyeshadow
duo to finish the job. Safe to say, this is not going make my beauty bag anytime soon.
There are eight different colour combinations for the Quad, and the colours are definitely very pretty, but for the price and the quality, I'd rather spend my money on something else. In my opinion, I could literally buy 4 of Elianto's eyeshadows, plop it in a case and use that instead – it may cost just RM3-4 more, but I'd get a lot more eyeshadow for my money, and the texture would be a lot better
(not to mention a better colour pigment!)
Color Rush Quad Eyeshadows by Rimmel London retails for approximately USD8.
Rating: 2 / 5
Value: $
Labels: makeup