Meow Cosmetics – IdealEyes…
After receiving my
Meow Cosmetic samples
in the mail last week, I couldn't resist taking the mineral eyeshadow samples out to try over the weekend. So, yesterday afternoon, I plonked myself in front of the TV for my weekly dose of CSI, and proceeded to start war-paint myself…teeheehee!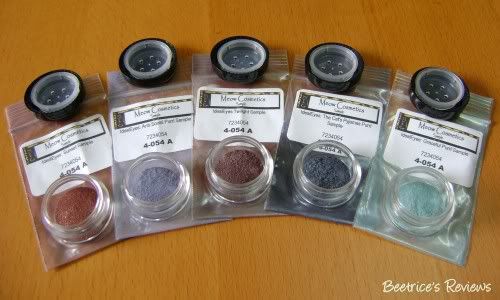 I decided to try five of the IdealEyes first, seeing as I had over 10 colours to slowly try out. The powders were a little tricky to tip into the sifter jars, but I eventually got the hang of it. :)


The contents of one sample pack fit nicely into a 5g sifter jar with space to spare. These jars were
USD0.55
each, which is one of the cheapest prices I've seen and durable too.
Description:
Meow Cosmetics IdealEyes
are pearlized
(or, as the site calls them, "purrr-lized"!)
shadow colors with sophistication. They're available in a full range of color choices, with a rich, creamy consistency that clings to the brush for easy and smooth application. The range boasts beautiful colors that catch the light with the soft, glowing, velvety sheen of a pearl.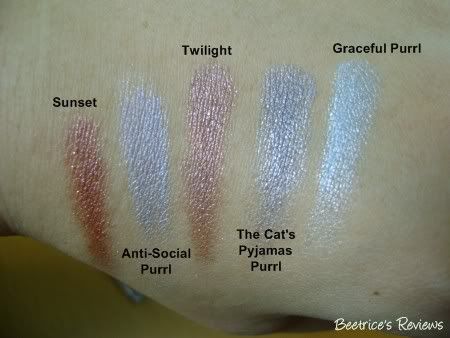 The Verdict:
As far as mineral eyeshadows go I'm not an expert, but I loved the pigment of these IdealEyes as just a dab is sufficient to produce a brilliant hue. The clincher came from my dear grandmother, who was hovering over my shoulder watching with interest as I dabbed the shadows on
(probably wondering what on earth I was doing to myself!)
and blurted out
"You mean you only need SO little of the powder?"
Point made.

There was a slight deviation from the hue on the website and the actual colour though, which caused a little concern. However, the shade of the powder is transposed exactly onto skin, so I suppose they can be forgiven
(although only just!)
for the minor differences. The colour range is absolutely phenomenal – there's a shade for literally every colour family, and mixing them is effortless.
I'd advise people with oilier eyelids to apply a primer beforehand. As I also have mildly oily lids, I found that lack of a primer would result in creases before lunchtime. For now, the primer I'm using is the Primp & Preen Premiere Puss Primer Combo sample that came together with my order, which works great.
(I'll save that for a separate review later)
Would I get more of these? Oh yeahh…I've got another 8 sample packets to dive into, so this stash should last me quite a while…but a girl can never have too much colour in her life!
A sample of IdealEyes

(1/8 tsp)

is USD1.00, while the full size jar costs USD8.00.

Rating: 3.5 / 5
Value: $$$
Labels: makeup